Making changes to directly improve the passenger experience
Chris Fowler, Customer Services Director at UK train operating company Southern, gives a behind-the-scenes look into the different initiatives implemented to improve their customer experience during the COVID-19 pandemic and also the future plans to support their passengers as transport demands evolve.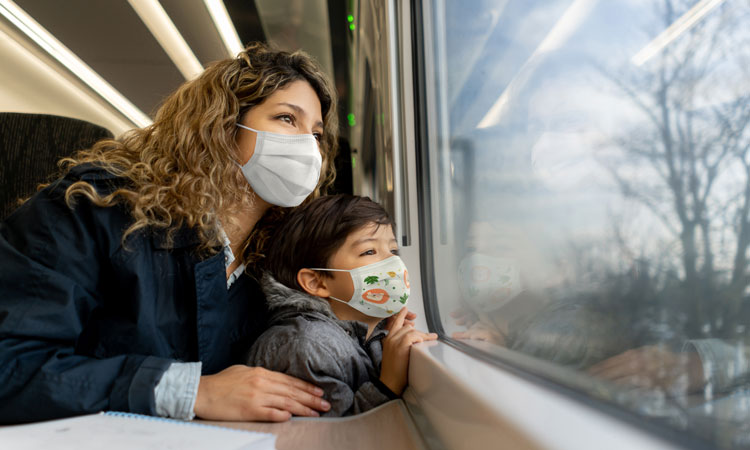 Credit: iStockcom_Hispanolistic
The rail industry is embracing the philosophy of Putting Customers First. At Southern, and across the Govia Thameslink Railway (GTR) brands, we've embarked on a mission to fundamentally and irreversibly change our business for the better. In 2020, we refreshed our brand ethos to demonstrate this. 'We're with you' epitomises the company's commitment to making our passengers' experiences the best they can be. 
At Southern, and across the Govia Thameslink Railway (GTR) brands, we've embarked on a mission to fundamentally and irreversibly change our business for the better.
Recent years represent a period of significant change and improvement at GTR, seeing the biggest post privatisation rolling stock cascade and significant infrastructure investment has resulted in hundreds of new and improved services for our customers.
And now, we face the challenge of reassuring our customers, as we come out of lockdown, that rail travel remains the best mode of transport across the UK, being the safest and simplest way to travel.
But how are we going about this? Ultimately, in my position, it's all about putting yourself in the customer's shoes in a compassionate and empathetic way.
A customer-centric COVID-19 response
We had to take a two-pronged approach to our COVID-19 response. In line with government advice for our wider network of customers, we asked passengers only to travel when absolutely necessary, helping to keep other passengers and our colleagues safe.
But on the other side of the coin, across the whole of the GTR network we serve more than 70 hospitals and NHS Trusts – as well as schoolchildren, university and college students, plus workers from other industries that were continuing to operate and support the nation during lockdown. In order to support social distancing on-board, service levels were retained, helping us to get these customers to their destinations, safely.
Our key objective throughout the pandemic has been to reassure passengers that it is indeed safe to travel, if necessary. We've brought this into practice in several ways, which has been developed in collaboration with our passenger panel that extends across the UK.
From a huge increase in the frequency of our communication with customers – that saw extra staff and our team of Rail Enforcement Officers help to uphold COVID-19 guidelines – to the deployment of our long-lasting viruscide that kills any virus infection on surfaces for up to 30 days and additional turnaround cleaning at each terminus, we've learnt quickly how we can best support our passengers and improve their experience.
This journey, however, hasn't been just about finding practical and safe responses to help passengers travel during the pandemic. For example, after speaking with our customers, we changed our bicycle policy enabling customers to bring them on-board during peak times; this simple change allowed us to better-support those who were using our services to get to work. Most importantly, we had to understand what positive changes our customers want us to deliver for them. And this applies not only to our COVID-19 response, but to bettering the passenger experience long into the future. Innovation is often the consequence of necessity, and COVID-19 has epitomised this. Newfound access to real-time data has been the cornerstone of our successful response, which is backed up by the consistent growth in passenger confidence that we've seen since summer 2020.
People are at our core and we are continually looking for ways to better their experience and support them throughout their journeys. Real-time data is an amazing tool as it gives our customers up-to-date travel information to help them plan their journeys, while enabling us to respond more effectively and readily to customer enquiries.
This has been done in several ways, but what has been most effective is the roll out of new smartphone apps and a live data dashboard for our people. These in-house developed applications have enabled the rapid transfer of information not only about standard industry concerns like delays or interchange information, but also about how busy any given train or station is in real time. This has allowed us to better direct staff and customers, and flag concerns or regular issues, all with the aim of making the passenger experience the best it can be.
Supporting customers through periods of uncertainty should be the first priority for any customer-facing business, like Southern. The best way businesses can do this is by regularly communicating with customers and from there, understanding the challenges they face, so that the most appropriate actions can be undertaken to improve the experience. COVID-19 should be seen as a positive opportunity for businesses to take a step back and look at the needs and concerns of their consumers and make proactive steps to pivot to meet and exceed expectations in this 'new normal' we find ourselves in.
Improving the customer experience in a post-COVID-19 world
For me, a big part of delivering the best possible customer service is a result of attitude. We're competing for customers in a way the industry hasn't had to since its inception. We need to welcome people to the railway with open arms, and our teams need to be in a position where they can quickly empathise with a customer's issue or query and understand that what we may perceive to be a simple action may feel much more challenging for someone else.
Similarly, by speaking with and understanding the needs of our customers, we are then in the best position to make informed decisions on which improvements will positively impact their experiences, ranging from timetable changes to increasing capacity. Again, this all comes down to an attitude which puts the customer first, being able to empathise and have our staff put themselves in the customer's shoes when listening and supporting them.
There are several ways that we strive to achieve this expert level of customer service and it all begins with our training, our Accessible Travel Policy (ATP) and Customer Service Coaches. As part of the ATP, staff are trained by customers of ours who themselves have a disability of some form, so that our people can better relate to, and understand, the challenges that may face customers with additional needs, to give us the best opportunity to help.
The rail industry is obsessed with safety, sometimes to the detriment of customer service. Safety is, of course, paramount to good customer service and efficient operations, but providing high levels of safety and a great customer experience are not mutually exclusive. To demonstrate and ensure our focus here, we have Customer Service Coaches who visit our stations and help to train staff and empower them with new skills to improve the customer experience.
What we're striving to achieve at GTR is to improve the customer service offered throughout the end-to-end journey. What this means is that our service extends from beyond when a customer is on-board a train and to the start and end points of their journey.
Our coaches are actually colleagues from across parent operator GTR who have been personally selected based on positive recommendations from their colleagues, who have recognised their ability to excel in customer service. It's fantastic to see this hard work being appreciated. Driving significantly improved customer service ratings, the coaches visit our stations, observing and shadowing staff before offering peer-to-peer training on certain aspects where improvements could be made. We've found this to be a highly effective way to train our colleagues and place greater emphasis on the aspects of customer service that go above and beyond focusing on safety.
As well as empowering my teams to deliver the best possible customer service, we're also introducing other changes ahead of the summer that will directly improve the passenger experience. Most excitingly, and a result of our longstanding partnerships with local councils, destination organisations and tourism boards, many of our services will have an increased capacity with additional carriages being run depending on expected tourism numbers this summer. Our recent partnership with the walking app, AllTrails – which I'm already a big fan of – is just one example of how we want to support our customers and potential customers as they return to the rail network in search of places to go over the summer months. Given the uncertainty that still surrounds international holidays, we are ready and raring to help the UK rediscover national treasures throughout our islands and facilitate those much-needed summer holidays.
Concluding comments
What we're striving to achieve at GTR is to improve the customer service offered throughout the end-to-end journey. What this means is that our service extends from beyond when a customer is on-board a train and to the start and end points of their journey. This has seen us develop partnerships with Lime cycles and reform parking changes enabling a 24-hour pay window, as well as our work with local councils and tourism boards. All of this is helping to drive up our customer satisfaction ratings and encourage consumers to consider travelling by train more often as restrictions continue to lift.

Chris Fowler began his career at Transport for London (TfL) before joining Govia Thameslink Railway (GTR) in 2017 as Head of Conductors and On Board. In July 2019 he became Customer Services Director for Southern and is responsible for leading Southern's Stations, On Board and Continuous Improvement departments, ensuring customers are at the centre of all decisions at the train operating company.