Dellner couplers modular concept – Part 1: Coupler heads
With 80 years of experience, Dellner continues to expand its product portfolio. Here, the organisation delves deep into its coupler head solutions which are meticulously designed and manufactured to provide high reliability and ensure passenger and rolling stock protection and safety.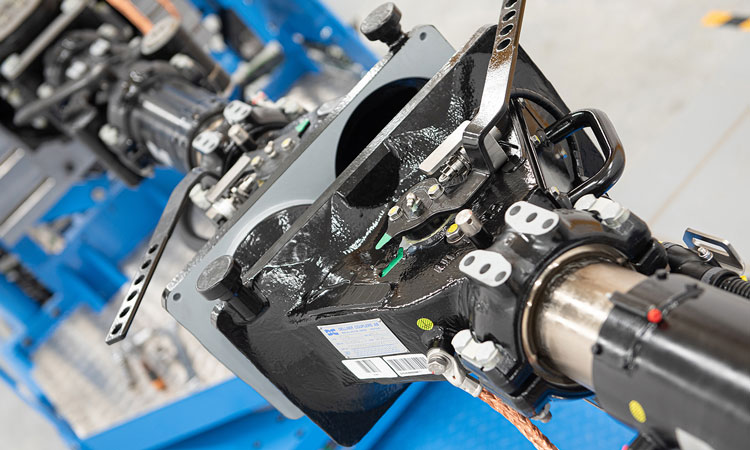 Dellner is a Swedish company with 80 years of experience in the rail industry and is one of the world's leading suppliers of train connection systems for the passenger and freight markets. It employs over 1,200 staff in 22 facilities around the world. Dellner continues to expand its product portfolio through the design and development of railway couplings, gangways, front cover mechanisms, adapters, crash energy management systems and after-sales services.
In our previous article we presented the modular concept of the automatic and intermediate couplers and the advantage it offers.  This next article will dive deeper into the modular design of the couplers. 
Dellner's couplers are based on four basic and 10 supplementary modules. Basic modules form the core of the coupler, while additional modules complement and extend its functionality. The basic modules include the coupler head, the centre section, the mounting bracket, and the socket joint.   
In this article, we will discuss in detail the first of the basic modules – the coupler head. We will present different types, focusing mainly on those that are part of the modular system.  We will also discuss those that are treated as special solutions due to specific requirements.
The type of head used is defined by the location of the coupler on the vehicle (front or inter-car) and the frequency of coupling expected (permanent connection or frequent coupling and uncoupling).
Front coupler heads
One of the main functions of front couplers is the ability to quickly or frequently connect/disconnect rail vehicles. This is achieved thanks to the use of automatic or semi-automatic heads. In the first case, both the coupling and uncoupling process take place without the participation of personnel, while in the second case, only the coupling is automatic, and the uncoupling is performed manually.
Much like rail vehicle types, coupler heads are separated into different categories based on their intended loading and within each category there are several different coupler head styles.  For example, on light-rail vehicles (e.g., trams), Albert or type 25, 30 or 430 heads are suitable. Type 35 or 330 can be used for heavier vehicles (e.g., metros), and for regional and intercity trains or high-speed trains, coupler head types 10, 12, AAR or SA-3 can be used.
In addition to strength, the coupler head features to consider include:
The type of connecting mechanism in the heads – the most popular are the latch mechanism, transverse lock and articulated 'knuckle' mechanism. This is important when considering compatibility with an existing fleet of vehicles.
The size of the head compared to the type of vehicle – e.g., for trams, small and light-weight heads are preferred, such as Albert heads or automatic 25, 30, 330 or 430. Vehicles with front covers or bumpers require small, compact coupler heads that can be stowed.
National standards governing the types of coupler heads for use in given countries or regions – e.g., the AAR head is commonly used in the United States (FRA / APTA), Tightlock type H in India, the SA-3 head in Russia (GOST 21447) and type 10 in Europe (EN 16019).
Modular solutions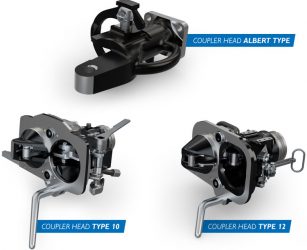 Taking into account many years of experience based on cooperation with customers from all over the world, Dellner qualified heads of types 10, 12, 35, 330 and 430 for the modular system.
The key factors defining the inclusion of a certain head type in the modular system are its universal use on vehicles of various types and in many markets, and the possibility of extending the functionality of the coupler by adding modules to the head (e.g., electric coupler, pneumatic valves, etc.).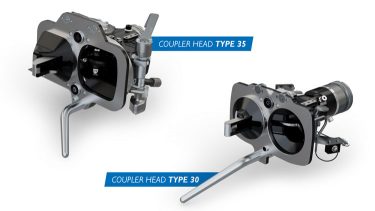 The principle of operation of all modular heads is based on a latch mechanism with one or two positions.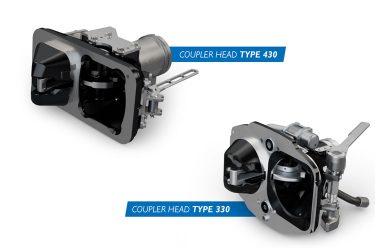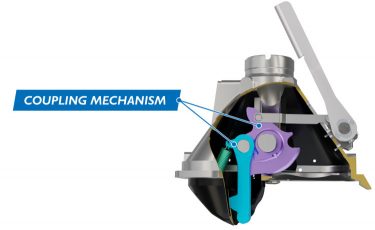 1-position coupler heads are characterised by having the same state in both coupled and uncoupled positions. Specifically, the internal components of the coupler head are in the same position, whether coupled or uncoupled. Components rotate only during the transition between the coupling or uncoupling process. Among them, we can mention heads type 12, 330 or 430.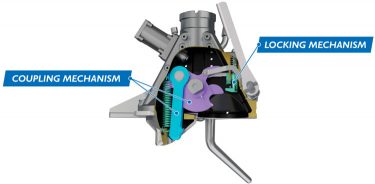 A 2-position latch coupler head uses a spring catch to hold the internal components in an uncoupled (ready to couple) state. Heads with the spring catch mechanism are the most common type used in Europe. Examples of 2-position coupler heads are types 10, 25 and 35. The Type 10 coupler head is defined by the EN16019 standard and is an interoperability constituent (TSI). 
Specialty and dedicated solutions
In addition to modular heads, the Dellner portfolio also includes special solutions that are dedicated to specific markets. Constructions of couplers with these heads are subject to a modular concept to a limited extent.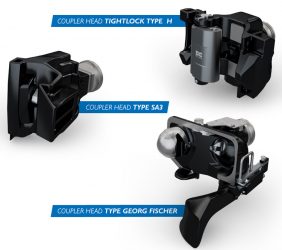 The smallest and lightest couplers dedicated to trams are equipped with Albert heads.  These couplers are a simple construction intended mainly for emergency coupling.  However, in recent years the trend within the industry is to replace Albert couplers with small, higher capacity automatic heads with a latch mechanism.
SA-3 heads are typical in Russia and in its neighbouring countries. The geometry of the SA-3 head, and in particular the shape of the contact areas, must comply with Russian standard GOST 21447. Coupling between vehicles equipped with these couplers is automatic, i.e., without trackside personnel, excluding the need to manually connect the air pipes. Uncoupling in most SA-3 solutions requires personnel, which defines it as a semi-automatic coupler.
Knuckle style or Tightlock couplers based on Janney's design are found in North America, India and Great Britain. For passenger trains, the Tightlock used is a type H where the gap between coupled type H heads is minimal and vertical movement between knuckles is eliminated by gathering features on either side of the coupler head.
BSI, Georg Fischer, and N-type coupler heads are also treated as specialty solutions.
Dellner has successfully adapted all these heads to work with other elements of our modular system.
Intermediate coupler heads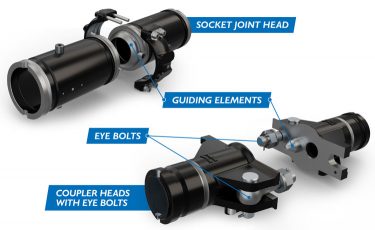 Dellner has two connection solutions dedicated to the intercar position: socket joints and swing bolts. A socket joint connection uses a clamp that is tightened over flange profiles integrated at the ends of the coupler halves to be joined. Where frequent vehicle separation is necessary, guiding elements are added to help align the coupler halves during intercar coupling. 
A swing bolt connection uses a large pivoting eyebolt at the end of a coupler body that swings forward to engage the opposing coupler half. Once engaged, the eyebolt is tightened by torquing a large hex nut. Each coupler half is equipped with the same eyebolts. Alignment pins and guides help align the coupler halves during intercar coupling. This solution is less common but remains an effective and service proven intercar connection solution.
Adapters
With all the different types of coupler heads available, the compatibility between fleets or simply between different equipment manufacturers must be considered. Currently, only the type 10 head is governed by European standard EN 16019, ensuring compatibility between trains. In all other cases, coupler compatibility is possible using appropriate adapters.
Adapters are typically designed to enable the connection between different types of coupler heads at the front ends of vehicles. The adapter can also account for any vertical offset between vehicles with different running heights. In the case of intercar coupler heads, adapters are less common and should be thoroughly checked.
Adapters can be divided into three groups: emergency adapters, towing adapters, and transport adapters. The difference between these adapters is their design loads. In all cases, the adapter capacity is less than the couplers they are mounted to and, for this reason, operation with adapters must be suitably de-rated, i.e., lower coupling speed, limited acceleration, and deceleration, etc.
Selecting the appropriate coupler head depends on capacity needs, customer preferences and local regulations. Dellner has a variety of solutions available in its product portfolio to allow customers to choose the right coupler head for any project, both in terms of performance and cost.
Our coupler head solutions are meticulously designed and manufactured, providing high reliability, ensuring passenger and rolling stock protection and safety.
We invite you to look out for our next article with Global Railway Review where we will discuss another basic module – the centre section. In the meantime, if you have any questions or comments, please contact us by email.
Related topics
Related organisations