Lithuania: The new gateway for freight between Europe and Asia
Starting in summer 2021, freight trains from across Europe will be able to reach Lithuanian's Kaunas Intermodal Terminal (KIT) – one of the most important logistics centres for the Rail Baltica project and the North Sea to Baltic Sea transport corridor. Karolis Sankovski, CEO of LTG Infra, explains just what this will mean for freight and passenger travel in the region, and the significance of its connection throughout Europe.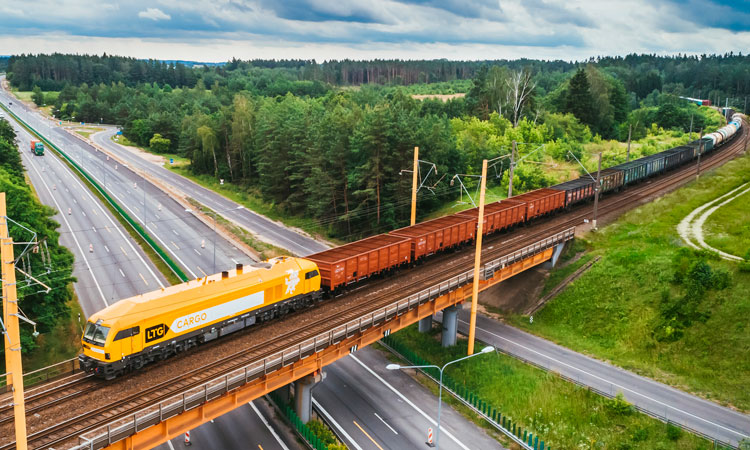 An LTG Cargo train delivering cargo from Vilnius to the seaport of Klaipėda.
Regional significance
Intensive infrastructure modernisation works have proceeded for two years at the railway hub found in Lithuania's second-largest city, Kaunas. With them completed in summer 2021, the Kaunas intermodal freight terminal is now linked by a direct European-gauge connection to the EU Trans-European Transport Network (TEN-T).
This is a historic event for Lithuania. After a pause lasting more than 80 years, thanks to the EU‑financed project Rail Baltica, the Lithuanian railway system has once again been connected to Europe through Poland.
The last time freight trains reached Kaunas railway station directly by European gauge rail (1,435mm width) from Poland was in 1939. When the Soviets occupied Lithuania, the European standard gauge railway was immediately remade into the wide (1,520mm) gauge used in post-Soviet countries.
What is also important is that the European gauge railway will be laid further beyond Kaunas up to Latvia and Estonia, integrating the countries into the EU railway network.
Lithuania witnessed the importance of having direct rail links to Europe in 2020, during the first COVID-19 quarantine. When Poland closed its borders, several hundred people were stranded on the German-Polish border, unable to return home. Lietuvos Geležinkeliai (Lithuanian Railways) organised the return of some of them by train, as it was a safe way for individuals to travel without exiting the carriages in Polish territory. It was not only Lithuanian citizens who were able to reach home via this train, but also citizens of neighbouring countries – Latvia, Belarus and Ukraine.