Lithuania: The new gateway for freight between Europe and Asia
Starting in summer 2021, freight trains from across Europe will be able to reach Lithuanian's Kaunas Intermodal Terminal (KIT) – one of the most important logistics centres for the Rail Baltica project and the North Sea to Baltic Sea transport corridor. Karolis Sankovski, CEO of LTG Infra, explains just what this will mean for freight and passenger travel in the region, and the significance of its connection throughout Europe.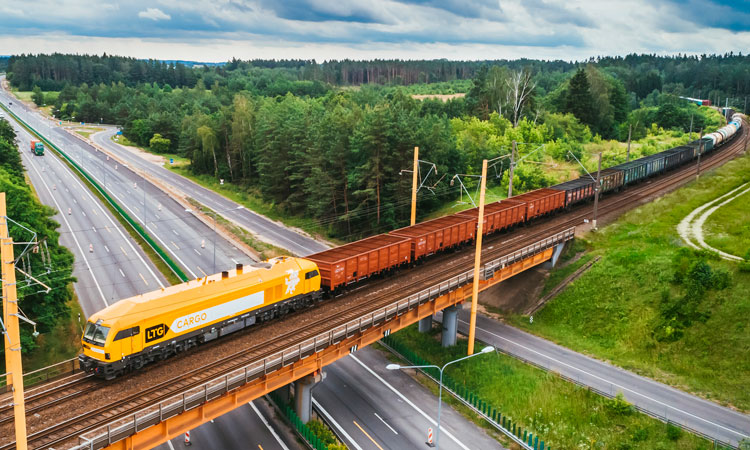 An LTG Cargo train delivering cargo from Vilnius to the seaport of Klaipėda.
Regional significance
Intensive infrastructure modernisation works have proceeded for two years at the railway hub found in Lithuania's second-largest city, Kaunas. With them completed in summer 2021, the Kaunas intermodal freight terminal is now linked by a direct European-gauge connection to the EU Trans-European Transport Network (TEN-T).
This is a historic event for Lithuania. After a pause lasting more than 80 years, thanks to the EU‑financed project Rail Baltica, the Lithuanian railway system has once again been connected to Europe through Poland.
The last time freight trains reached Kaunas railway station directly by European gauge rail (1,435mm width) from Poland was in 1939. When the Soviets occupied Lithuania, the European standard gauge railway was immediately remade into the wide (1,520mm) gauge used in post-Soviet countries.
What is also important is that the European gauge railway will be laid further beyond Kaunas up to Latvia and Estonia, integrating the countries into the EU railway network.
Lithuania witnessed the importance of having direct rail links to Europe in 2020, during the first COVID-19 quarantine. When Poland closed its borders, several hundred people were stranded on the German-Polish border, unable to return home. Lietuvos Geležinkeliai (Lithuanian Railways) organised the return of some of them by train, as it was a safe way for individuals to travel without exiting the carriages in Polish territory. It was not only Lithuanian citizens who were able to reach home via this train, but also citizens of neighbouring countries – Latvia, Belarus and Ukraine.
Benefit to businesses in the region
The linking of the KIT to the EU railway system was a major and highly anticipated event for the region's businesses. Wide opportunities opened up for performing intermodal freight shipments from neighbouring countries, as well as China and other Asian countries.
Is this exactly what businesses were waiting for? In spring 2020, the first train with 22 truck semi‑trailers from the German city of Kaldenkirchen reached the Polish-Lithuanian border and departed back with 23 semi-trailers after some time. This was a trial run for the regular train routes carrying truck semi-trailers due to travel between the Šeštokai terminal and Western Europe.
The trial run was initiated by the Lithuanian rail freight transportation company LTG Cargo, one of Poland's largest rail freight transport companies PKP Cargo, and Germany's intermodal transportation operator, CargoBeamer.
…Kaunas has become one of the central hubs in the region where transit freight is forwarded and distributed, serving European and Asian forwarding and logistics centres…
Last autumn, the trial semi-trailer transportation run was repeated for the KIT. Procedures were reviewed and polished during the trials and systematic semi-trailer transportation runs began this year between Lithuania and Western European countries.
We have noted that semi-trailer transportation by rail will occupy a significant and ever-growing percentage of combined cargo turnover in the future. Based on EU transport policy, the aim is to organise freight transportation in such a way that road transport would be used only for distances under 300km, while for greater distances, trains and ships would be used.
This is done for ecological purposes and to combat highway congestion, while haulier companies will not only save on fuel costs, but also more effectively make use of their drivers, who are needed only for carrying goods 'the final mile' – bringing them to the final destination from the railway.
This is only one cargo transportation domain. The LTG Group company, LTG Cargo, which handles cargo shipments, is in constant communication with German, Austrian, Italian, and French terminals, as well as logistics companies regarding new opportunities for cargo transportation. Thus, linking Kaunas to the European gauge railway system is a victory not only for Lithuania. It is also something anticipated by businesses in other countries.
Encourages interstate cooperation
The Kaunas Railway Hub is one of the most modern railway hubs through which, when the global Rail Baltica project is completed, most of the trains travelling the Rail Baltica line will pass. Currently, cargo trains are transferred at the KIT from wide gauge to European gauge wagons, which allows cargo to travel from Estonia, Latvia, Belarus, and the Scandinavian countries, as well as allowing return transit to these countries from Western and Central Europe.
In terms of logistics challenges, it is important to note that the KIT will not only forward naval shipping containers and semi-trailers but also bulk cargo, round lumber, and cargo of non-standard dimensions, while the territory surrounding the terminal has become a space for cargo warehousing and forwarding service companies.
When transporting freight to Lithuania, there is close cooperation with Poland, so as to strengthen logistics supply chains and improve cargo mobility. Around 25 million tonnes of cargo are transported between Lithuania and Poland every year. Prior to the linking of the KIT to the European standard railway, only around two per cent of cargo was transported by train, while around 2.5 million trucks would cross the border between the two states annually.
At the moment, this percentage is shifting to the benefit of rail and this is a great win for not only logistics companies, which can transport goods safer and cheaper. By transitioning to railway transport and using trucks for last-mile logistics, there have been significant reductions in CO2 and particle matter pollution, as well as improvements in road traffic safety.
The secret to the success of Kaunas Railway Hub also lies in its geographic placement. At the moment, the KIT links not only European and wide standard gauge railways – cargo transportation can also be combined with ship-based transportation because the ice-free Klaipėda Seaport is found in close proximity, and also with land freight because the important Via Baltica highway is also close to Kaunas. Logistics companies are settling in the surrounding area and the nearby Kaunas Free Economic Zone, while there is further convenient access to Kaunas Airport.
No less important is the fact that a railway from Belarus reaches Kaunas, which allows access to distant Asian regions. Lithuania already has a number of regular routes, which see freight trains traversing, which reach the Black Sea region; there is also a constant increase in trains crossing Lithuania from China as they travel to Western European countries.
Thus, Kaunas has become one of the central hubs in the region where transit freight is forwarded and distributed, serving European and Asian forwarding and logistics centres, which are spread along the main land- and sea-based trade routes.
The KIT was completed in 2015, and in 2019, 1,190 TEU of freight were already forwarded from it. From 2021, this freight volume is due to rise further, and we expect to reach project capacity of 100 thousand TEU a year soon.
Based on preliminary calculations, once the Rail Baltica railway is functional, it will carry approximately two million tonnes of freight, while freight volumes are to rise to up to 13.7 million tonnes after five years.
New railway route – cleaner environment
It must be noted that the emergence of a new and convenient railway route will mean not only cost and time savings in transporting freight, but also reduced environmental footprints in regard to noise, vibrations, and pollution.
At the moment, the European Union's (EU) joint transportation sustainability policy outlines the transitioning of some cargo which travels more than 300km into other types of transport – rail or water transport.
It must also be considered that the entire Rail Baltica railway will be fully electrified, which means that freight travelling through the Baltic States will travel with a minimal environmental footprint.
By 2030, it is planned to transition 30 per cent of all freight shipments onto rail and water transport and more than 50 per cent by 2050.
The internal freight transport turnover in the EU, combining road, railway and internal waters transport, reaches 2.3 trillion tonne-kilometres annually. Of this amount, road transport, which is the most environmentally polluting, takes up approximately 75 per cent of all freight transportation.
Replacing roads with effective and sustainable modes of transport – primarily railways – will allow reductions in congestion and road traffic deaths, improve ecological conditions and reduce environmental pollution.
In terms of the ratio between freight transport throughput and the fuel consumption to perform it, railways are one of the most ecological modes of transportation. Based on the European Environment Agency's data, the carbon dioxide output of railway transport per tonne-kilometre is 3.5 times lower than road transport.
It must also be considered that the entire Rail Baltica railway will be fully electrified, which means that freight travelling through the Baltic States will travel with a minimal environmental footprint. In regards to Lithuania, CO2 emissions will be at zero because, since 2018, the LTG Group's companies have been exclusively buying electricity generated through renewable resources.
The new, convenient transport corridor also resolves other business problems. At the moment, all of Europe faces a shortage of long-haul drivers. After transitioning long-haul semi-trailer transportation to train platforms, the need for drivers will significantly decrease because trucks will only serve the 'last mile' from the railway freight terminal to the final destination.
Increased mobility for European freight and passengers
Rail Baltica is a component part of the TEN-T corridor North Sea-Baltic Sea, which links through the Netherlands, Belgium, Germany and Poland, the largest European ports of Rotterdam, Hamburg and Antwerp. Furthermore, this railway corridor intersects in Warsaw with the Baltic‑Adriatic corridor, which will link Poland, the Czech Republic, Slovakia, Austria, Slovenia, and Italy by rail. This way, the Baltic States will be connected through rail links to previously difficult to reach Southern European markets.
In terms of future plans, it is crucial to note that Rail Baltica will offer far greater convenience for not only freight transport, but also passengers. It has been possible to reach the major Western European cities from Kaunas by rail since 2016, but this method has been somewhat inconvenient due to the slow travel between Kaunas and Bialystok (Poland). However, following the completion of the Rail Baltica project, Kaunas will be linked to Poland by a modernised railway, which will allow project speeds for passenger trains of 249km/h. Thus, it is expected that this route will become vastly more popular.
The need for a European railway line, which would connect Lithuania to Europe, has been felt for a long time already. European tourists are accustomed to travelling comfortably by train and so we often receive questions from individually travelling tourists about options to travel by train between the Baltic States and Warsaw.
Specialists believe that once high-speed electric trains begin coursing on the Rail Baltica line, they will be mostly used by tourists from Latvia, Estonia, Finland, Poland and Germany.
At the moment, passenger volumes by bus and car between Poland and Lithuania reach around two million people per year. Travel is mostly routed through the Via Baltica highway, but due to intensive traffic, travelling this way is rather exhausting.
Statistically, rail travel is the safest means of travelling quickly and comfortably, and so it is expected that Rail Baltica's lines will carry between four and six million passengers a year.
Key NATO infrastructure
The Rail Baltica project is important to the Baltic States region, not only in the context of EU economic and social cohesion, but also in terms of geopolitics. NATO analysts recognise that the alliance's weakness is the so-called Suwalki Corridor – a strip of around 100km – which separates Kaliningrad Oblast (Russia) from Belarus.
Rail Baltica can already be viewed as a significant, real deterrence measure because, in the case of conflict, rapid deployment of large forces would allow ensuring necessary force to be concentrated in needed locations.
…it is crucial to note that Rail Baltica will offer far greater convenience for not only freight transport, but also passengers.
When the Rail Baltica line to Kaunas is completed, it can essentially be a cornerstone element of the Suwalki Corridor's military infrastructure. In case of a threat, heavy military units (tanks and infantry fighting vehicles) can be rapidly redeployed.
Upon extending the line to Latvia and Estonia, other parts of Lithuania and the rest of the Baltic region will become easier to access. Thus, this project is equally important to all countries participating in it, especially our neighbours further up North, which are even further away from reaching the West by land transport.
The Rail Baltica railway has already carried military equipment for international NATO exercises and, in a crisis situation, Rail Baltica would be one of the main routes which would allow NATO combat detachments to reach the sensitive Suwalki Corridor.
Rail Baltica is also an important means of transport for the military during peacetime because military equipment is transported to exercises by rail, thus enhancing not only military mobility, but also reducing the need for road transportation of military hardware.
The Baltic States' largest project
Rail Baltica is the largest railway infrastructure project in the Baltic States' history. During its implementation, an electrified European gauge railway line will be laid down, connecting Warsaw, Kaunas, Vilnius, Panevėžys, Riga, Tallinn and Pärnu.
The combined length of the Rail Baltica railway line across the Baltic States will reach 870km, with 392km in Lithuania, 265km in Latvia and 213km in Estonia.
In Lithuania, the European gauge railway line will span from the Polish-Lithuanian border to the Lithuanian-Latvian border. In Kaunas city, passenger trains will be diverted to Kaunas's passenger train station, while freight will travel via Rokai directly through Palemonas toward Riga and Tallinn. The Rail Baltica project also outlines a separate railway stretch, Kaunas-Vilnius.
The project is valued at €5.8 billion and it is the largest investment aimed at enhancing mobility and travel opportunities, developing business, tourism, and commerce in the region.

Before his current role, Karolis Sankovski was the Deputy General Director of AB Lietuvos Geležinkeliai – the Director of the Railway Infrastructure Directorate. Previously, he held various positions at LitPol Link Sp. Z o.o. (Head of Environmental Protection Division), AB Lietuvos Energija (lawyer) and AB Litgrid (Member of the Board and Director of the Strategic Infrastructure Department) where he was responsible for the implementation of strategic transmission projects between Lithuania and Poland (LitPol Link) and Lithuania and Sweden (NordBalt). Karolis holds a Master's in Law from University of Aix-Marseille and Bachelor of Law degree from Vilnius Mykolas Romeris University. In addition to being a Member of the Board of LTG Infra, Karolis is Deputy Chairman of the Supervisory Board of AS RB Rail, and Head and Chairman of the Board of UAB Rail Baltica statyba.