Rail freight: An ally of the environment
Samuel Nevado, Head of the Logistics and Vehicle Distribution Division at Transfesa Logistics, writes about the key role that rail freight has to play in creating an emission-free supply chain, bringing truly sustainable intermodality.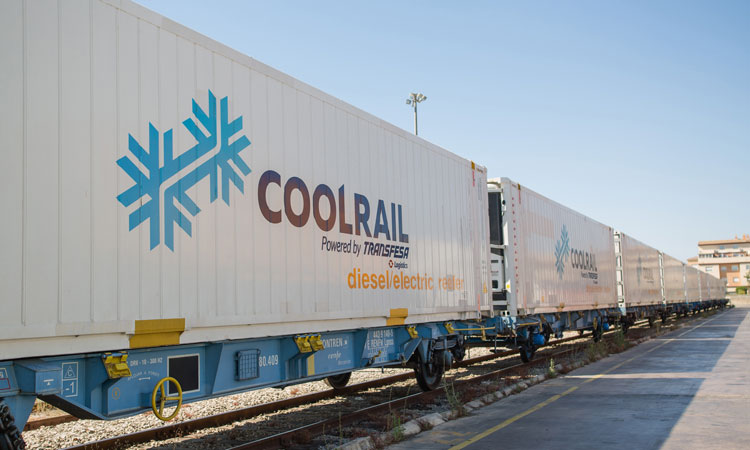 This year (2021) has been known as the 'European Year of Rail', helping to highlight the priority bestowed upon railways within the European Union's sustainable mobility strategy. Its numerous benefits in terms of protecting the environment and enhancing safety while linking territories, means it is the chosen mode of transport to spearhead change towards emission-free freight transport. Europe wishes to become the first climatically neutral continent, an aim in which backing railways is pivotal for its accomplishment. Increasing its modal share will contribute to achieving sustainable and highly competitive logistical chains vis-à-vis other modes.
To obtain a less polluting means of transport, a partial transition is necessary from lorries to rail. In this modal shift, the train forms part of the solution to the global problem of pollution, reducing emissions to 80 per cent when compared with road transport. Furthermore, external costs are reduced by up to 50 per cent, six times less energy is consumed, while air contamination levels are eight times lower than road modes.
Forecasts suggest that in 2030, there will be 30 per cent more freight transported. If we do not act now, this freight will also be transported by road, meaning a further increase of 30 per cent in CO2 emissions into the atmosphere. However, if rails' stake is increased by 30 per cent, one million lorries will be taken off the roads, economic returns of €100 billion will be gained due to reduced external costs, and 290 tonnes of CO2 emissions will be prevented.
Although our focus is rail, the lorry is an undeniable ally. The key term is intermodality. We must evolve towards a model in which long-haul transport is performed by rail, and the first and last mile left in the hands of road users. In addition, in the short-term, emission-free supply chains can be accomplished. If the door-to-door phase is performed using an electric-powered lorry, which is not too far-fetched as the first journeys electric lorries will make will be short ones, then, the loads will be transferred to an electric train locomotive, for the final part of the journey to be completed using another electric-powered lorry. With this model, we will have an emission-free supply chain.
Rail freight: A standout solution
Rail freight is a standout solution; it is already in place, there are major national and international routes operational, it is respectful towards the environment and utilises state-of-the-art technology to offer a streamlined, efficient and emission-free door-to-door service. The transition for freight from road to rail has received a major boost from sectors such as that of refrigerated produce. Since the outset of the CoolRail express line powered by Transfesa Logistics in 2020, demand for shipments of fresh products from the shores of the Mediterranean to different European countries by train has continually grown.
…demand for shipments of fresh products from the shores of the Mediterranean to different European countries by train has continually grown.
This ground-breaking service, fostered by Euro Pool System and Transfesa Logistics, came into being as backing for sustainable and competitive transport for the horticulture sector. Two years after its start, in May 2019, it has made a niche for itself as the most in-demand sustainable logistics option for European food chains, who seek to import fresh products through an express service offering competitive delivery times, while also respecting the planet. The firms who place their trust in this railway line highlight, amongst other major advantages, that it has helped them to reduce their carbon footprint by 80 per cent. This factor is of special significance to international clients, who are already versed in the fight against climate change, and who seek out suppliers that ensure the requirements set forth in their environmental policies are met. This route, which began with an initial direct rail connection for refrigerated products between Valencia and Rotterdam, continues to expand its area of coverage and now reaches numerous other destinations, including the United Kingdom, Germany and some Nordic countries. Furthermore, it is projected that these connections will be expanded to handle other sectors progressively in the medium-term. To achieve this, DB Cargo's collaboration and infrastructure will be on-hand as the main shareholder of Transfesa Logistics. Presently, the daily departures from Valencia take 48 hours in transit to Cologne, Brussels and Rotterdam; while transport to the United Kingdom takes 72 hours, with Nordic and Eastern European countries being reached in 96 hours. One of the great success stories since start-up has been the reduction of 80 per cent of CO2 emissions along all routes operated. The 2,000 annual freight loads that have been performed between 2020 and 2021 have entailed a reduction of 5,973 tonnes of carbon dioxide, a figure that unearths the major potential that rail freight offers for sustainable mobility.
Innovation and digitalisation to continue growing
Freight transport by rail needs to continue to gain market share and bolster its competitiveness, efficiency and safety, to keep backing the implantation of cutting-edge technological advancements in the market. Digitalisation allows operators to respond to the new technological and environmental challenges that logistics entails, through a more connected and flexible supply chain, more accelerated demand and consumption cycles, and the electrification of networks and services in accordance with the demands of sustainable mobility. Some of the tools already in use are key to continuing transporting freight by rail: mobile applications, cloud-based storage technology, ID loading chips featuring IoT (the Internet of Things) tech, process optimisation via AI, and big data analytics etc. All of this will enable Europe to become the first climatically neutral continent by 2050, with a freight transport model in which the train is at the fulcrum of intermodality. A path we forge on the right footing and with the combined collaboration of all stakeholders in the sector.

Samuel Nevado began his career in Transfesa Logistics in 2013 and, during this time, he has held various management positions, including Director of the Logistics Services Division and leadership of major accounts. Since 2016, he has headed the Vehicle Logistics and Distribution Division, which encompasses rail transport, road transport and automotive logistics centres. Previously, he held various positions of responsibility in the field of logistics for 12 years at Kuehne + Nagel.