Embracing fully autonomous urban rail through digitalisation of network infrastructure
In this interview for Global Railway Review, Norman Frisch, Marketing Director, Enterprise Business Group and Transport Sector at Huawei Technologies Co., Ltd, explains how Wi-Fi 6 technology enables large-bandwidth real-time wireless train-to-ground backhaul for rail transit vehicles.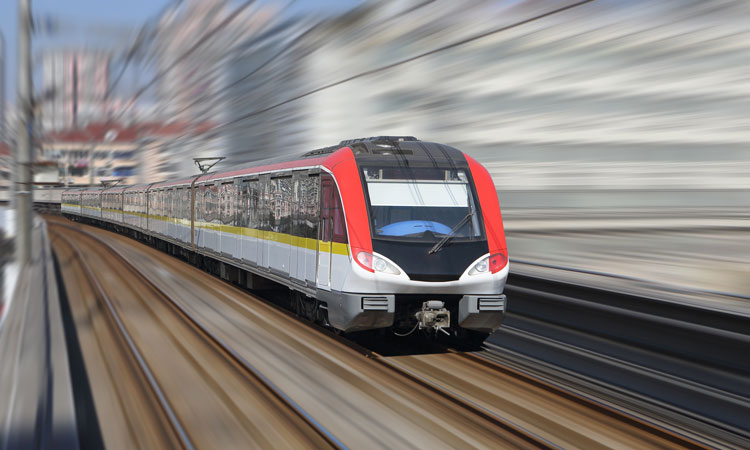 The urbanisation of the world brings great challenges to the transportation sector. Amongst the various transportation modes, the metro has always played an important role. Metro operators see increasing demand for green, efficient and user-friendly mobility. Providing more personalised, differentiated, comfortable, and convenient travel experiences for passengers is an aim of metro operators. Working with real time operational data, making use of maintenance data and AI enabled predictions opens the doors to meet these ambitions. But how can we access this crucial data when they are generated on-board? From as early as when metro operation started, train-to-ground communication was always one of the more challenging parts.
Marking a 20+ year evolution of the Wi-Fi standard Wi-Fi 6, the latest generation is offering yet more data throughput, with lower latency at even higher spectral efficiency. Adding these features to the mind-set of operating an ICT infrastructure for urban rail that is safe, reliable and efficient, means that metro operators can benefit greatly from implementing Wi-Fi 6 as their wireless train-to-ground communication network.
For self-driving trains, TCMS and high-definition cab video transmissions require real-time backhaul for a large amount of data. In the industry, metro operators require data throughput of typically 500Mbps to cover their train-to-ground communication demands. With the quadrupled bandwidth offered by Wi-Fi 6, more space for on-board applications with higher train-to-ground rates can now be reserved.
What is the importance of advanced technology in driving the digital transformation of the railway sector?
For metro operators and public transport authorities, many of the rail industry's biggest pain points, including safety, efficiency, operating cost, and energy saving, can be addressed in an automated train system.
A more automated train system is also a greener one. Autonomous operation can improve rail's already impressive energy efficiency and reduces the energy consumption of trains by 15 per cent.
The combination of state-of-the-art network and intelligence on-board can be transformative, offering not only punctuality, but also increased resilience, an ability to adapt to real-time demand and rapid recovery from disruption.
With climate change and a greater number of authorities signing up to net zero strategies, carbon emissions caused by the transportation sector are being closely looked at. Modern ICT technology can help to operate greener transportation.
A more automated train system is also a greener one. According to Thales, autonomous operation can improve rail's already impressive energy efficiency and reduces the energy consumption of trains by 15 per cent while increasing rail capacity by up to 50 per cent.
Metro systems will not only need to run greener due to net zero strategies, but they will also be expected to allow for a bigger capacity. Every journey which is being moved from the road to rail will help to reduce the overall carbon footprint. So, we do expect more demand on greener, efficient and safe rail transport with a high level of automation.
Higher levels of automation allow personnel to focus more on crucial activities, leaving routine procedures to be performed by automation. Higher levels of automation have also been seen as a tool to overcome staff shortages in operations ramping up after the pandemic. In general, higher automation allows operators to reduce dependency on personnel.
As urban rail operators around the world are pursuing higher level of automation, the communication infrastructure, which is like the nervous system of the railway, has become a vital part of the upgrade. This is where the expertise of ICT companies comes into play.
What are the main pain points/challenges of digital transformation facing the railway sector?
When working with urban rail around the world for their digital transformation projects, the pain point we hear most often is the need for an upgraded communication network.     
For example, without sufficient bandwidth, PIS (passenger information system) data and video backhaul still uses Wi-Fi solutions. Some operators deployed multiple train-to-ground systems in parallel, each serving specific needs and applications. However, with multiple systems OPEX increases, and maintainability becomes more complex.
However, with more and more Wi-Fi-5/6 deployed in the rail transportation, the LTE-M spectrum becomes increasingly crowded, leaving limited bandwidth for crucial communication such as CBTC, PIS emergency text, passenger emergency call, and other low-bandwidth key services. For real-time backhaul of other vital services, such as PIS live video and TCMS, that require bandwidth larger than 500M, current vehicle-ground wireless communication struggles to provide sufficient bandwidth, limiting urban rail's potential to become more automated.   
When looking at today's typical infrastructure, stable, high-bandwidth train-to-ground at high-speed velocity has been a worldwide technical challenge for a long time. Insufficient uplink bandwidth offers persistent difficulty for any train-to-ground wireless communication solution that evolved from public wireless communication (such as LTE or legacy Wi-Fi).
Moreover, current train-to-ground wireless communication systems also suffer from the following:
Loss of real-time data due to a handover latency higher than 100ms that causes high packet loss rate
Complex installation process of trackside AP (access point), antennas, PoE (Power over Ethernet) power supply
Suitable protective shell that curbs the construction of a network compatible to a more automated train system.
What are the main technology highlights of Huawei's Urban Rail Operational Communication system?
Based on decades of innovation in both hardware and algorithms, Huawei's Urban Rail Operational Communication highlights the following three technology breakthroughs:
1. High performance
Midamble channel estimation algorithm and DPD (digital predistortion) power amplification support the bandwidth of Wi-Fi 6 train-to-ground communication up to 1.4 Gbit/s at a speed of up to 160 km/h. With this, real-time transmission of on-board service data, such as PIS live video and TCMS, will no longer be a bottleneck for urban rail transit entering the era of fully autonomous driving.
2. Seamless handover
With the increasing speed of the vehicle, handovers between AP take place more frequently. With traditional technologies, handovers caused concern regarding their impact to the overall QoS of the train-to-ground communication bearer. A specifically designed train-to-ground communication soft handover technology that takes into account metro rail environmental conditions will shorten the handover delay to less than 30ms, for speeds of up to 160 km/h, with a zero-service interruption.
3. Quick deployment
Considering harsh environments within subway systems and constraints in regard to the space housing of core components of a Wi-Fi 6, train to ground communication systems play an important role. With a specific AP integrated chassis designed for rail environment, a professional shock-resistant M12 type cable assemblies, IP68 waterproof and dustproof casing deployment of Wi-Fi 6 systems have been significantly improved with typical AP installation times reduced to under 30 minutes per site.
The solution is built with Huawei's finest network equipment including AirEngine Wi-Fi 6, CloudEngine S switch, and iMaster NCE-Campus.
Check out this video to learn more about how Shenzhen Metro deploys Huawei's Metro Wi-Fi 6.
Where has Huawei's Urban Rail Operational Communication system been deployed and what feedback has been received so far?
Shenzhen Metro Line 20 is a great example that shows how Huawei's Urban Rail Operational Communication can make a difference.
Opened in December 2021, Line 20 is the first metro line in China that supports Wi-Fi 6 train-to-ground backhaul, and the first metro line in Shenzhen achieving Grade-of-Automation 4 (GoA4) autonomous driving.
Shenzhen Metro and Huawei have carried out a joint R&D on large-bandwidth real-time backhaul of wireless communications for rail transit vehicles, including midamble high-speed mobile enhancement algorithm with international core patents and five exclusive patents and re-switching optimisation algorithm incorporated into the IEEE standard patent system.
We strive to work with industry-leading partners, like Shenzhen Metro, to explore the in-depth cooperation of ultra-high-speed and low-latency Wi-Fi 6 technology that can bring safety, experience, and efficiency improvements to urban rail communications, and fully lead the era of autonomous driving in smart urban rail.
To learn more about how Huawei's Wi-Fi 6 and its application, click here.