Meet this Digital Rail 2022 speaker: Richard Thomas
Find out from Richard Thomas, UKRRIN Industrial Fellow in Data Integration and Cyber-Security at the University of Birmingham, about the topics he hopes to address during his panel discussion at the Digital Rail event on 7 & 8 November 2022.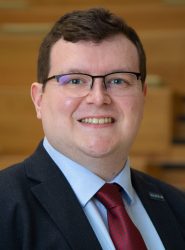 At Digital Rail 2022, Richard Thomas, UKRRIN Industrial Fellow in Data Integration and Cyber-Security at the University of Birmingham, will be part of a panel discussion that will explore how digital advances have allowed rail infrastructure managers to rethink maintenance whilst reducing costs, ensuring the reliability of processes and optimising network availability. Richard will join this in-person panel at London's Twickenham Stadium alongside: Steve Dennis, Head of Asset Management, Office of Rail & Road; Andy Billington, Innovation & Digital Architecture Team Leader, Rail Baltica; Pierre-Etienne Gautier, Director of the BIM Programme & Digital Continuity, SNCF Reseau; and Fabian Hansmann, Deputy Director Marketing, Plasser & Theurer.
Here Richard gives opinion about innovation in the industry, and mentions what he hopes to discuss during the panel discussion.
What key innovation/tech trends are influencing transformation in the rail industry?
I don't think there is just one innovation that is driving our railway transformation – it's the collection of a number of innovations and technologies which are enabling the railway to be more proactive to meet the needs of our customers; such as predictive and real-time data collection for maintenance of rolling stock, track and infrastructure, through to the continued improvement and pervasion of digital signalling technologies which improve the reliability of our railways and promote an 'on-time' culture. It's only through the collaborative partnerships across the undertaking that we have been able to make these leaps which benefit our customers and stakeholders.
What are you hoping will be addressed/discussed during the panel that you will be taking part in?
As part of the 'digitalisation to maximise infrastructure asset maintenance activities' panel discussion, I'm looking forward to discussing with peers across the industry how we can leverage digital technologies, and data that they produce, to make the railway more agile and ultimately improve reliability and availability. However, at the same time, we need to talk about the impact of digitalisation, and not just digitalising for digitalisation's sake, where cyber-security has become a key threat to the railways as a result of digitalising, but also ensuring that we have the right data at the right time to undertake critical decisions, and that it is trustworthy in a safety-critical environment. I'm also looking forward to discussing how we can more effectively share with pride and pain across the undertaking in the same way we have done so for safety.
What other parts of the Digital Rail 2022 agenda are you most looking forward to watching?
I'm looking forward to the insights from across the undertaking from our customers (e.g., passenger and freight operators) through to infrastructure managers and beyond, to understand what their critical pain points are and where they have seen significant benefits from digitalisation.
Related topics
Related people