Digital signalling – the revolution has started
For Global Railway Review, OIy Turner, Head of ERTMS for Govia Thameslink Railway (GTR), explains the importance of the first Class 387/1 Great Northern Electrostar being upgraded with ETCS in-cab signalling and details GTR's involvement with the East Coast Digital Programme.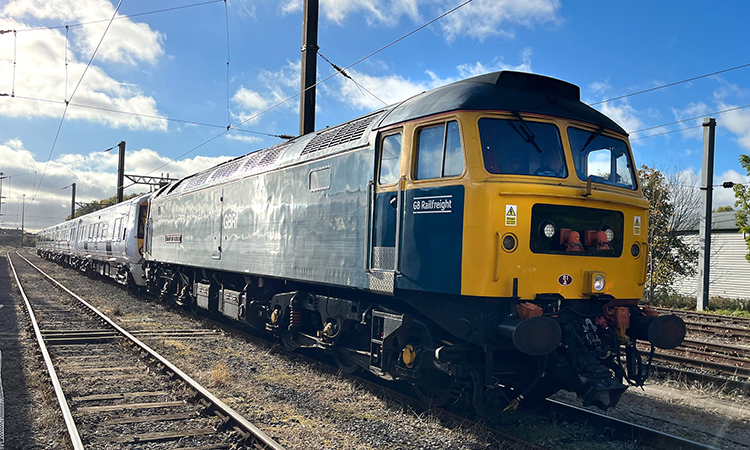 Hauled to Worksop depot: GTR's first Class 387 (unit 387101) is taken from its depot in Hornsey north London to be fitted with ETCS.
We've reached a watershed moment here at Govia Thameslink Railway (GTR), as part of the industry-wide preparations for one of the greatest transformations to be seen on the UK's mainline railway: our first Class 387/1 Great Northern Electrostar has left its depot in Hornsey, north London, to be upgraded to European Train Control System (ETCS) in-cab signalling.
It's part of the £3.4 billion government-funded, cross-industry East Coast Digital Programme (ECDP) that will replace lineside signals on a 100-mile southern section of the East Coast Mainline between London King's Cross and Stoke Tunnel, north of Grantham, including the Northern City Line, between Moorgate and Finsbury Park.
This pioneering industry partnership including the Department for Transport, Network Rail, train and freight companies, and technology providers, will set the foundations for a wider UK roll-out and reduce delays, create space for more trains and deliver a more reliable service for passengers.
The Class 387/1 we sent to Worksop Depot will be retrofitted by Alstom to include the latest iteration of ETCS in the UK (BL3 R2, also referred to as version 3.6.0) and the additional functionality required for ECDP. This will lay the foundations for the vast 'Electrostar' fleet of trains should ETCS be expanded across other routes in the UK.
This workhorse of the Great Northern rail routes will emerge with:
A new digital driver's dashboard (DMI – Driver Machine Interface)
A new automatic warning system/train protection warning system
Doppler radar and ETCS antennae beneath the soleplate
A European Vital Computer – the main computer – fitted at the body end of the first carriage
Software for a new train control monitoring system
Onboard ETCS software – in line with the latest revision of the ETCS standards.
The train will have static testing at Litchurch Lane manufacturing site in Derby prior to dynamic testing at speeds of up to 110mph, on Network Rail's RIDC Melton test track.
Everything must be independently approved because the upgrade counts as a major modification to these Porterbrook-owned vehicles.
We've worked long and hard to get us to a place where we're ready for this retrofit which will make these trains some of the most advanced in the UK for ETCS. It's testament to the hard work of everyone involved at GTR, alongside Alstom, Porterbrook and Network Rail.
This 'first-in-class' unit is set to return in July 2023, after which GTR will fit out the remaining 28 Class 387/1 units at its in-house depots.
We operate two further fleets of train which will run under ETCS as part of the East Coast Digital Programme. One of those is the Class 700 Thameslink train. All 115 are already fitted with ETCS – indeed they are able to run this way using additional automatic train operation between London Bridge and St Pancras International – but we'll upgrade those to the latest software version.
The other is our Class 717 fleet which were also specified with ETCS built in. We'll also be upgrading the software on board to the latest version as part of our pathfinder project along the Northern City Line – more of which later.
Digital signalling – a game changer
The reason we're so excited about the East Coast Digital Programme, and our role within it, is that it is genuinely transformational and, once we've proven its capabilities, it could be rolled out to deliver a better railway across the UK. But how does digital signalling work and why is it so great?
Traction, speed and driving techniques have all changed significantly since the early 19th century, but one principle hasn't changed much: the necessity for drivers to follow a series of fixed signals at the side of the track to safely operate.
The fixed signals have limited information and become visible from only a few hundred metres away, sometimes much less in poor visibility, with nothing in between them.
Furthermore, freight trains, high-speed intercity and all-stations suburban services all share the same route, so the system has to assume every service has the same, worst-case stopping distance. This limits the capacity of our network and its ability to recover from disruption.
In-cab digital signalling, based on ETCS, overcomes this with the use of constant radio-based communication between control centre and train. Effectively, it monitors the position and speed of the trains allowing them to travel closer together in greater safety. Every driver on every train is told the safe maximum speed they can go, and this equips them with a planning area stretching many miles ahead, unimpeded by weather and visibility.
The system also provides continuous and automatic train protection, unlike the emergency systems used currently on most of the network in the form of automatic warning systems and train protection warning systems.
The pathfinder project
So, if it's all so great, what are we waiting for? Well, nothing! The programme may not finish until 2030 but it's well under way, and we are already reaping the benefits.
Our six-station route between Finsbury Park and Moorgate in the City of London – the Northern City Line – is the pathfinder project for the rest of the programme, demonstrating the benefits of the industry partnership model and stress-testing some of the principal challenges of migrating to ETCS, before the lessons learned here are applied to the rollout of ETCS on the East Coast Mainline.
The close working between Oly's team at GTR, Siemens as technology provider and the East Coast Route has enabled issues to be quickly resolved, and we're now close to introducing digital signalling to passenger services – Ed Akers, Network Rail's Principal Programme Sponsor for the ECDP, said.
Network Rail has already fitted the new signalling as an overlay to the conventional system, replacing life-expired legacy equipment with new computer-based interlocking, new train detection and protection systems and enhanced GSM-R coverage, which on its own is delivering performance improvements for our passengers.
On this route, our trains – Class 717s – came pre-fitted with ETCS hardware and, with our train control partner Siemens, we're now regularly testing the new system out of service hours. System proving is nearing completion having moved to two train testing, the results of which are being reviewed. We'll start training drivers in ETCS in passenger service in the next year.  
By getting involved with Network Rail and Siemens much earlier than normal, we designed the migration path on the Northern City Line together. This allows us to run trains in either conventional or digital mode at the same time. Passengers won't know the difference and, crucially, there is no 'big bang' switchover from conventional to digital with all the risks of disruption that entails. 
For our drivers, this overlay of conventional and digital means they will be able to learn driving under ETCS, with signalling inside their cabs, in the daytime when trains are in service, instead of out of hours, overnight. It also means the digital system is available to use the moment they finish their training. This is a massive bonus because it allows drivers to embed their learning immediately and maintain that knowledge of driving under ETCS ready for when the conventional signals are switched off on the Northern City Line in 2024.
I can't stress enough the benefits of this collaboration: together with Network Rail, Siemens and trade unions we have gone from a standing start to commissioning in under two years. This is an outstanding pace for such a complex project with multiple partners and significant government investment.
It demonstrates how well we can do things when we work this well together. The East Coast Digital Programme, when complete, will be a watershed moment in modernisation for the entire UK network.

OIy Turner leads the European Rail Traffic Management System programme at Govia Thameslink Railway, responsible for overseeing the introduction of digital in-cab signalling and related projects across three train fleets on the Northern City Line and East Coast Mainline. He has 17 years' experience on the railway, including driving trains, working in operational safety, and construction. He prides himself on still being able to drive trains on the mainline.