To be the sustainable alternative, railways need to be more efficient
Even with the accelerating electrification of road transportation, railways are widely recognised as a more sustainable alternative. They have a critical role to play in the world's intermodal transportation future as the most sustainable way to move people and goods on land. To fully embrace this role, however, they must become more operationally efficient and increase capacity utilisation, all while enhancing safety and growing revenues.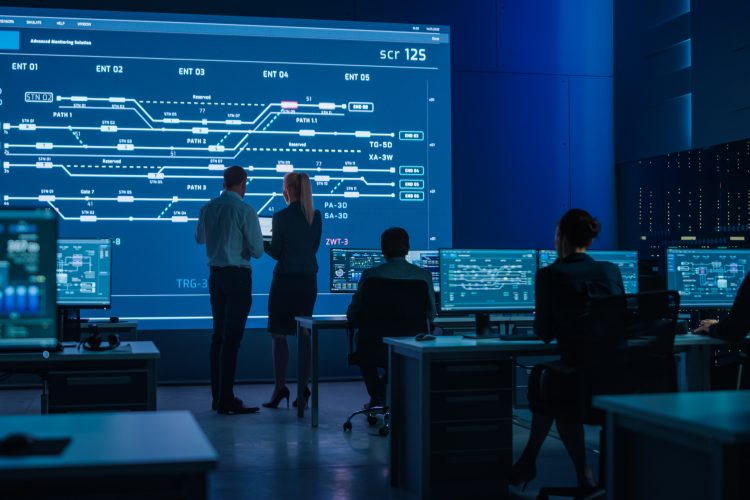 Telecommunications Company System Control and Monitoring Room with Diverse Multicultural Team of Professionals Working on Computers. Big Screen Display Showing Infrastructure Infographics. Back View
The future of railway communications
The future railway mobile communication system, or FRMCS, has been specifically developed with these objectives in mind. It has been designed to underpin and support the next generation of digital technologies with ubiquitous, low latency and interoperable connectivity that is both extremely reliable and secure. It will be essential to improving the resilience, safety, and sustainability of railways.
Although it is most widely associated with 5G and will use it in most implementations, FRMCS is a more open and adaptable framework than GSM-R and can use many types of communications technology. Nonetheless, the emphasis in FRMCS is on broadband, data-capable communications systems that can handle video, audio, augmented and virtual reality (AR/VR) and, generally, more data-intensive communications. These new, more powerful communications technologies like LTE and 5G will enable rail operators to handle large amounts of sensor data and integrate cloud and edge computing to support low latency machine communications as part of remote and autonomous operations.
Automated rail operations
One of the keys to improving efficiency — as well as addressing skills shortages — is the use of automatic train operations. Automation technologies reduce acceleration and deceleration, while improved traffic management reduces stopping and starting. All of which saves wear and tear on the equipment and reduces energy use. Currently, operators are running pilots of automatic train operations to test out different use cases both in shunting yards and mainline operations.
Automation demands highly reliable communications for both safety and efficiency. Early shunting systems were designed so that the shunter simply stopped when a radio connection was lost. This helped with safety, but for the sake of fuel efficiency, it is critical that loss of connectivity be as rare as possible. This is where technologies like LTE and 5G offer both greater safety and sustainability. For instance, Deutsche Bahn's driverless shunting pilot in Hamburg uses Nokia's 5G technology to handle the critical engine-to-track communications.
Maintenance use cases
Digitalisation and the wide use of sensors and intelligent devices will enable the use of conditions-based and even predicative maintenance. Currently, most maintenance is done using scheduling, often provided by the manufacturer. The maintenance schedule for a piece of equipment is by design carried out in advance of when it is required. This means more maintenance operations, more equipment off track for longer and more travel time to and from maintenance yards. On the other hand, if a piece of equipment fails early for unanticipated reasons, the scheduled maintenance will not catch it.
Sensors embedded on equipment and infrastructure offer the possibility of assessing the condition of equipment and using that analysis to carry out maintenance only when it is required. Sensors can be mounted on engines or carriages, as well as in trackside sensor sheds or drones. Analytics software uses machine learning to understand the historic performance data for each piece of equipment, and these models become increasingly accurate over time.
By better understanding the real performance and condition of assets, operators can schedule maintenance and assign resources more accurately. This not only enhances safety, but it improves asset utilisation, reduces the amount of reserve asset capacity needed and improves energy utilisation.
Better data, more energy saved
According to the IEA's report on the future of rail travel, "Rail is among the most energy efficient modes of transport for freight and passengers, "using only 2% of total transport energy while moving "8% of the world's passengers and 7% of global freight transport". While impressive, further reducing energy costs is critical, not just for sustainability reasons, but profitability as well.
Digital technologies improve energy use in many ways, as we have seen, but often it simply comes down to being more efficient. The key is to optimise operations using data from one end of the operation to the other. Passenger and freight bookings can be analysed in near-real-time to optimise routing. This means less empty train miles travelled, more punctuality and better passenger experiences — so they are more likely to choose the train again.
Automation and digital technologies made possible by FRMCS and communications technologies like LTE and 5G have a big role to play in optimising rail operations, which will ensure the sustainability of our railways for generations to come.  
Karsten Oberle Head of Rail, Digital Industries at Nokia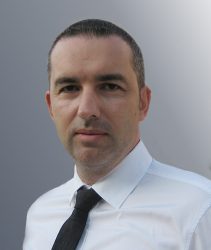 Karsten Oberle received the Dipl.-Ing. (FH) degree in communications engineering from the University of Applied Sciences "Fachhochschule für Technik" Mannheim, Germany, in 1998. In the same year, he joined the Alcatel Research Center in Stuttgart and worked for Bell Labs Research in various positions until 2015.
Karsten acts globally as Head of Rail within Transportation Sales in the Nokia Enterprise TEPS (Transportation, Energy, and Public Sector) Division.
As Head of Rail, he is responsible for expanding Nokia's business in the Railway Sector with a current focus on the Future of Rail Communication (e.g. FRMCS, 5G), on cybersecurity for railways and IoT & Analytics (Internet of Things) for Railways. This includes building and managing new sales programs, steering of global business development activities, and guiding regional sales and marketing teams on customer engagements.
Tweet me at @KarstenOberle