Czech Republic: "When it comes to investments, we leave nothing to chance"
Posted: 4 June 2015 | Pavel Surý, Director General of the Czech Railway Infrastructure Administration | No comments yet
In the words of Pavel Surý, Director General of the Czech Railway Infrastructure Administration, state organisation (RIA): "nothing is for free". By that he means that time is running out for drawing down a significant amount of European money from the Operational Programmes on Transport which will, however, result in a large number of temporary line closures in conjunction with the necessary modernisation of the lines. Pavel has headed the RIA since June 2014, and in this interview for Global Railway Review, he explains that his main goals include the completion of the modernisation of the main lines in the Czech Republic, including the use of European money from Operational Programmes on 'Transport 1' (OPT 1) and 'Transport 2' (OPT 2). As well as the modernisation of the railway infrastructure, it is also necessary to complete the restructuring of the rail system in the Czech Republic and the transfer of property owned by the Czech Railways to the RIA – in particular station buildings and the land underneath the tracks…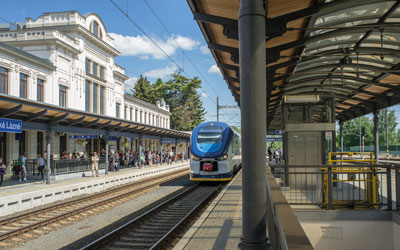 You have been in the Director General's position for about one year now. What 'successes' have you had?
Since commencing my activities, I have endeavoured to make use of my operational experience which I have acquired from the years when I worked in various positions. I am of the opinion that there is basically nothing in operation which can surprise me nowadays. I remember that the company management in Prague did not always communicate well with the regional units. I have strived to eliminate this communications gap from the very beginning, because I know that we cannot function well at a national level without the perfect cooperation of railway workers from the entire country. I think that I have been able to set up a functioning system of company management with essential feedback from the regions so that the decisions which we issue from the centre are truly competent and correct. Naturally, this does not only involve communication within the framework of our company…
The rest of this article is restricted to logged-in members. Login or subscribe free to read it.