Ceneri Base Tunnel: the logical continuation in the south
Posted: 6 August 2015 | Marco Ceriani, Chief Construction Officer of AlpTransit Gotthard Ltd | No comments yet
The NRLA Gotthard Axis comprises of the Gotthard Base Tunnel and the 15km-long Ceneri Base Tunnel. The two single-track tubes of the Ceneri Base Tunnel are complemented by branch-off structures to allow additional traffic connections. So that the ambitious time schedule can be met despite difficult geological conditions, work on lining the tunnel is proceeding in parallel with driving. Marco Ceriani, Chief Construction Officer of AlpTransit Gotthard Ltd, gives further construction status details…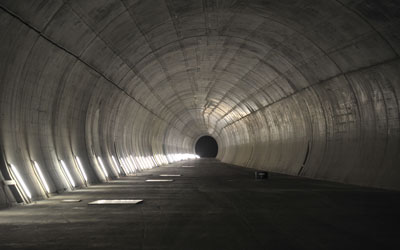 Covering a distance of 15.4km, the Ceneri Base Tunnel (CBT) passes under Monte Ceneri from Vigana, near Bellinzona, to Vezia, near Lugano. Situated just inside the north portal are the underground branch-off caverns at Vigana. In a future construction phase, these will permit crossing of the Magadino Plain. The line to Locarno will enable direct connections from and to Lugano. It will reduce the journey time from today's 55 minutes to 22 minutes.
In the vertical axis, the route of the CBT climbs 110m from the lowest point by the north portal at Vigana to Vezia. For most of the distance the gradient is never steeper than 7‰, except for the short section between the caverns at Sarè and Vezia, where it is between 10‰ and 12.5‰.
When designing the CBT, the most up-to-date safety aspects had to be considered. To take account of these, the plans include crosspassages at intervals of 325m for evacuation and incident ventilation in the operating phase. Including cross-passages and access adits, the combined length of the two single-track tubes of the CBT amounts to around 40km.
The cross-sectional areas of the drives (except for the branch-off structures) vary between 62m2 and 87m2. The resulting volume of excavated rock is around 3.5 million cubic metres…
The rest of this article is restricted to logged-in members. Login or subscribe free to read it.