Orchestrated mobility: Mobile app solutions for seamless travel
On 9 November 2017, Global Railway Review hosted a webinar in association with Axon Vibe, which explored how smart mobile apps can help create seamless passenger experiences and provide opportunities for new sources of revenue. Here, Axon Vibe's Thomas Annicq (CEO US), John Fagan (CTO) and Kilian Ulm (Head of Business) answer some key questions raised in the webinar.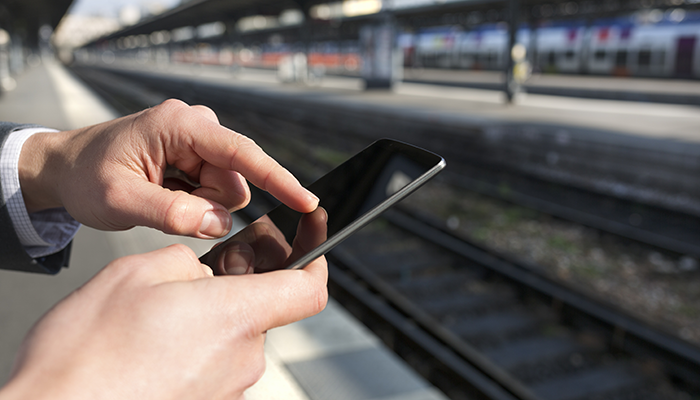 What evidence do you have to suggest customers want personalised travel assistance?
Today a customer has to personalise their own trip. They must locate their track from a big screen that contains lots of extraneous train information, so doesn't it make more sense to just have your phone tell you what track your train is leaving from, or if there is a delay on your particular commute? In addition, you don't need to know about that delay if you're on holiday and far away from home. Informed travellers are happy travellers. When faced with massive delays, clear and timely communication can be the difference between a patient understanding passenger and an angry frustrated one. Even better than simply offering personalised information is predictive personalised assistance, meaning that your phone shows you this information without you asking for it, by understanding which information you need and when. Based on the user's location tracks created by their mobile phone, we are able to create a customer profile that provides us with this personalised data. This is the technology that we provide PTOs with so that they can offer a superior experience to their passengers.
Please explain further how your smart technology contributes to a seamless ticketing journey?
We have the capability to automatically detect where a user gets on and off a train (or a bus, ferry etc.), and therefore we know the exact journey and method of transport used. Integrating this with an account based ticketing solution enables PTOs to provide their passengers with an Uber-like experience; where the passenger just jumps in and out of the vehicle without ever having to reach for their smartcard or phone. The fare of their journey is automatically calculated, and payment is deducted from the card linked to their account. In the future we aim to extend this seamless ticketing experience to the complete door-to-door journey, where multiple mobility service providers (MSPs) are linked to the same integrated account. Transferring from a bus to a train to a ride-share service should all be possible without having to buy separate tickets.
Who are Axon Vibe currently working with and how are you helping them prepare for the future of travel?
We are currently working with several forward-thinking PTOs across multiple modes of public transport in various markets, including Singapore, the Netherlands, Norway and Axon Vibe's home turf in Switzerland. For rail operators, the Swiss Federal Railways (SBB) example is probably most interesting. SBB has deployed our smart travel assistant, which offers personalised messages to their passengers. Ranging from 'leave now' notifications that help passengers leave on time to catch their train based on the passengers' current location, to alternative route suggestions when there's interrupted service or the user has missed his train, to a notification of when their last train leaves to make sure a passenger doesn't miss it. We are also using this contextual communication channel to manage passenger flow. By understanding which passengers might be willing to take a later train, we can push passengers from peak hour trains to relief trains, optimising the operators' infrastructure, and offering a less crowded train to their passengers. In addition to personalised passenger assistance, we are also piloting our seamless ticketing solution in Switzerland.
What reassurance can you give to somebody who has reservations over the safety and security of using smart technology?
This is a very important question. The safety and security of personal data is fundamental to smart technology. Without the user's trust, we can't offer them our personalised services. Our data privacy principles are compliant with the EU General Data Protection Regulation (GDPR), but we aim to go above and beyond these regulations. First and foremost, everything we do is opt-in; which means the user must actively turn on the smart features. Secondly, gaining and keeping a user's trust is about complete transparency of the data we are collecting. Therefore, we have made the user's profile a very prominent feature in the app. We have spent extensive time designing this so that within a blink of an eye a user is able to understand what data we have collected and interpreted. And finally, it is very simple for users to delete their personal data; they are in control of their data.
Please explain further how your smart technology can provide opportunities for new sources of revenue?
Because we understand a user's behavioural pattern, we can offer them contextually relevant services that deliver value beyond transportation; for instance, third party services. We are also able to connect them with other mobility providers – such as mobility on-demand solutions, shared bike services and other transit connections. Location data gives us insight into users' preferences – not only their travel patterns. This allows us to predict user needs and propose curated offerings in the right context, such as a micro-travel insurance product when we detected that a passenger is on their way for a weekend of skiing, or a restaurant booking when a passenger arrives in an unknown city.
What do you think is the biggest challenge facing the railway sector when it comes to incorporating smart technology for passengers?
One of the biggest challenges for the rail industry is the procurement process, which is currently mostly geared towards making long-term expensive hardware investments, not software investments with agile development cycles that do not fit into a typical RFP (request for proposal) format. It's not easy to write an RFP when technology evolves so quickly, yet you have to keep your system running reliably. Our product can bolt on to existing legacy systems and we can work together with visionary PTOs in an agile manner to bring their customer experience into the age of context. We believe the future of procurement lies in testing before you buy, not buying something that has yet to be built. If you want more information on running a pilot project, please reach out to Kilian Ulm who heads our business development efforts.