Innovation is the future for the London Overground
On 13 November 2016, Arriva Rail London took over the operation of the London Overground concession from the previous operator, LOROL. The start of the concession brought with it a new, more challenging, performance regime and Arriva Rail London hopes that a range of new innovations will help it to meet the tough new train performance targets and deliver a great experience for customers. Matt Bromley, Innovation and Business Excellence Manager at Arriva Rail London provides more information.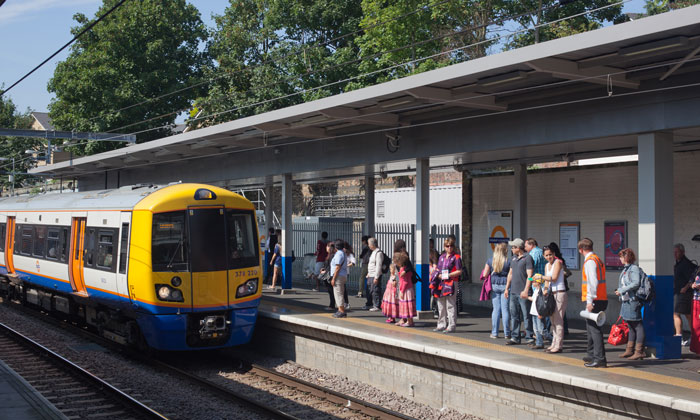 TRANSPORT for London (TfL) and Arriva Rail London's starting point for performance measurement and management is the customer. We are incentivised to do the things that provide the best outcomes for our customers, whether this is in normal operations or during times of disruption. This involves a system of penalties and bonuses that are applied depending on our performance. Every route matters – punctuality and performance are now measured against the seven Overground routes rather than as before when there was a single concession wide target – and we are no longer measured to the national standard PPM but instead to a new measure called T-3.
Under this new regime, any service that fails to arrive at its final destination within three minutes of its scheduled time or is cancelled, part-cancelled or fails to stop, is treated as a punctuality failure. Ultimately, the customer doesn't care what has caused their delay, they just want to be able to complete their journey, and as a result, Arriva Rail London is now responsible for delays caused by our partners and suppliers. This recognises that being joined-up with our network partners will help deliver a more predictable journey for customers. In a typical railway period, 40 per cent of train operating companies' 'on-self delays' – that is the delays that Arriva Rail London as the operator is responsible for causing itself – are attributed to 'boarding and alighting' or passenger crowding.
This is the largest single cause of on-self delays for train operating companies. On a normal weekday the London Overground carries 585,000 passengers – five times more than in 2007. Due to population and economic growth in the capital, TfL forecasts that by 2021/2022, the London Overground will carry 282 million passengers a year; this is 44 per cent more than in 2015/2016.
Therefore, managing passenger movements and delivering our T-3 targets within the context of a growing rail network presents us with many exciting challenges that we hope innovation will help us to solve.
Problem solving innovation
To help keep station dwell times within 30 seconds and therefore enable services to depart on time, Arriva Rail London is working to make better use of loading data to inform customers about less busy sections of trains. To do this, Arriva Rail London's fleet of 57 Class 378 trains is now fitted with loadweigh technology which utilises the air suspension fitted to the train to estimate how many people are on the train.
When customers board a carriage, air is pumped into the suspension bags so that the floor of the train is always the same height above the tracks. A sensor in the air bag measures the changes in pressure in the bag and the on-board computers use this information to calculate how many people have boarded the train.
Historically this data has only been used for capacity planning purposes, but as part of our performance innovation focus, and as part of Arriva Rail London's innovative Orinoco 2 project (as it's known within the business), new Train Control Management System (TCMS) software has been installed on the Class 378 trains, enabling them to directly transmit information in real-time on how busy each carriage is to station teams on their smart devices. Frontline employees can therefore use this information to direct customers to less busy parts of the train, which helps to reduce station dwell times, improve train performance and deliver a great experience for customers.
The Orinoco 2 project was developed in partnership with TfL, Bombardier Transportation and software developer HaCon and was made possible with funding support from the Rail Safety and Standards Board (RSSB) as part of their Train Operator Challenge 2015 (TOC'15) innovation funding competition.
Our ambition is to make loading data available to our customers, and on 16 October 2017 we installed a new customer display screen at Shoreditch High Street station.
This project, which has been developed in partnership with the Transport Systems Catapult, the Department for Transport (DfT) and London-based start-up, Open Capacity, will use machine learning to combine the real-time and historic loading data with other information such as the time of day or the year, weather and disruption information. This enables us to predict future crowding in advance, depending on the state of the rail network and display it to customers using a red-amber-green traffic light system. If the pilot at Shoreditch High Street station is successful, we plan to roll the information out to all stations, as well as investigate the potential to use this predictive system for control decision support and event planning.
Einstein is believed to have said, "We can't solve problems by using the same kind of thinking we used when we created them", and at Arriva Rail London we are working hard to harness the creative potential of all our colleagues, suppliers and partners to help us deliver a world class railway for our customers.
Biography
MATT BROMLEY is Arriva Rail London's Innovation and Business Excellence Manager. The purpose of the role is to facilitate innovation and spread best-practice throughout the concession, with the aims of achieving continuous improvement in customer satisfaction and driving forward further developments in London Overground's effectiveness and efficiency. Matt has worked at the Overground since 2014 having joined the rail industry as a Management Trainee at Chiltern Railways in 2011.