FERRMED conference: FERRMED standards, the keystone of rail freight competitiveness in Europe
Round-up of the 2008 FERRMED conference which took place on 26 June 2008 and welcomed delegates to Brussels for discussion about the development of rail freight in Europe.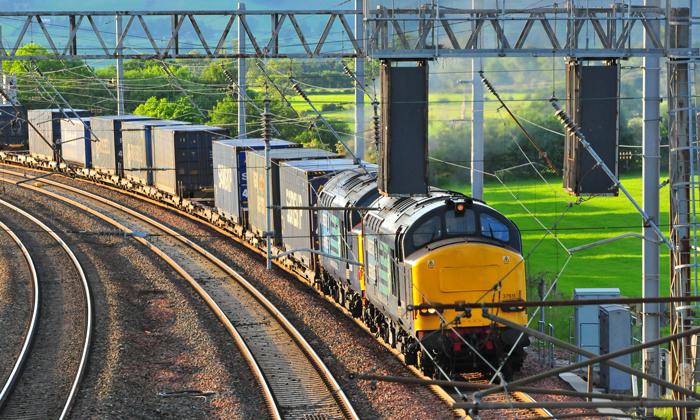 On 26 June 2008, Global Railway Review welcomed delegates to Brussels for the 2008 FERRMED conference to promote the development of rail freight in Europe.
FERRMED is a non-profit association of a multi-sectoral character, situated in Brussels. It was initiated in August 2004 by the private sector in order to improve competitivity by promoting the so-called FERRMED standards in the whole of the European Union and on the Great freight railway axis Scandinavia-Rhine-Rhone-Western Mediterranean.
Held at the Brussels Marriott Hotel, the conference was jointly organised between FERRMED and Global Railway Review, and the event attracted over 150 delegates who were willing to learn more about this important subject and to have the opportunity to make new contacts within the industry.
The conference was organised in a 'workshop' style format which gave delegates a varied choice of topics and aspects they would like to hear presentations about.
The conference began with an Opening Session and a presentation from Joan Amorós, Secretary General of FERRMED, who spoke about the many objectives of FERRMED and how it is important to promote and improve FERRMED Standards. Mr. Amorós also explained the importance of port and airport connection improvements and he finished his presentation by saying that the conference will be chance for everyone attending to join together and discuss how to implement railway common standards in the EU and that "FERRMED Standards are ambitious, but possible!"
Another Opening Session presentation came from Karel Vinck, ERTMS Coordinator at the European Commission, who explained the ERTMS Corridors and the freight operations on those corridors.
The first Panel Discussion was  made up of important industry  personnel including:
Aernoud Willeumier, Port of Rotterdam Authority
Manuel Medina Burrull, SEAT, S.A.
Michele Mossi, GESTE  Engineering Ltd
Padideh Gutzkow, NEA
Patrice Bouron, INEXIA
Many aspects and presentations were raised during this discussion including; Rotterdam and its inland railway  network, freight competitiveness in Europe, signalling, interoperability, loading gauges, axle loads, electrification and an action plan for a corridor from Rotterdam to Genoa.
After a networking coffee break, the conference was divided into three parallel workshops. Each workshop was moderated by an industry professional, and also including a group of specialists each making a presentation.
The first workshop included, among others:
Ruth San Damaso, ADIF
Adrian Kurz, Bombardier
Gerhard Troche, Royal Institute  of Technology
Helge Stuhr, Technical University  of Berlin
Mar Rivas, Vossloh Transportation Systems
Marc Grau, Celsa Compañía Española de Laminación
Topics of this workshop included rolling stock and infrastructure requirements, the development programmes and action plans, long  and heavy trains, track widths and  loading gauges.
Participants of the second workshop included, among others:
Philippe Mangeard, Cercle pour I'optimodalite en Europe
Sascha Altenau, Hupac
Wolfgang Jakob, UNIFE
Topics discussed included ERTMS implementation, development programmes and action plans, social legislation and operational and management systems at Corridor and EU level.
Participants of the third workshop included, among others:
Eric Ronco, Isoloader Europe
Jean-Pierre Ternon, Port du Havre
Topics raised included characteristics, development programmes and action plans, important locations and centres for ports and airports, network availability and flexible terminals with high-performance levels.
After a networking lunch break, delegates again broke-up into another two parallel workshops.
Participants of the fourth workshop included, among others:
Agnes Coudray, Roissy Carex
Francois Adroit, SNCF
Gerhard Troche, Royal Institute  of Technology
Topics discussed included light-rail freight transportation, high-speed rail freight, air-rail links and future developments of such operations.
The fifth workshop included,  among others:
Bruno Meira, CDM Prefarails
Charlotta Faith Ell, WSP Sweden AB
Topics discussed included environmental aspects of rail freight and reducing environmental impact, long-distance transportation and noise, vibration and emission pollution.\
The conference ended with a final session to discuss rail infrastructure fees with a look at the present situation and future developments. Presentations came from:
Bernard Chion, NOVATRANS
Eric Peetermans, NMBS-Holding
Frank Jost, DG Tren
Gordon Lamond, WYG International IMC Consulting
Johann Metzner, Deutsche Bahn AG
Monika Heiming, ERFA
To end the conference, delegates were treated to a networking drinks reception – a perfect opportunity to make new contacts within the industry.
Global Railway Review would like to thank all those involved in creating a successful conference.
Not all speakers of the conference are listed in this editorial review. To get a full list of speakers, attendees and a CD-Rom of presentations (at a cost of £177.00+VAT) please email [email protected] or phone +44 (0) 1959 563 311.
Issue
Related topics
Related organisations