A new national level crossing strategy – the Finnish way
Finland is establishing a new level crossing strategy combining maintenance, planning, collaboration, technology, information technology, and communications in order to reduce the number of level crossing accidents in the country. Jarmo Koistenen, Traffic Safety Specialist from the Finnish Transport Agency, explains more.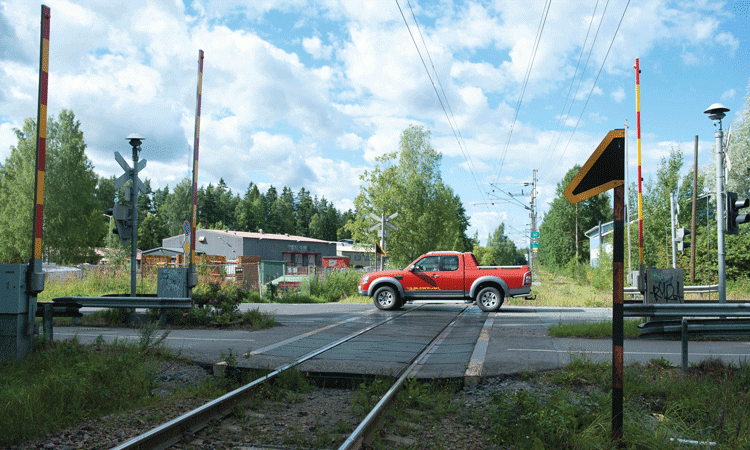 Copyright: Jussi Helttunen
The rail network in Finland is approximately 6,00km-long and there are currently 2,460 level crossings on the main railway network that are maintained by the state, with a further 345 level crossings on side tracks. In addition there are also level crossings on private railway tracks which are mainly located within industrial areas and ports.
The number of level crossings in use has steadily decreased and this is mainly due to investment and maintenance projects. Decisions to specifically remove level crossings have varied over the years.
There are currently 548 level crossings with boom barriers on Finnish main tracks and 64 on side tracks. Only 40 level crossings are equipped with warning lights and bells, with 32 equipped with just warning lights.
As recently as the 1990s, the railway network had over 800 level crossings with boom barriers. However, their number has decreased steadily in connection with track renovation projects. The rail network also has many so-called 'quiet track' sections that only operate freight traffic.  Following the completion of the Helsinki Metropolitan Area Ring Rail Line in 2015, new railway projects have only been planned in Northern Finland in connection with mining projects. 
Level crossing laws and regulations
The Finnish Transport Safety Agency is the traffic safety authority in Finland and the infrastructure manager of the rail network is the Finnish Transport Agency (FTA).
Regulations and guidelines concerning level crossings have been given in directives issued by the European Union and in decisions of the Commission, as well as in national-level legislation, regulations and guidelines. Directives of the European Union and decisions of the Commission state, for example, that Member States must appoint an investigative body to look into serious accidents and incidents that have occurred on railways. In Finland the Safety Investigation Act (525/2011) stipulates that the investigative body is the Safety Investigation Authority. Laws relating to level crossings also include the Land Use and Building Act, the Railway Act, the Highways Act and the Road Traffic Act.
In 2014 a new regulation was published on the infrastructure subsystem of the rail system which was based on the regulations of the European Union as well as the Finnish Railway Act. According to the new regulation all level crossings on the rail network must comply with the regulation in question by 2030. The condition-data related to Finnish rail network level crossings have been entered into the national level crossing register and the database of the level crossing safety assessment system. Finland also has a public level crossing register with images of all the level crossings on the rail network that are maintained by the state1. All of the information required to comply with the new regulation is unfortunately not available in databases, therefore extensive further research is needed to determine how many level crossings do not meet the regulated requirements.
Level crossing accidents
Level crossing accidents must always be taken into consideration when talking about level crossings. Over the past 10 years an average of between 30 and 40 accidents have occurred every year with between two and 10 fatalities. The number of accidents has decreased steadily over the years; naturally, in correlation with the reduction in the number of level crossings. Consequently, the number of fatalities and injuries resulting from accidents has also gradually decreased, although there is significant annual variation. A single accident can have a major impact. Too little attention has been paid to the effect of level crossing accidents on railway safety, i.e. train safety. In recent years there have been individual accidents with significant potential for disaster. These include accidents involving heavy vehicle traffic and work machines as well as buses and school transportation vehicles.
In 2014 the Finnish Transport Safety Agency calculated that the number of level crossing fatalities decreased by 3.5% each year between 2006 and 2014, while over the same period all railway fatalities decreased by approximately 5% per year and all traffic accidents by approximately 8% per year, on average. This means that level crossing safety has not improved as much as railway or traffic safety.
The Safety Investigation Authority has prepared accident investigation reports on some of these accidents. Consequently, the accidents have resulted in recommendations to the track manager that generally relate to the removal of specific level crossings, but there are also others; for instance, regarding the investigation of school and bus transport in connection with level crossings. The Safety Investigation Authority recommends that level crossings without warning devices should be avoided by school and bus transport. In this regard the Finnish Transport Agency has conducted six investigations in different track sections and presented the results to the parties responsible for school transport in different municipalities.
As recently as the late-1960s, Finland had 8,000 level crossings and there were approximately 250 level crossing accidents every year with more than 50 fatalities in some years. Progress has clearly been made in terms of these figures but there is still work to be done. In connection with level crossing safety, railway safety has also been talked about more frequently in recent times. A level crossing accident is not only a tragedy for an individual road user; in the worst case scenario, it can result in disaster on a huge scale.
National level crossing strategy
We are working towards establishing a new level crossing Strategy and there are several reasons why.
The FTA was established as a result of a significant organisational restructure in 2009 when three separate organisations where brought together. The FTA was founded in 2010 and a new way of working and organising level crossing issues was created. Currently the FTA has six units that serve different issues related to level crossings. New regulations have emerged concerning level crossing safety and an additional factor is that nowadays there is new cost-effective level crossing safety equipment. This is the background to our strategy work.
The FTA's level crossing strategy work is now coming to an end and has been approved by infrastructure management. The strategy has been divided into the following six themes with each concentrating on a specific level crossing safety issue.
Maintenance
Objective
To reach the national level crossing objectives set in the regulation on Railway Infrastructure Subsystem by the year 2030.
Action plan
At the beginning of 2015 the Railway Infrastructure Subsystem regulation entered into force. The regulation also contains national level regulations about level crossings. The key point is that if a level crossing does not comply by the 2030 deadline, it must be closed. As aforementioned, the FTA has made a very specific technical inventory at all level crossings in previous years, but unfortunately the required data has not been collected so we do not know the exact number of level crossings that are affected by the national level crossing objectives. The corrective action, therefore, is to draw up a long-term action plan on eliminating and improving level crossings.
Planning
Objective
To fully implement the Railway Act and its procedures for eliminating level crossings. To take level crossing improvements and eliminations into account when planning railway projects.
Action plan
The removal of level crossings is currently possible by several different cadastral procedures. Plans to eliminate level crossings primarily follow private road construction proceedings. Railway plans in accordance with the Railway Act have not been implemented in the elimination of level crossings, although this would be preferable. The FTA should fully implement the Railway Act and its procedures for the eliminations of level crossings.
Collaboration
Objective
To organise the division of work in order to achieve level crossing safety in an efficient and appropriate manner and to clarify the collaboration between the different parties. To draw up guidelines for the collaboration with the ELY Centres (Centres for Economic Development, Transport and the Environment) and define a common target for the role of the centres in matters concerning level crossings.
Action plan
The issues related to the management of level crossings are decentralised. Instead of centralising, we suggest organising a task force group for level crossing issues that would meet on a regular basis. Tasks would include annual operation planning of level crossing safety issues as well as regular monitoring and reporting.    
Technology
Objective
To implement different solutions to improve level crossing safety awareness; for example, by promoting mobile solutions (smart phones, navigators, level crossing warning systems) in accordance with the national intelligent transport strategy and the road safety plan. To implement new, innovative and cost-effective solutions to improve level crossing warning devices. To organise the recycling of level crossing equipment.
Action plan
To further develop warning lights and half-barrier devices powered by cost-effective and alternative forms of energy and to speed up a more widespread adoption of these. To organise effective recycling of level crossing equipment according to the priority list.
Information (Technology)
Objective
To draw up a development programme for safety assessment tools and registers related to level crossings. The programme would also include the development of safety analysis tools; for example, regarding railway safety and fatalities.
Action plan
To further develop the level crossing safety evaluation tool system to cover railway safety risks and costs incurred by accidents. To develop the public level crossing register into a continuously updated geographic information system; this would also support traffic planning at the regional level.
Communications
Objective
To improve level crossing safety on private roads by means of campaigns and developing instructions, as well as to develop the communication of level crossing safety.
Action plan
To arrange with our cooperative partners guidance and instruction activities among road keepers and their stakeholders. For instance, to compile a package with information directed at both road keepers (responsibilities and obligations, best-practices etc.) and road users (safety, driving patterns etc.). Information will be disseminated through the private road maintenance associations. To improve level crossing safety by launching regular traffic safety campaigns in cooperation with other parties promoting traffic safety. 
Conclusion
The next step is to inform all necessary parties about the themes aforementioned and to implement them; there is a lot of work to do. 
The strategy is not intended to be expensive; it is more a declaration of good will. The long-term action plan, which was the first theme, will be.
 References
Pilot projects to implement level crossing safety technology
The Finnish Transport Agency (FTA), Finnish Transport Safety Agency and Jet-Tekno Oy began a pilot project in 2014. Running between the two small cities, Toijala and Valkeakoski, was a single track railway with more than 20 level crossings – not one of them had any warning devices. Valkeakoski has a paper-mill industry and relies on the railway, which can be busy on some days.
A 'railway beacon' (pictured) is a new innovation to improve safety at levels crossings. The railway beacon receives a signal from a train unit and warns people at level crossings via an LED light. The beacon uses solar panels as its only source of energy and communicates between the train unit using a radio connection. When the beacon's LED starts to flash, it indicates that it is not safe to cross. A short video demonstrating one of these level crossings is available online2. In this pilot project Jet-Tekno Oy assembled 20 beacons along this track section.
Next, the Finnish Transport Agency, the Finnish Transport Safety Agency and Jet-Tekno Oy will concentrate on a new pilot project to make use of old relay-based level crossing equipment which still works accurately, but is somewhat dated. This will lead to big cost savings as brand new technology in some areas will not be needed.
The target is to use the same technology as the beacon control units, but have the technology control the warning lights, bells and half-barriers that already exist. This solution is a good opportunity to increase safety at low cost because it combines new innovation with old, but working, relay based technology. Those level crossings already have electricity available.

Jarmo Koistinen is a Traffic Safety Specialist within the Traffic Safety Unit of the Finnish Transport Agency (FTA). Previously Jarmo worked at the Finnish Maritime Administration where his main tasks were to implement the waterways' safety management system. For the past three years he has been coordinating the level crossing safety work at the FTA.