Arriva Rail London trial real-time passenger information, every step of the journey
To ensure London Overground passengers are equipped with effective real-time journey information, Stella Rogers, Customer Experience Director at Arriva Rail London (ARL), provides details of their recent and current trials using state-of-the-art technology to assist them in boosting passenger satisfaction and ensuring customers are confident in travelling on their network.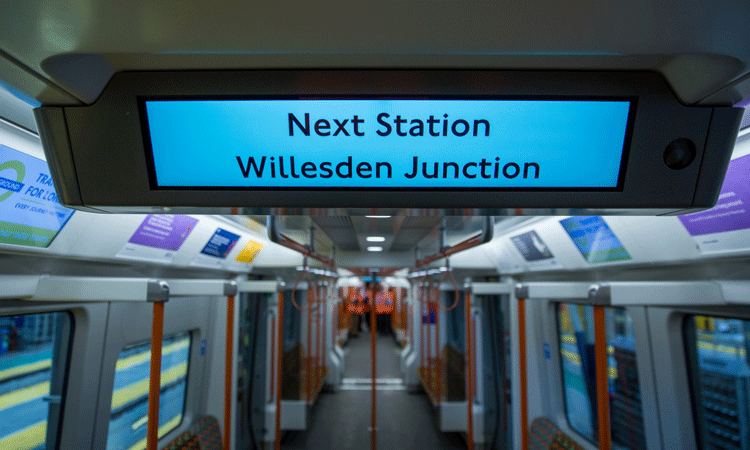 Providing passengers with the right information, at the right time is an industry-wide challenge.
According to data commissioned by the Rail Delivery Group (RDG) customers feel more stressed and frustrated when there is ambiguity about key parts of their journey, when information is shared too early or too late, and often crowd source their own answers.
However, the industry is being presented with more solutions than ever to improve the passenger experience through sharing real-time information, via 'first-of-a-kind' technology.
Capitalising on innovation
To ensure that Arriva Rail London (ARL) provides excellent customer service, and capitalises on innovation in the sector, we have been running a number of real-time passenger information (RTPI) technology trials to modernise journeys on the London Overground. This includes a pilot of state-of-the-art customer information screens (CIS) and predicative carriage occupancy displays. There will also be new passenger information systems on board Transport for London's (TfL) Class 710 trains, with remote access capabilities which we will explore in the future.
The CIS trial with Blackbox Company has seen a suite of high bright full-colour digital screens installed at Kilburn High Road Station on London Overground, displaying real-time information to help customers plan their journeys in advance and minimise impact in case of disruption.
On arrival in the booking hall, customers can view the status of the entire London Overground network at a glance. A 'Rainbow Board' also shows the status of all TfL modes, enabling passengers to choose the right route for them at that precise moment in time. The screens have additional capability to show predefined messages and other types of media.
Fully integrated transport information
On exit from the station, an onward travel screen shows the status and location of other relevant TfL modes, including buses, ferries and bikes to provide fully integrated transport information.
The displays are operated by our central control team using a web-based customer information management system to upload immediate or pre-programmed messages.
Following their successful trial, the digital CIS screens will be rolled out to over 30 stations across the network in summer 2019.
Once customers have chosen their route, the next step in their journey is boarding their chosen mode of transport.
Combating overcrowding
Overcrowding is a major industry problem and one highlighted in a recent report by the Department for Transport (DfT), which stated that crowding was the highest in London, with a passenger in excess of capacity (PiXC) score of 5.4 per cent.
In partnership with Open Capacity Limited, the DfT, TfL and the Transport Systems Catapult (TSC), we have been looking at how we can use historic data to explore the use of predictive carriage occupancy technology to encourage passengers to board less busy parts of the train; teamed with the customer information screens, this will give passengers never-seen-before information to plan their route down to the optimum carriage to take.
One year's worth of loading data from the Overground Class 378 fleet and one year's worth of Oyster entry and exit data from Shoreditch High Street station has been used in the pilot, which is visible to customers via a screen in the station installed en-route to the platform.
The technology employs a traffic lights system to show areas of the train that are more or less crowded, with 90 per cent accuracy. It has dual benefits, not only for the passenger but for us as an operator too, allowing customers to board more quickly and ensure that our trains leave and depart on time.
To date, an improvement has been observed in operational performance, with 0.5 per cent increase in trains that achieve their dwell time; additionally, 75 per cent of customers surveyed by ARL said that this type of information made them feel more satisfied about the service.
Technology for every step of the journey
Embedding real-time technology during every step of the customer journey means that as passengers move from the platform to the train, so must the communication of up-to-the-minute passenger information, and, alongside TfL and Bombardier, we are working on a project that will see this become a reality.
In the new Class 710 fleet that is soon to be introduced on the Gospel Oak to Barking line later in 2019, there will be a two-pronged approach to sharing real-time information, with both audio and visual passenger information systems (PIS).
Every carriage will be fitted with an overhead screen internal ceiling-mounted display to inform passengers of the next station, complimented by automated audio announcements, but what sets this PIS apart from its contemporaries is the capability for these screens and audio systems to be accessed remotely. This could allow us to update the screens and make audio announcements in real time to passengers on the trains, alleviating passenger frustration in the event of disruption and delays. We will work on how we develop and implement this feature in the future.
An exciting time for rail
These are just a few of the projects that we are piloting with TfL to modernise and enhance every step of the customer journey, and we will work hard to improve information at every step of the journey. It certainly is an exciting time for rail, and as we look at the innovation projects being trialled across the industry, it is clear that 2019 will see more information technology deployed than ever, to boost passenger satisfaction and keep our customers informed and confident whilst they travel with us.
Arriva Rail London (ARL)
ARL is the train operating company responsible for running the London Overground network under a Concession Agreement with Transport for London (TfL). The seven and half year concession commenced on 13 November 2016.
Arriva Rail London is part of the Arriva group, one of the leading providers of passenger transport in Europe. Arriva employs more than 60,000 people and delivers over two billion passenger journeys across 14 European countries each year.
Biography

Stella Rogers has worked within the rail industry for 25 years and has held positions at SWT as Head of Guard, at Southern as Head of Revenue Protection and Security and at GTR as Head of HR. Stella joined Arriva Rail London (ARL) in 2016 and is currently the Customer Experience Director with responsibility for managing frontline teams, stations and drivers and ensuring that (ARL) delivers world-class customer service and that safety is at the heart of everything they do.