Smart freight solutions for a stronger future
Clemens Först, CEO of Rail Cargo Group, explains how ÖBB's freight division is using smart devices and innovative technology to ensure its wagons are more environmentally-friendly and contributing to shifting cargo from road to rail.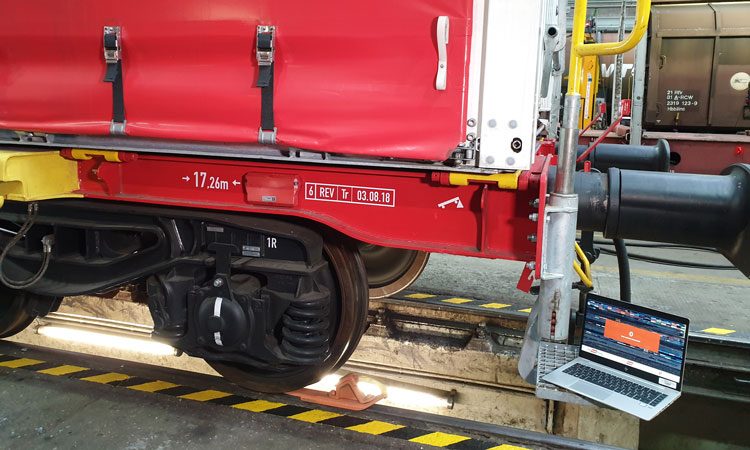 ONE THING is clear: We cannot meet 21st century customer requirements with products and technologies from the 20th century. To combat this, we are heavily investing in digitalisation, innovation and product development. We are ramping up our high-frequency TransFER connections in Europe and Asia, the latest edition being the TransFER Vienna–Scandinavia. Our ground-breaking TransANT platform wagon, investments into low-noise brake systems as well as our intelligent SmartCargo project, are all leading the way towards a faster, brighter, greener and more sustainable future.
SmartCargo: The details
Smart transport and asset intelligence is essential to meeting the expectations and demands of our customers, especially when it comes to international freight traffic. Our customers benefit from real-time information, quality and security. With SmartCargo we provide comprehensive end-to-end information including tracking and tracing, departure and arrival notifications as well as estimated arrival times. By the end of 2020, up to 13,700 wagons will be equipped with a SmartCargo device. A position sensor supplies the exact GPS coordinates of the wagon at predefined intervals. Another sensor provides reliable motion detection independent of GPS reception and a 3D acceleration sensor is used to detect impacts and monitors the transport of sensitive goods. If no network coverage for data transmission is available, the hardware reverts to an SMS service. Additional benefits from wagons equipped with SmartCargo in terms of improved wagon management are reduction in maintenance effort and wagon costs, increased provision quality, optimised pre- and post-carriage costs as well as improved fleet control for maintenance. 
IT innovation
Without a direct power supply, the SmartCargo device runs on an energy self-sufficient system. Also, a large IT database has been created to provide all the information about each transport. Pairing this with the GPS device on the wagon, we receive detailed information from each wagon including exact departure time, the current condition of the wagon, various reports and real-time analysed data sent from the wagons at predefined intervals. Additionally, alarms can be defined and created via the database to monitor journey progress. For example, via Geofencing the system sends an instant message when crossing predefined zones, such as national borders.
Implementing the technology
Currently, the SmartCargo project is running on-schedule for our 2020 goals. In March 2019, we equipped our very first wagon using our new platform wagon TransANT as the test subject. The device is activated by scanning the QR code of the telematics device via a mobile phone app. As soon as one of our wagons arrives in our workshops for routine inspection, maintenance or repair, it is automatically equipped with the SmartCargo device. This enables us to utilise this wagon technology as quickly as possible.
Reasons for innovation
Our innovations have been essential to growth and sustainability as European freight volumes are expected to increase by up to 30 per cent by 2030. This is a particular challenge for the environment and an enormous burden on the ecological footprint. A central part of our business model is to do everything possible to shift this growth from the roads to the environmentally-friendly railways. Rail freight is the only way to combine growth and climate goals, in order not to miss the Paris goals on CO2. One of the biggest issues is that the design of freight wagons has brought little innovation into the market in recent decades and current solutions no longer meet the core needs of our customers. Precisely at this point it became necessary to develop a modern and flexible wagon that not only transports goods efficiently, but also creates social benefits by promoting ecological and economic advantages.
TransANT: The revolutionary platform wagon concept
TransANT is an efficient wagon underframe that brings maximum flexibility to rail freight traffic through lightweight construction and modular superstructures and implements completely new sustainable logistics solutions. This is a product that adapts to the customers individual logistic requirements. Two years after the first paper draft and technical drawing, the implementation and production of the prototypes began. Following the successful approval tests, we are now already contracted to manufacture the first 30 units.
Smart and silent
Besides making our wagons smart, we are also making them quieter to reduce noise pollution. We do this by equipping our freight wagons with new low-noise braking systems. In comparison to passenger cars, freight wagons are equipped with cast iron brakes which creates friction with the wheel surfaces and results in objectionable sounds. Our new 'whisper' brakes are designed with much quieter and more elastic materials that reduce the amount of noise per wagon by nearly half of a conventional wagon system. The conversion of noise reduction began in March 2018 and now one year later 2,192 wagons are already on the railways equipped with the low-noise whisper brakes. During 2019, 2,086 wagons will follow and by the end of 2020 a total of 7,279 wagons will be silently transporting cargo throughout Europe.
The new leader in environment protection
With TransANT, smart devices and innovations, the Rail Cargo Group is actively contributing to the protection of our environment and setting an example for sustainable transport. Our aim is to be the attractive driving force to initiate the shift from road to rail. Neither the road infrastructure nor the emission reduction targets are compatible with the growth of freight transport over the next few years. Rail can score here as the leader of intermodal transport concepts and innovative freight wagons. More freight by rail means less CO2 emissions and less traffic on the roads, therefore resulting in benefits for society as a whole.
Biography

After his doctorate in theoretical physics and chemistry, CLEMENS FÖRST started his career as a consultant at McKinsey & Company in Vienna. In 2011, he joined the ÖBB Group, first as Head of Strategy, then as CFO of Rail Cargo Hungaria and Managing Director of Rail Cargo Carrier until the end of 2014. After holding positions as Managing Director of European Contract Logistics and Board Member at DB Cargo, Clemens has been the CEO of ÖBB's Rail Cargo Group since 2017. At a European level, Clemens is Chairman of the CEO Taskforce of UIC and CER and is committed to creating competitive framework conditions for rail freight transport.