Technological developments drive the demand for railway connectors
A recent study has revealed the railway connectors market is expected to grow from USD 802 million in 2018 to USD 1,069 million by 2023, at a Compound Annual Growth Rate (CAGR) of 5.92 per cent during the forecast period. What are the latest technological trends in this market?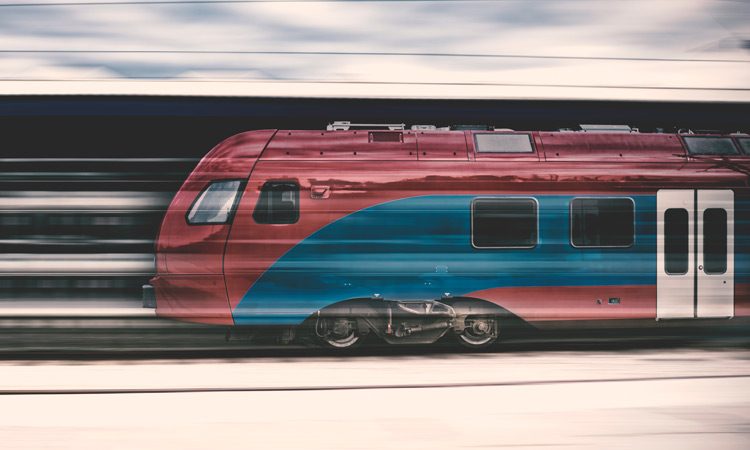 Railway connectors are devices used for data transmission along tracks and rolling stock equipment which include signalling systems and power transmission on trains. They are installed in almost all railway equipment and systems for the efficient functioning of electrical or electronic devices. Connectors range from miniature connectors to heavy-duty connectors. The market for railway connectors can be divided into four segments; applications, connector type, platform and component.
Attractive opportunities
The railway connectors market has evolved over recent years. Manufacturers of railway connectors are focused on enhancing their market share by engaging in research and development activities. Additionally, designers seeking new opportunities for railways are constantly imposing greater demands on electrical and electronic system interconnections, such as Wi-Fi connectivity which helps attract and maintain ridership, video cameras in new unit designs (or retrofits in existing rolling stock) to strengthen security, and the latest safety systems help to minimise risk and responsibility.
Signalling/Infrastructure segment expected to witness the highest growth between 2018-2023
The global demand for rail vehicles is being fuelled by the growing population in urban areas, which is putting enormous pressure on existing transportation infrastructure and necessitating the expansion of the infrastructure networks. This will drive the demand for new rail vehicles. Big data applications in the rail industry are also likely to boost the demand for advanced rolling stock; for instance, a tool known as 'open capacity' has been developed in the UK to let passengers know how crowded train carriages are. This tool was created by combining real-time sensing technology on-board trains with analysis of historical data. Such applications have the potential to enhance the overall travelling experience and propel the growth of the rail industry.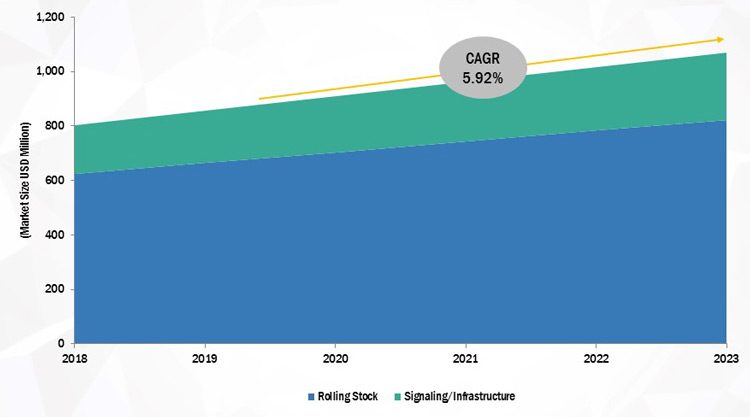 A particular challenge in the railway connector market is complex wiring systems. Complexity in train systems has increased due to body wiring which, in turn, impacts the space required for extra wiring and increases the weight, which has an adverse effect on performance and cost of ownership. This means that wiring the individual components is becoming increasingly challenging.
Technology roadmap
Technological advancement in the railway connectors market is heavily associated with the digitalisation of railway services. Passenger mobility and passenger information is the combination of various digital solutions which are the key to improving passenger experience, even before passengers leave home. They are based on ticket sales, CCTV information, live train times, and car parking capacity to enable commuters to get better guidance to travel by making better plans for their journeys. Infotainment systems connect commuters on-board, offering various services such as Wi-Fi, rail information systems and much more. It can also enable the operators to provide up-to-date information on rail services through platform access. The technology manufacturers across various regions are working on live television for railways; however, some countries have already equipped their railway stations with essential services.
Furthermore, technology such as Communication/Computer-Based Train Control (CBTC) is an upgraded system of a typical old-block signalling system. CBTC-equipped trains are capable of calculating, communicating and providing updates through radio to the wayside equipment distributed along the line. The systems integrate the equipment installed in the train with land-based equipment using wireless communications to collect position information from trains and send back control signals. This information allows the calculation of the area that is potentially occupied by the train on the track. It also enables the wayside equipment to define the points on the line that must never be passed by the other trains on the same track. Whereas, technologies such as rugged connectors provide the reliability for data-driven railway applications. Over the next few decades, the railway industry will undergo certain technological developments that will bring updates to vehicle controls, security, communications and entertainment features. Additionally, it will improve Positive Train Control (PTC), a safety system in which train movements are electronically monitored and controlled.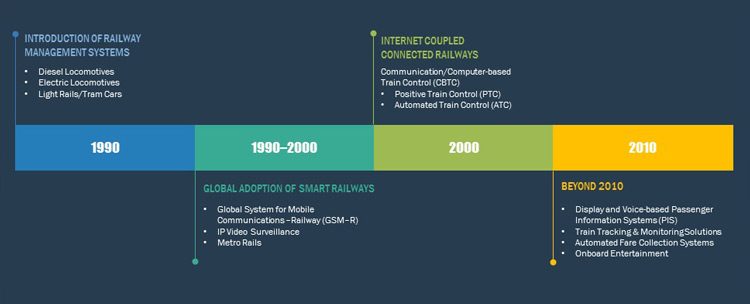 Competitive landscape
The major manufacturers in the railway connectors market include Amphenol Corporation (US), Esterline Technologies (US), Fischer Connectors (Switzerland), ITT (US), Smiths Interconnect (US), Molex Incorporated (US), Schaltbau (Germany), Sichuan Yonggui Science and Technology (China) and TE Connectivity (Switzerland) among others. Based on regional growth, the market for railway connectors in Europe and Asia Pacific are prime markets for distributors and component manufacturers.
Geographic growth
The railway connectors market in the Middle East and Africa region is projected to witness the highest growth during the forecast period. The Middle East region possesses significant growth opportunities for railway transportation since the region's metro and monorail rail networks are expected to double in the coming years in terms of kilometres. Dubai, with increasing railway projects and government spending on upgrading railway infrastructure, is projected to drive the Middle East and Africa railway connectors market.