What is driving demand in the high-speed rail market?
A recent study has identified that the global high-speed rail market, in terms of volume, is projected to grow at a CAGR of 5.54% from 2018 to 2025, with the Asia-Pacific region leading this growth. But what are the factors driving this growth?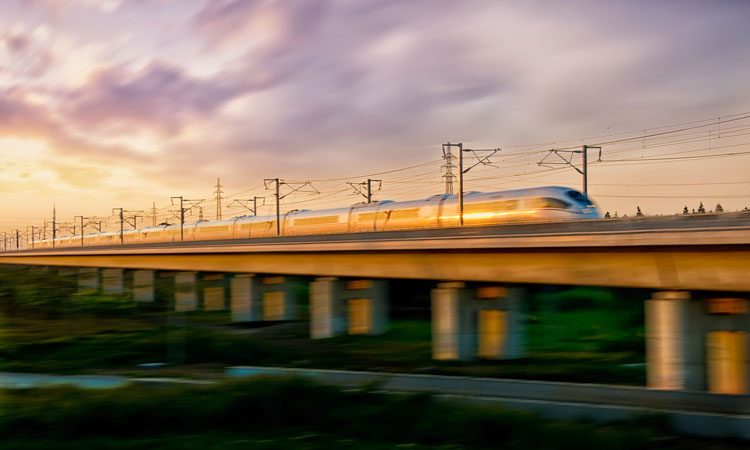 Railway lines operating at speeds of 200km/h or more are categorised as high-speed lines, providing countries with fast and effective connections to major cities and growing opportunities for regional areas.
The world's first high-speed railway line, the Tokaido Shinkansen, was introduced in 1964 by Japanese National Railways and ran from Tokyo to Shin-Osaka. Nowadays, several European and Asian countries operate successful high-speed rail lines, and many other countries such as Canada, India, Brazil, and Saudi Arabia have high-speed networks in development. However, several high-speed train projects in these countries have come to rest due to high capital investment and exorbitant operational costs. For instance, high-speed projects in Portugal and Mexico have been cancelled in the past due to non-financial viability.
Following the introduction of their first high-speed lines, China, France, Germany, and Spain have since gone on to develop their high-speed networks further. The acceptance of high-speed rail is anticipated to rise in the near future due to the prospects of economic growth created by the development of these fast rail services. For instance, in 2008, China introduced a 120km-long high-speed rail line between Beijing and Tianjin, which was the world's longest high-speed rail line. According to the International Union of Railways (UIC), China has built 23,914km of high-speed rail lines since 2008, with a high-speed train fleet of more than 1,500 train sets. The anticipated growth of high-speed rail in China is expected to reach 30,000km by 2020 and more than 80,000km by 2035.
The high-speed rail market report studies the high-speed rail market and forecasts its market size, by volume, based on propulsion (diesel, electric, and dual power), speed (200-299km/h, 300-399km/h, 400-499km/h, and above 500km/h), application (passenger and freight), technology (wheel-on rail and maglev), and components (axle, wheelset, transformer, converter, traction system, traction motor, and pantograph).
High-speed revolutionises transport for regions
Atul Kumar, Assistant Manager for Automotive & Transportation Research at MarketsandMarkets™, shares: "Countries such as Japan, China, Germany, France, and Spain have successfully launched high-speed rail networks that have revolutionised transportation in their regions. For instance, the high-speed rail line between the Chinese cities of Xi'an and Chongqing has reduced the journey time from 9.5 hours to 5.5 hours. Also, the high-speed train has proved to be an energy efficient and environment-friendly mode of mass rapid transport. According to the International Union of Railways (UIC), the high-speed train network in countries like France and China has carbon footprints 14 times and 15 times less than car travel and aviation."
The Asia-Pacific region
The Asia Pacific region is projected to dominate the high-speed rail market during the forecast period, followed by Europe and North America. The Asia Pacific high-speed rail market is set to grow at a CAGR of 4.58 per cent from 2018 to 2025.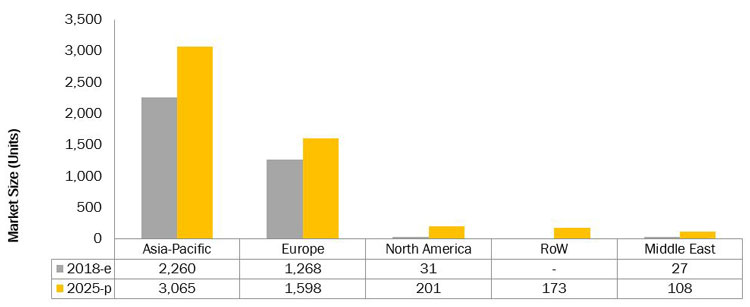 The increasing demand for mass rapid transit to reduce traffic congestion and journey times is likely to drive the growth of high-speed rail market globally. The long high-speed train network in China and Japan and increased adoption of high-speed lines in South Korea and Turkey have placed the Asia-Pacific region as market leader.
The high-speed train manufacturing market is dominated by a few globally established players such as Bombardier, Alstom, Siemens and Hitachi. High-speed train manufacturers are making investments to expand to new geographies. For instance, Alstom has manufactured the HSR S-100 for Spain's Madrid and Castellón high-speed line and Bombardier have delivered 850 high-speed trains worldwide, including the TGV in France, AVE in Spain, ICE in Germany, ETR in Italy, and CRH1 in China.
High-speed rail and climate change
The railway industry is concerned about rising carbon emissions. Governments, as well as the general public, have increased the demand for convenient, eco-friendly, and safe modes of transportation. Various hybrid train manufacturers have increased their geographical presence and made considerable investments in high-speed rail networks. For instance, in January 2018, Spain's high-speed line that connects Madrid and Castellón received Alstom's very-high-speed train, S-100. With its versatility and interoperability features, the train is expected to run on the French railway network in addition to all Spanish high-speed corridors. The major characteristics of the S-100 train include comfort, punctuality, and high standards of safety.
Related topics
Related organisations
Related people