Hull Trains' new hi-tech fleet: Transforming travel for passengers
Louise Cheeseman, Managing Director of Hull Trains, writes that the introduction of its brand new £60 million fleet of trains will not only revolutionise travel between Hull and London – but will also help the firm achieve its aim of being the best train operating company in the UK.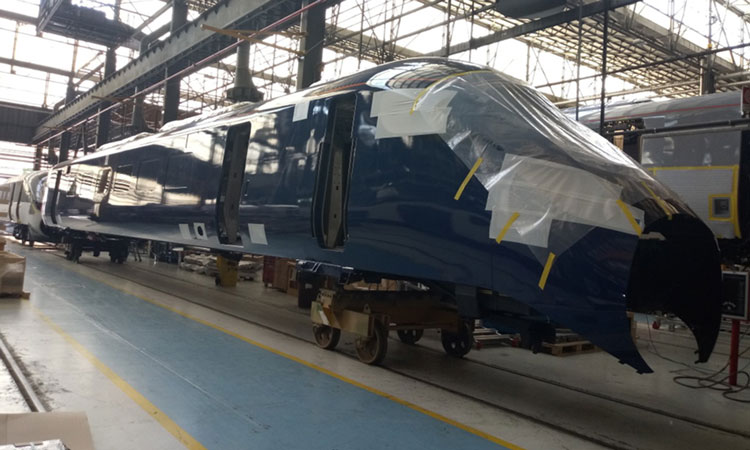 When complete, the new Class 802s for Hull Trains will operate on both diesel and electric traction
By early 2020, Hull Trains will have rolled the new Paragon Fleet into passenger service, replacing the former 180 Class fleet in one go.
Despite being in business for nearly 20 years, it is 2019 which will be the most exciting for Hull Trains as these Hitachi hybrid trains launch a new beginning in rail travel.
The trains will be among the most hi-tech, fast, and modern trains on the UK network and, as well as being more environmentally friendly, the new Class 802s operate on both diesel and electric traction. This gives Hull Trains the flexibility to continue running services on railway lines where overhead wires may have been damaged, giving our customers peace of mind and a more reliable service.
It was important for myself and my colleagues to be heavily involved throughout the entire building and manufacturing process of the new fleet, which began with the making of the shells at Hitachi Rail's manufacturing plant in Kasado, Japan in May 2018.
By October 2018, the first of the trains were ready to be shipped from Japan to Hitachi's site in Pistoia, Italy, for internal fitting.
Getting the trains to Europe was the next huge step for us, and seeing them first-hand taking shape during several visits to the factory was a proud process to be a part of. We were involved with everything from the layout to the design of the seat moquette. The experts at Hitachi were keen for our feedback and nothing was left to chance.
This has been the biggest project Hull Trains has been involved with, and one which is a key milestone in the next stage of our growth as a business.
Our drivers began training in May 2019 for the new fleets, which has included a mix of classroom lessons, simulators, and within TransPennine Express' 802s on a dedicated section of rail track between Hull and Peterborough.
Paragon Fleet characteristics
We have adopted an airline industry approach for the Paragon Fleet, so passengers will notice key characteristics found as standard on airlines on the new trains.
For example, a personal at-seat food and drink service for every passenger will be available on the new fleet. Currently, it is only customers in First Class who enjoy an at-seat service, with passengers in Standard Class needing to leave their seats and walk through the train to the café bar for refreshments.
We know this is what they want as we gathered research from our existing customer groups and an enhanced trolley service was identified as a key selling point for people travelling with us. Thanks to the removal of the café bar, we have been able to add 20 per cent more seating, meaning less overcrowding going forward. The Paragon Fleet also has better storage facilities for suitcases to be stored closer to our customers, and the trains are faster than ever before.
A more reliable service
In addition to a better on-board customer experience, the reliability of the Paragon Fleet is a key selling point.
The trains will be among the most hi-tech, fast, and modern trains on the UK network and, as well as being more environmentally friendly, the new Class 802s operate on both diesel and electric traction.
Hull Trains is an open-access operator which delivers 92 direct services between Hull and London per week. Many commuters rely on our services daily, so reliability is a key factor for customers when choosing whether to travel with us or not.
Prior to the introduction of the new fleet, we needed three of our four trains to fulfil our timetable – with one unit always being in a scheduled rolling maintenance programme. This meant a fault on one service could sometimes result in a change to the operating schedule, which inevitably impacted our customers. Going forward, we will have five new trains instead of four, so we won't face these challenges.
Solutions to industry challenges
Thanks to our open operator status, we are in a position to be agile when faced with industry challenges.
During London King's Cross Station closure over the 2019 August Bank Holiday weekend, we worked closely with Network Rail to agree a change to our usual rail service. Given that the final station destination was out of service, we were able to temporarily amend the service allowing Hull Trains to end its journey at London St Pancras instead.
Most East Coast train operators chose to either cancel their services or provide a truncated journey, taking passengers only to the outskirts of London. It's our can-do approach which keeps loyal customers coming back time and again, and we received a lot of positive feedback following that weekend service.
The Hull Trains ethos
At the heart of the Hull Trains ethos is its passengers and its staff. The company has a high retention rate when it comes to staff, and prides itself on being flexible and inclusive, offering opportunities for career development.
The health and wellbeing of staff is also at the forefront of the company's priorities. Among just two campaigns launched by the company this year includes a mental health campaign encouraging staff to speak up should they be struggling in any way. A 'Stamp out abuse' campaign was also launched after staff reported facing both physical and verbal abuse – both on-board and in the street. Our people are what make our journeys memorable, so it's only right that we put initiatives in place to look after them.
We are a major employer for the city – with more than 120 members of staff – and we also boast one of the highest levels of colleague equality in the industry. In stark contrast to the rail industry norm, where only 16 per cent of roles are filled by women, 53 per cent of our employees are female and its executive team is 50 per cent female.
The firm also has the youngest female long-distance train driver and, in an industry where only five per cent of train drivers are female, at Hull Trains that figure is 25 per cent. Many of the drivers have risen through the ranks from on-board hosts to drivers, thanks to the training opportunities we offer to staff.
In June 2017, Hull Trains gained Gold Investors in People status – one of the highest levels that can be achieved for people management, working environment and the way that colleagues are recognised and rewarded.
An award-winning team
Our people have been recognised for their hard work through several accolades. We were shortlisted in the 2019 Women in Rail Awards for the Highest Gender Balanced and Diverse Workforce Award. We carry the title of Gold Standard Investor in People and I have personally been listed in the Hull Power List 2019 – a ranking which tracks the 54 most influential people in the city.
Beyond the awards, we do look to go beyond our role of providing a reliable and frequent service between Hull and London, and really play our part in promoting the region – particularly Hull.
Our new train fleet was named Paragon, partly because it is a name synonymous to the city Hull Trains serves, with members of the public also currently having the opportunity to name each new train after an iconic local hero or landmark in the region.
New beginnings
Hull Trains is one of the most respected train operators in the country and one, as it enters its 20th birthday, which is going to go from strength to strength.
Our ambition and huge growth haven't come at a cost to our customer service, either. Despite recent timetable changes and technical problems with the old train fleet, we do still have a loyal customer base, and that is ultimately down to our people.
The most recent National Rail Passenger Survey (NRPS) has given Hull Trains an overall satisfaction rating of 90 per cent for the Spring 2019 period – a three per cent increase on the overall long-distance score and a three per cent increase against Spring 2018. This result sees Hull Trains ranked at the top of the East Coast Main Line for satisfaction.
We were one of the UK's first non-franchised operators delivering services that were not of interest to the franchised operators. We do not receive any money from the public purse, but continue to invest heavily in order to be among the best in the country.
Aside from the economic benefits derived from carrying business and leisure travellers to and from London, Hull Trains is estimated to be worth around £200 million to the Hull economy each year (salary and supply-chain multiplier effect).
In March 2016, Hull Trains obtained approval for a further 10-year open access agreement with the Office of the Rail Regulator, until 2029. So, as the company enters its 20th anniversary, it seems to be on the right track to grow even more. The future is looking very bright for Hull Trains.
Louise Cheeseman began her career in rail as a train guard with Northern Rail in 2001. Louise was quickly promoted through safety and operations roles, and became the General Manager for Docklands Light Railway, which included responsibility for managing operations for the 2012 Olympic and Paralympic Games. Following this, Louise worked in Sydney to assist in the preparation of a light-rail bid. Louise spent a further two years with Metrolink in Manchester as Service Delivery Director before she joined Hull Trains – in her hometown – in a similar capacity in June 2017. Louise was promoted to Managing Director in  February 2018.
Issue
Related organisations