Network Rail overhauls OLE on West Coast Main Line to improve journeys
Network Rail's £3.4 million Great North Rail Project upgrade will make overhead line equipment (OLE) more resilient on the West Coast Main Line between Preston and Carlisle.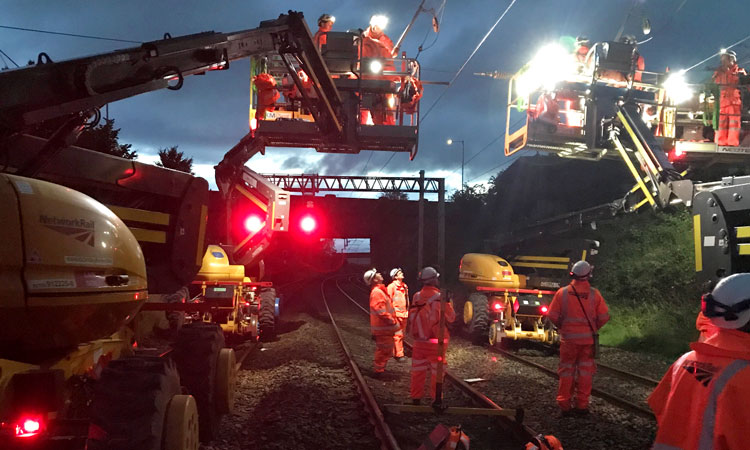 Credit: Network Rail
Passenger and freight journeys are being made more reliable in Lancashire and Cumbria with a multi-million-pound investment into the overhead 25,000 volt electric cables which power trains.
The essential work on the £3.4 million Great North Rail Project upgrade will make journeys more reliable for passengers and freight customers after previous delays on this economically important railway route.
Specialist engineers will deliver 60 projects to improve the overhead lines over most weekends between now and March 2021. The jobs include thousands of component replacements undertaken overnight while trains aren't running to minimise disruption to passengers.
Phil James, Network Rail's North West Route Director, said: "Putting passengers first, we've brought in a specialist team that will work in the early hours of Sunday morning to get our overhead line equipment back into shape. This work as part of the Great North Rail Project will improve the reliability of the West Coast Main Line to encourage tourists, holiday-makers, commuters and business people back on to the railway."
Gus Dunster, Executive Director of Operations at Avanti West Coast, said: "We know how important punctual and reliable journeys are to our customers, which is why we welcome Network Rail's work to improve overhead line equipment between Preston and Carlisle. The work will help to make journeys for millions of customers in Lancashire and Cumbria more reliable for many years to come."
Kathryn O'Brien, Customer Experience Director for TransPennine Express, said: "It is great to see the investment that Network Rail is putting into the overhead line equipment on the West Coast Main Line and we'd like to thank them for their hard work. The section of line between Preston and Carlisle is very well used and this project will definitely benefit our customers who travel between the North West of England and Scotland."
A new generation of engineers will also be trained on how to operate and repair the overhead line equipment. This will secure the long-term expertise of Network Rail's West Coast Main Line maintenance teams.
The project has been carefully planned to take place when trains aren't running. This will prevent disruption to passenger and freight journeys on one of Europe's busiest mixed-used passenger and freight railway routes.