Deutsche Bahn launches 'WIFI @ DB' WLAN network
'WIFI @ DB' is now available in the ICE, at over 100 stations and in approximately 200 regional trains and buses.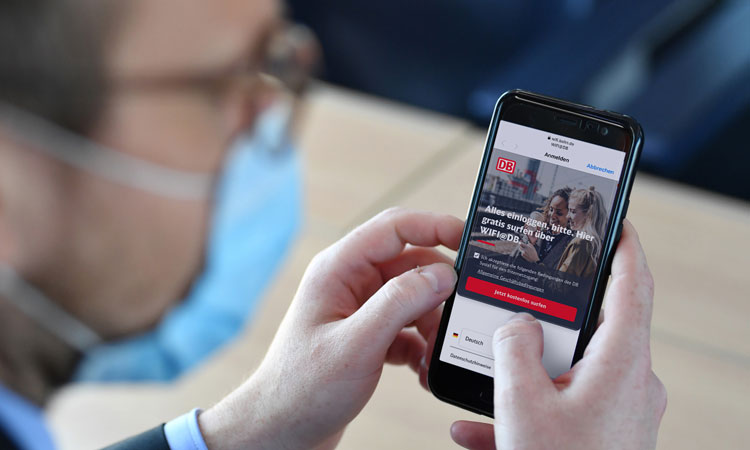 Deutsche Bahn (DB) is launching its own new, free internet service: 'WIFI @ DB'.
The entire DB ICE fleet, more than 100 train stations, all DB lounges and the first regional trains and buses are already connected. By the end of 2020, more than 130 train stations will provide the service.
The IC trains that are currently being equipped with WLAN will also receive WIFI @ DB directly. In addition, several hundred regional trains and buses will follow in 2021.
DB has invested more than 200 million euros on expanding its technical WLAN infrastructure at stations, on trains and buses in recent years. Travellers will be able to surf with high bandwidth, unlimited time and completely free of charge.
"Seamless connectivity means more convenience for commuters and business travellers, who can surf the web continuously on the train, at the station and in the DB Lounge and do not have to log in again for the return journey," explained DB Board Member for Digitization and Technology Prof. Sabina Jeschke . "After logging in, the device automatically connects to the nearest WIFI @ DB."
Approximately 44 million euros are currently being invested in the expansion of WLAN at over 130 train stations alone. So far, 3,800 access points have been installed and 230km of cables have been laid.
At present, WIFI @ DB is available at the main train stations in Berlin, Cologne and Hamburg, but also in Westerland on Sylt, Straubing and Trier.
While the ICE has been offering free WiFi since 2017, sufficient coverage along the rail line is still an issue for those online on a train. The expansion of the network is the responsibility of the mobile network operators, as clearly specified by Federal Network Agency. The most important railways should be supplied with mobile coverage by the end of 2022, and all rail routes by the end of 2024. As such, rail and mobile network operators are working closely together to improve connectivity.