Siemens Mobility to design, install and commission first high-speed rail network in Egypt
Siemens will design, install, commission and maintain a high-speed rail network of 1000km, the first of its kind in Egypt.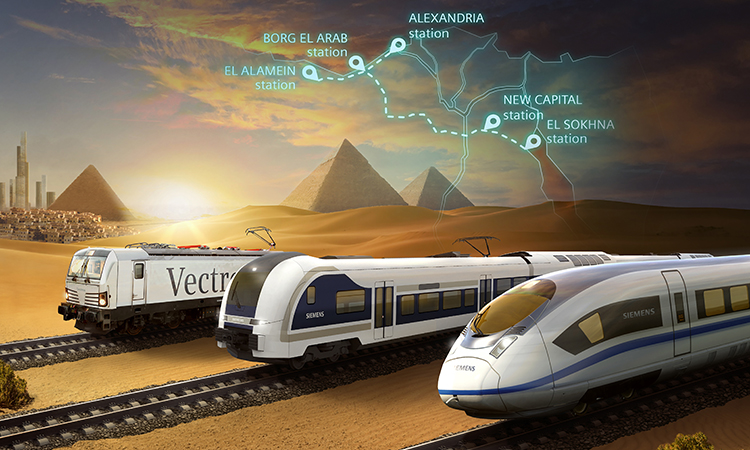 Credit: Siemens Mobility
Siemens Mobility has announced that it has signed a Memorandum of Understanding (MoU) with the National Authority for Tunnels, a governmental authority under the jurisdiction of the Ministry of Transport of Egypt – together with local companies, Orascom Construction S.A.E. and The Arab Contractors (Osman Ahmed Osman & Co.) – to design, install and commission Egypt's first ever high-speed rail transportation system. Additionally, Siemens Mobility will be providing maintenance services for the new system.
The agreement comprises a rail system with a network of 1000km, with the first being a 460km high-speed line. The order value of this initial high-speed line is around $3 billion.
The MoU was signed by Essam Waly, Chairman of Egypt's National Authority for Tunnels, and Michael Peter, CEO of Siemens Mobility, in a meeting on 14 January 2021 in Cairo. This was witnessed by His Excellency, Prime Minister, Mostafa Madbouly, and His Excellency, Minister of Transport Egypt, Kamel Al Wazir, as well as Siemens' CEO, Joe Kaeser, and Siemens' Deputy CEO, Roland Busch.
"We are honored and proud to expand our trustful partnership with Egypt. By building a high efficiency rail system for the country, we will support the Egyptian people with affordable, clean and reliable transportation," said Joe Kaeser, the President and Chief Executive Officer of Siemens AG. "After the highly successful energy Mega project, we are now keen to repeat this visionary spirit in the mobility sector together with our partners."
"We are delighted that the Ministry of Transport is seeking to put their trust in us to deliver this important project. Our digital leadership and comprehensive turnkey services will bring an integrated and state-of-the-art high-speed rail system that will provide a technology boost for the country and create local jobs. The system will significantly enhance passenger experience and reduce travel time for millions of Egyptian people," said Michael Peter, CEO of Siemens Mobility.
The first 460km-long high-speed line will connect the vastly developing cities of El-Alamein on the Mediterranean Sea to Ain Sokhna on the Red Sea, while also passing through the New Administrative Capital. The line will also be operable for freight transport purposes, which will further foster economic growth in the region.