Deutsche Bahn tests autonomous cleaning robot at Frankfurt Central Station
Equipped with innovative cleaning technology that can help to fight against coronavirus, the autonomous robot will be tested until April 2021 and can clean up to 12,000m² per day.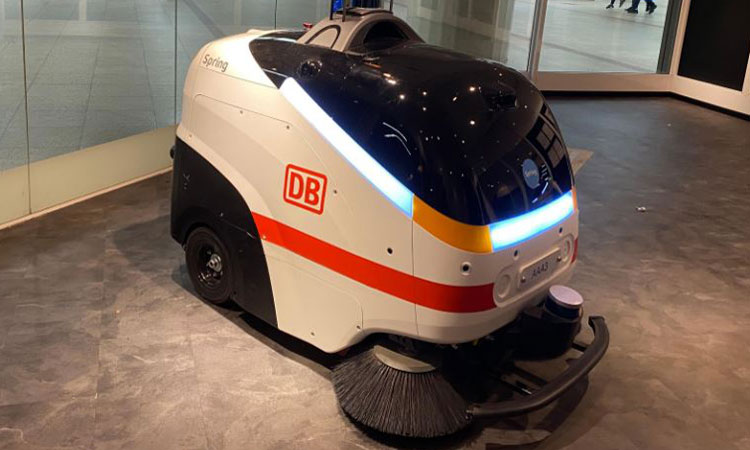 'Manni' the autonomous cleaning robot at Frankfurt Central Station. Credit: DB AG
Deutsche Bahn (DB) is currently testing an autonomous cleaning vehicle from Berlin start-up company, Spring Mobility.
Being tested until the end of April 2021, the robotic vehicle can sweep floor surfaces and neutralise viruses using ozonated water – a natural disinfectant and, according to the manufacturer, also highly effective in combating coronaviruses and bacteria.
Leif Niklas Wulf, Station Manager at Frankfurt Central Station, said: "Clean stations contribute significantly to the well-being of all travellers and guests. With the robot, we are testing an innovative way to support and relieve our cleaning staff."
Equipped with the sophisticated technology found in modern autonomous cars – such as two lasers, 10 ultrasonic sensors, five cameras and two GPS antennas – the robot, nicknamed 'Manni', navigates independently through the underground area of ​​Frankfurt Central Station and can easily sweep up large rubbish items, such as beverage cans. It can recognise and avoid obstacles in its path, or it can briefly stop the cleaning process whilst its path is cleared before continuing to clean again.
During the test period until April 2021, a DB supervisor is accompanying Manni. DB will then evaluate the test operation and decides on further possible uses.
Related topics
Related organisations