Alpha Trains to deliver final train to CAPTRAIN France by end of March 2021
A total of nine EURO4001 diesel-electric locomotives were ordered by CAPTRAIN France from Alpha Trains, with the last train set to be delivered by the end of March 2021.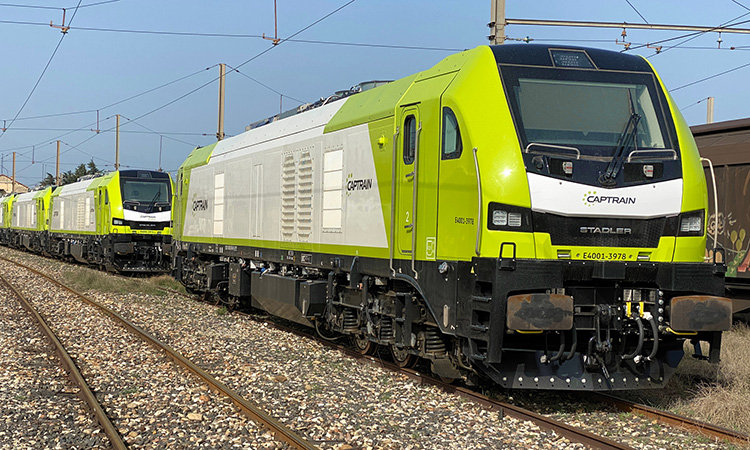 Credit: CAPTRAIN France
CAPTRAIN France – a subsidiary of SNCF and one of the largest transport companies in Europe – is leasing nine new EURO4001 diesel-electric locomotives from Alpha Trains.
Eight of the nine locomotives have already been delivered and, by the end of March 2021, all assets should be handed over to the customer. The EURO4001 are equipped with ETCS BL2/KVB/TBL1+, which permits the operation of the trains in France and Belgium.
The EURO4001 locomotives have been manufactured at the Stadler plant at Albuixech, Valencia. This locomotive type is an evolution of the successful EURO4000 locomotive, of which Alpha Trains owns 30 locomotives and which have proven to be highly reliable and are leased to multiple operators in Spain and Portugal.
Stéphane Derlincourt, Chief Executive Officer of CAPTRAIN France, said: "These new locomotives will complete CAPTRAIN France's fleet, which will thus be able to offer its customers, current and future, additional capacities with the guarantee of optimal operational efficiency and quality service, thus directly contributing to strengthening their competitiveness in France and in Europe."
Alpha Trains has a long-standing partnership with both Stadler Valencia and CAPTRAIN France. Fernando Pérez, Managing Director of Alpha Trains Locomotives, said: "We are pleased to be part of the success stories of our partners and offer our customers these state-of-the-art locomotives which are characterised by flexibility, high hauling capacity, low fuel consumption and reduced operational costs. Adding this powerful EURO4001 to our portfolio strengthens our market share in France and underscores our ambition to provide the most innovative and efficient solutions."
The Euro4001 has a high power diesel engine rated at 2,800Kw, which fulfils the most stringent exhaust emissions (EC 26/2004 Stage IIIB) and benefits from state of the art AC/AC technology to transfer traction independently to each of the six axles. ­­
During the manufacturing process of the EURO4001, the SNCF Group restructured its freight operations in France and renamed its subsidiary VFLI to CAPTRAIN France. VFLI's red corporate livery on the new EURO4001 got replaced by the lime green CAPTRAIN France branding – a perfect match to Alpha Trains.