Eversholt Rail developing innovative new Express Freight train
In partnership with Ricardo Rail, Eversholt Rail will convert one of its Class 321 trains into a cost-effective and more sustainable Express Freight train.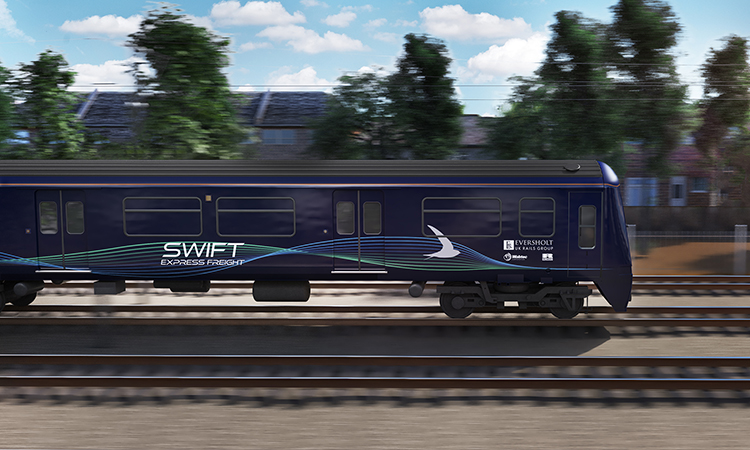 Credit: Eversholt Rail
An innovative new Express Freight train which will provide a cost-effective and low carbon solution for transporting parcels around the UK is being developed by Eversholt Rail.
The Swift Express Freight has been designed in partnership with Ricardo Rail and will be a conversion of one of Eversholt Rail's Class 321 trains, Unit 321334. It will be capable of 100mph and able to hold up to 12 tonnes of freight per vehicle. 
The Swift Express Freight will be launched for trials in June 2021 following works to be carried out by Wabtec at their Doncaster facility, which are due to commence in April 2021. The scope of works includes the removal of passenger features, installation of new flooring and equipment to retain containers and a new livery. 
Paul Sutherland, Client Relations Director at Eversholt Rail, said: "We are excited to be developing the Swift Express Freight train, which will help to support customers with a cost-effective solution to help them meet the growing demand for the home delivery of parcels around the UK. This project demonstrates Eversholt Rail's continued innovation across our rolling stock portfolio as we continue to showcase our commitment to helping the UK to meet its decarbonisation targets." 
Jonathan Brown, Technical and Innovation Engagement Lead (Rail) at Ricardo Rail, said: "We are delighted to be supporting Eversholt Rail with the Swift Express Freight project, providing the engineering and conversion of this vehicle for trial use. This demonstrator will show the potential for a modal shift of parcel freight to rail for rapid delivery to urban centres around the UK, removing trucks from our streets, reducing carbon emissions and improving air quality." 
Andy Derbyshire, Group Managing Director at Wabtec UK, said: "We are proud to be part of this exciting and innovative project building on a long-established relationship with Eversholt Rail, and it is great news that we will be continuing this collaboration. It is fantastic to be part of a project which will support the decarbonisation of our sector, as well as promoting the benefits of an increased use of rail for freight traffic".