Deutsche Bahn expands use of artificial intelligence to improve punctuality
The Stuttgart S-Bahn network is being supported with artificial intelligence (AI) to optimise maintenance activities and therefore ensure trains are more punctual for passengers.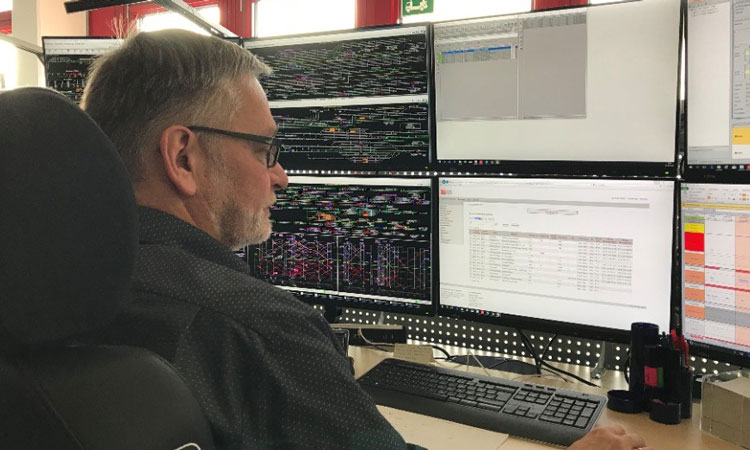 A dispatcher at the Control Center Plus of the Stuttgart S-Bahn in Plochingen. Credit: DB AG/Martin Schmolke
Deutsche Bahn (DB) is expanding the use of artificial intelligence (AI) to the benefit of its customers.
For the Stuttgart S-Bahn, AI supports dispatchers in controlling traffic as efficiently as possible in the event of a breakdown, resulting in trains that are more punctual and traffic free of congestion on busy routes.
DB developed the AI ​​tool itself and will deploy it across other S-Bahn networks during 2021.
Sabina Jeschke, DB Board Member for Digitalisation and Technology, said: "Artificial intelligence is the decisive lever for punctuality. For the Stuttgart S-Bahn, we were able to increase punctuality in the event of a breakdown by up to three percentage points in initial tests. In larger transport networks, punctuality gains of up to double digits are possible. In addition, we can use the existing rail capacities even more efficiently and thus enable closer frequency and more vehicles."
In addition to AI, DB is also relying on the expansion and modernisation of the infrastructure, the Digital Rail Germany programme and new vehicles to further increase punctuality.
The AI-based tool in the dispatch department of the Stuttgart S-Bahn calculates several train control variants in approx. 100 times real-time. The dispatchers can fast-forward and rewind the traffic like in a video and observe how decisions affect punctuality. In this way, possible delays can be minimised, especially in the event of malfunctions such as a broken tree.
DB also uses AI in maintenance. The goal is comprehensive, condition-based maintenance of trains. With the help of AI processes, camera images or sensor data are automatically evaluated in order to determine the specific maintenance requirement. This relieves the employees and reduces the time in which the roof of an ICE train is inspected, for example, from several hours to a few minutes. Other projects are aimed at predicting failures: DB is currently testing AI processes, for example, to predict material requirements in the factories or the right time to maintain or replace wheelsets. This further increases vehicle availability.