Amtrak to deliver major passenger experience improvements
Following an investment of $28 million, Amtrak is set to deliver a range of improvements across its long distance overnight trains in order to improve the passenger experience.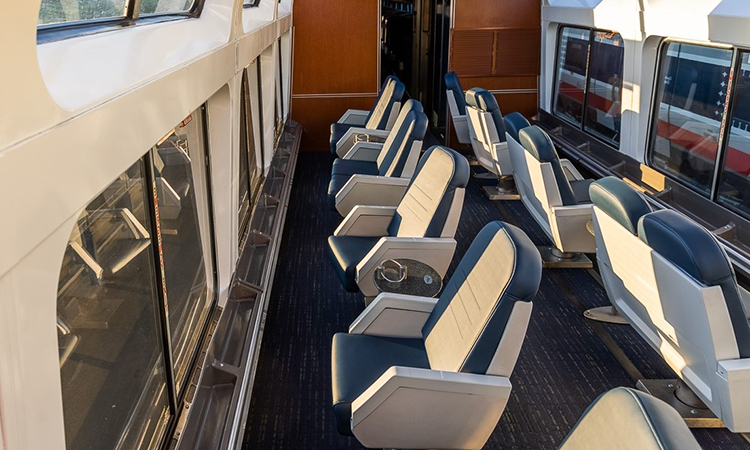 Credit: Amtrak
Amtrak has initiated a multi-million-dollar and multi-year project to improve the customer experience aboard its long distance trains that serve overnight routes across the country. Elements of this work were displayed in mid-June 2021 at Chicago Union Station.
Modernised interiors of Amtrak's bi-level 'Superliner' fleet – serving primarily midwestern, southern and western routes – will improve comfort with new seating cushions and upholstery, carpet, LED lighting, tables and curtains. All Superliner Coaches, Sleeping Cars, Dining Cars and Sightseer Lounges will be refreshed. 'Viewliner I' Sleeping Cars operating to and from the east and southeast will be similarly improved.
In all, more than 450 railcars will be refreshed over the next three years at an investment of $28 million, extending the useful life of and modernising the cars that were originally delivered in the 1980s and 1990s. The first renovated coaches will carry travellers in summer 2021, with the other three types of Superliners deployed from autumn 2021.
Additionally, upgraded bedding, pillows, towels and linens – as successfully tested on Auto Train – will be expanding to all private Bedrooms and Roomettes from August 2021. This will be followed by the installation of lotion dispensers in each Bedroom and three-bottle dispensers of shampoo, conditioner and body wash in each shower, doing away with much of the single-use packaging in Amtrak's Sleeping Cars.
Also at the Chicago event, Amtrak showed the first of its new U.S.-built low-emission diesel-electric locomotives that are cleaner and faster than the ones that they are replacing. The new locomotives are designated as ALC-42 for 'Amtrak Long-distance Charger, 4,200-horsepower', and 75 of these units have been ordered from Siemens Mobility in Sacramento, Calif.
These are just the latest in a series of customer experience improvements by Amtrak. Others include:
The recently announced restoration of traditional dining services on six western routes, starting 23 June 2021
Completed in early June 2021 was the resumption of daily service for 12 long distance routes, following almost eight months of pandemic-related schedule reductions
The new electronic USA Rail Pass, an affordable way to take a multi-segment train journey across America, is now offering convenient self-service features for travellers. USA Rail Pass customers can take up to 10 rides in a 30-day period to see the country and explore sights at more than 500 destinations. It is available for $299 until 22 June 2021, representing a saving of $200
An expanded BidUp programme now offers customers an opportunity to place a bid to upgrade into one of Amtrak's premium services, including from coach class to private rooms.
"We are marking a new era in customer experience for our historic routes that serve the country with comfortable and affordable coach seating and private rooms," said Roger Harris, Amtrak's Executive Vice President and Chief Marketing and Revenue Officer. "As we mark Amtrak's 50th anniversary in 2021, these significant investments in the long distance network lay the foundation for our next decades of service."
The national network of Amtrak long distance trains – a portfolio of 15 routes – carried 4.5 million passengers in the 12 months ending September 2019. These trains travel to legendary destinations including New York, Washington, Los Angeles, Seattle, New Orleans, San Francisco, Miami, Orlando and Denver. Several national parks are also served by these Amtrak trains.