Brightline Trains announces partnership to transform its passenger app
Brightline Trains, the only privately funded high-speed passenger rail system in the U.S., has appointed a software company to elevate its customer app with journey planning capabilities.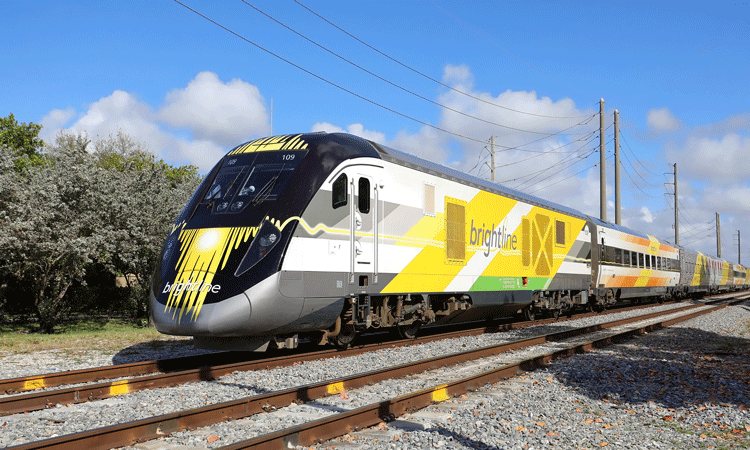 The new partnership between Iomob and Brightline, will be focused on the common goal of door-to-door travel with a lower environmental impact including the passenger's ability to plan, book and pay for an entire journey across a variety of transport modes. Through offering a broad range of transport options to customers essentially works to achieve Iomob and Brightline's common goal of empowering users while ultimately lowering the number of miles driven. 
In addition, unlike other Mobility-as-a-Service (MaaS) providers, Iomob includes private cars in the mobility mix, ensuring smoother and more rapid adoption of multimodality within the general commuting public.
Through this collaboration, Brightline plans to offer all customers a full door-to-door travel service, eliminating the gaps created by the first and final miles. Passengers and app users can travel carefree from the front door to a Brightline station, and then on to a final destination, all via the Brightline app. First and last-mile mobility options include: public transit, micro and e-mobility e.g. a bike or e-scooter, car-sharing, as well as on-demand shuttles. Furthermore, customers who choose to use their own vehicle to arrive at the station can pre-book and pay for their parking through the upgraded app.
These additions to Brightline's services further differentiate the company from its competitors. At the same time, these service extensions broaden the market, attracting new customers who may have previously preferred to travel in their own private vehicles.
 "Anyone familiar with Brightline recognises our commitment to creating the best guest experience in travel and this new partnership will solve the long-standing question of the first and last mile," said Patrick Goddard, President of Brightline. "Offering door-to-door connectivity will make Brightline more convenient for our guests and make our stations more accessible to those seeking the best transportation option in Florida."
As part of lomob's strategic plan to grow within the U.S. market, Brightline has become its first U.S. based client, now incorporating U.S. rail as part of the global mobility-on-demand ecosystem. For Iomob, this partnership signifies a strong commitment to greener, more accessible, and seamlessly integrated journeys.
Boyd Cohen, CEO at Iomob commented: "As an American, bringing Iomob's mobility platform to North America is of particular significance. Our newly established collaboration with Brightline represents a great opportunity for Iomob to showcase how mobility-on-demand can best be deployed in a U.S. context. Having a forward-looking rail company like Brightline as a partner, we are confident that we can deliver a truly multimodal door-to-door experience to their customers. The strength of Iomob's open mobility approach is that it is easily scalable and can be customisable to fit the needs of our clients across the U.S."