California High-Speed Rail Authority celebrates construction jobs milestone
California High-Speed Rail Authority achieves its latest milestone, as its growing Central Valley workforce reaches 6,000 new job opportunities for the local community.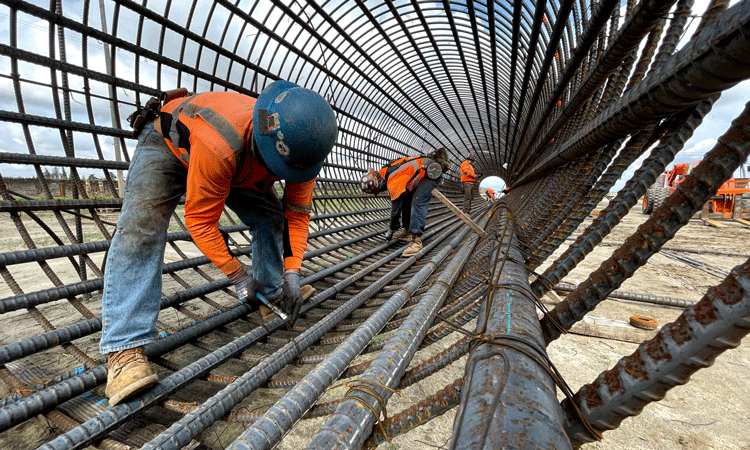 Credit: California High-Speed Rail Authority
In celebration of Labour Day, the California High-Speed Rail Authority (Authority) announced it has crossed another milestone with 6,000 construction jobs created, to date, across 119 miles of active construction in the Central Valley.
"We wouldn't be where we are today without all the dedicated women and men who are out in the field each and every day," said Garth Fernandez, Central Valley Regional Director. "We're proud to work with a skilled labour force that is bringing high-speed rail to life while working with state-wide and local partners to help train the next generation of high-speed rail professionals."
In August 2021, the Authority welcomed students as part of ValleyBuild Partnership, a workforce training programme that provides pre-apprenticeship training in the building and construction trades to put students on a path to the union construction apprenticeship of their choice.
Chuck Riojas, Executive Director of the Fresno, Madera, Tulare, Kings Building Trades Council commented: "These students come from up and down the Central Valley, particularly from disadvantaged communities. We prep them for the job opportunities that come about on high-speed rail and other transportation projects. Bringing them onto construction sites gives them real-world experience and purpose to stick it out and become the next generation of workers responsible for building for the future." 
Each of the project's design-builders is implementing the Targeted Worker Programme, where 30 per cent of all project work hours are performed by workers from disadvantaged communities, where annual household incomes range from $32,000 to $40,000. Out of the more than 6,000 jobs created, 2,230 went to residents from Fresno County, 1,039 from Kern County, 217 from Kings County, 291 from Madera County, and 588 from Tulare County as of July 2021.