Stadler wins contract for 286 new multiple units by SBB and subsidiaries
Stadler has been awarded a contract for 286 new multiple units for regional service by SBB and its subsidiaries Thurbo and RegionAlps.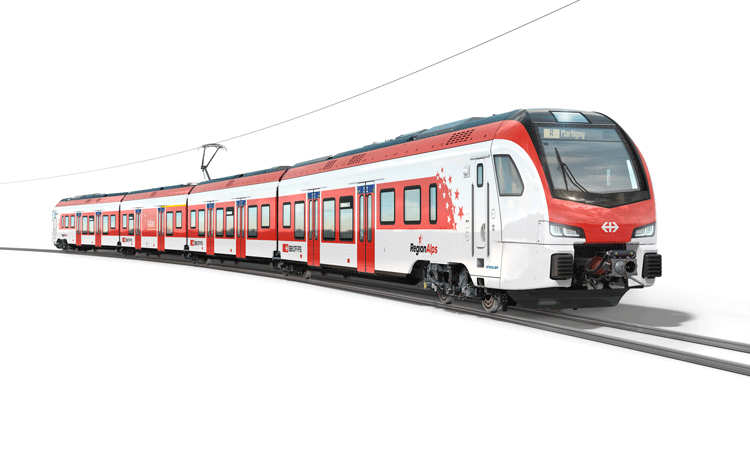 Copyright: SBB CFF FFS
Together with its subsidiaries Thurbo and RegionAlps, SBB is to procure 286 new single-deck multiple units for use in regional services. Stadler has been awarded the contract due to its offer being the best in terms of both cost and quality.
In May 2020, SBB, RegionAlps, and Thurbo began a two-stage tender procedure for the new multiple units. A pre-qualification phase sought to identify three applicants, who could prove their experience and specific market orientation with a tried and tested vehicle concept. Alstom, Siemens and Stadler best fulfilled these selection criteria and were invited to prepare a tender. All three companies submitted a tender at the end of April 2021. The tenders have been evaluated in line with the award criteria and Stadler has been awarded the contract based on this evaluation.
The new multiple units will provide several improvements for customers. For example, the new trains will offer more storage space for bikes, pushchairs, and large items of luggage than the vehicles currently in use. They will also ensure good mobile phone coverage and data reception and will be equipped with power sockets in every compartment. The trains will meet the requirements of passengers with restricted mobility and will provide two spaces for wheelchair-users, as well as a wheelchair-accessible toilet. Wheelchair spaces will be available in first class for the first time. Thanks to better motorisation, the new multiple units will also make a significant contribution to improving punctuality. The new train is to be authorised to operate in Switzerland, Germany, and Austria. 
SBB, Thurbo, and RegionAlps had originally issued a call for tender for 194 trains. This rose to 286 trains after the railway companies had determined the definitive area of operation for the trains in concert with the Confederation and the Cantons. This higher volume of procurement is the only way to replace all the trains that are due to be taken out of operation upon reaching the end of their life cycle. The investment volume for the procurement project is two billion swiss francs (CHF). 
The first trains are expected to enter operation in December 2025; the trains will gradually replace the following rolling stock by a provisional deadline of 2034:
SBB: replacement for Domino, Flirt (first generation) and locomotive-driven push-pull trains. Order for 155 trains, with option to purchase 174 further trains.
Thurbo: replacement for articulated railcars. Order for 107 trains, with option to purchase 40 further trains.
RegionAlps: replacement for Domino and Nina. Order for 24 trains, with option to purchase 10 further trains.
The newly procured vehicles will help all three railway companies to implement their planned improvements to services, as well as the service expansion projects planned by the Confederation and the Cantons.
By taking a joint approach to procurement and purchasing a homogenous fleet, SBB, Thurbo, and RegionAlps are simplifying rail operations and making a significant contribution to ensuring public transport is competitive and attractive for railway customers.
The award criteria
SBB awarded this major contract in accordance with the requirements of procurement law. The bidding companies were informed of the award criteria at the start of the process. Important factors for evaluating the tenders were cost, quality, degree to which specifications were fulfilled, and individual commercial/technical elements. 
The cost evaluation took into account both investment cost, i.e. the purchase price per vehicle, and operating costs. These include costs for maintenance, cleaning, energy, and train paths, as well as prices for selected replacement parts. Overall, Stadler performed best on costs, due to its lower operating costs.
On quality, Stadler stood out in large part thanks to its project plan. This gave a detailed and comprehensible outline of project-critical milestones such as safety cases, authorisation, and network access.