New analysis shows that HS2 is the key to achieving net zero in the UK
A new report has highlighted that modal shift matters to transport decarbonisation, with HS2 at the very core of the UK being able to achieve net zero by 2050.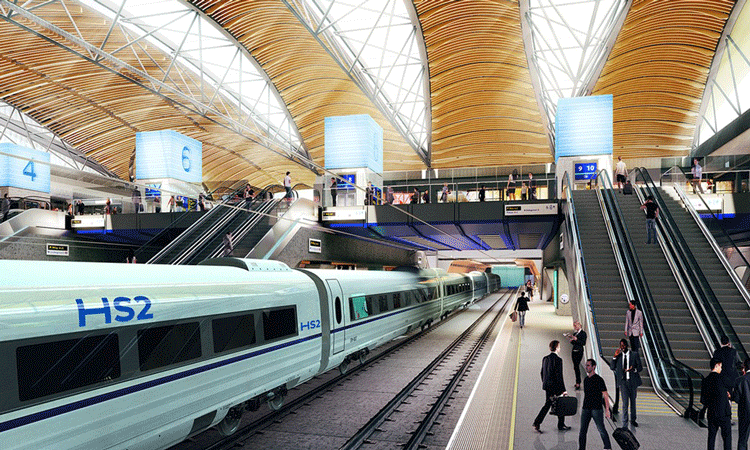 Credit: HS2.
A new report published today (20 January 2022) highlights that a national high-speed rail network in the UK, with HS2 at its centre, has an essential role to play if the UK is to have any chance of achieving its net zero ambitions by 2050, facilitating the move from polluting car and air travel to rail.
Published by the High Speed Rail Group (HSRG), 'Modal shift matters – and HS2 delivers it', sets out how HS2 is uniquely positioned to provide a more attractive alternative to both motorways and domestic flights and provide the capacity needed to accommodate modal shift on a significant scale.
The report states tat rail's share of the London to Scotland travel market could leap from 29 per cent to 75 per cent if, alongside HS2, services are speeded up north of Crewe, just as government's recent 'Union Connectivity Review' called for. The report makes clear that the tipping point for the move from air to rail is journey times between 2h 30m and 4h 30m – which HS2 can play an important role in facilitating. This would apply to a lot of cross country journeys as well trips to/from the capital.
There is international precedent for such a transformation. On Britain's only existing high-speed infrastructure, HS1, Eurostar services have reduced air passenger volumes by 50 to 60 per cent on London to Paris/Brussels routes. In France, the TGV Atlantique route has achieved a 65 per cent shift from air to rail, where models had predicted only a 29 per cent increase.
Shifting modes is important
With road transport accounting for some 67 per cent of the transport sector's greenhouse gas (GHG) emissions and rail just 1.4 per cent, encouraging people to shift modes is important. Longer distance journeys account for fully 30 per cent of both vehicle miles and carbon emissions; and this is where battery-powered cars and lorries reach their limits. Large-scale transfer from car to rail is possible in this important longer journey category, and HS2 brings the increase in rail network capacity needed to accommodate it.
HS2 modelling results to date suggest only a small modal shift from car to rail travel, but this looks to be due to data limitations. The evidence from completed projects elsewhere reveals people do switch from car to high-speed rail, with pressure being taken off parallel motorway networks.
Furthermore, HS2 also has a role to play in decarbonising freight, taking pressure off the country's busiest freight corridor, the West Coast Main Line, and so allowing more freight trains to be run. It is estimated that 40 per cent of today's HGV road mileage could switch to a better rail alternative.
"The undeniable contribution that HS2 services can make in reducing carbon emissions is substantial and has been under-reported across the years," commented report author, and HSRG Board Director, Jim Steer. 
He added: "Modal shift will happen with HS2, much like it has across the world where high-speed rail services have already been provided and integrated with other forms of transport. In this report, we have shown that high-speed rail has the unique capability to achieve the modal shift that will be required to reach net zero."
Mark Southwell, Managing Director – Civil Infrastructure, Europe, at AECOM, commented: "We need to shift to low carbon forms of mobility to limit global warming. As this report demonstrates, the evidence to support a sustainable, low carbon, high-speed rail network is compelling. The shift will be boosted by making it as convenient as possible for people to use this transport, so complementary investment in 'last mile' connectivity enabling door to door journeys with ease is also essential."