Bill for next phase of Britain's HS2 handed to Parliament
Passengers across the North West of England are one step closer to faster, greener and more reliable train services as the Bill for the next phase of HS2 is handed to Parliament.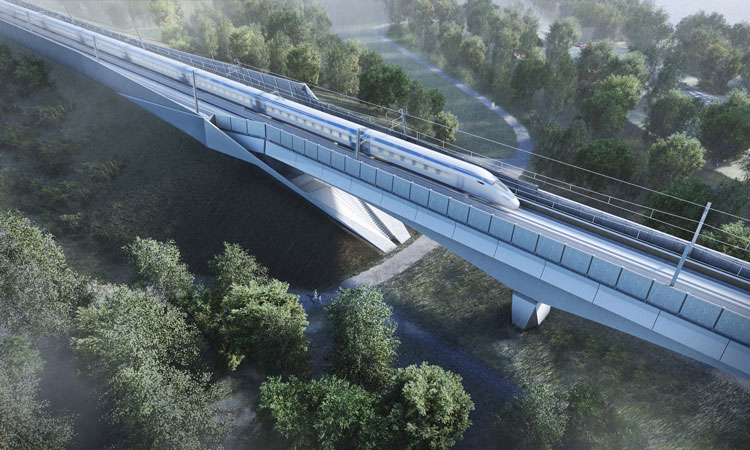 Credit: Twitter/@HS2ltd
Once approved, the 'High Speed Rail (Crewe-Manchester) Bill' will allow HS2 to continue its journey from Crewe up to Manchester, creating a new transport spine across the North West and boosting local economies through better connections, more capacity, improved reliability and slashed journey times. This includes cutting travel from London to Manchester by around 55 minutes and Birmingham to Manchester by up to 45 minutes.
It is also set to bring 17,500 direct jobs to Northern communities supporting the construction of the Crewe-Manchester leg and thousands of further jobs in the supply chain expected to follow. These includes hundreds of highly skilled permanent jobs, including in rolling stock depots to be established north of Crewe as well as in Dumfries and Galloway.
The introduction of this Bill marks the next chapter in a project that is already well underway by connecting three of England's greatest cities – London, Birmingham and Manchester. This next phase will give the North West the tools it needs to further generate economic growth and level up across the region, with new stations supporting one of the UK's fastest growing cities at Manchester Piccadilly and Manchester Airport.         
Part of the new high-speed line will also be used for Northern Powerhouse Rail (NPR) services between Leeds, Manchester and Liverpool, helping cut the Manchester Piccadilly to Liverpool journey to 35 minutes and Leeds to Liverpool to around 1hr 15 minutes.
The construction of HS2 to Manchester will allow capacity to double, or more, on the routes between Manchester and London/Birmingham. When NPR is completed, similar capacity increases to Leeds and Liverpool will follow, with trains using the high-speed line and stations at Manchester.
The plans are all part of the £96 billion Integrated Rail Plan (IRP) – the biggest ever public investment in Britain's rail network – and the first of three new high-speed lines being planned, to add more seats, shorten journey times, support local services and deliver a modern, fully connected transport network fit for Manchester and the North West.
Grant Shapps, Transport Secretary, said: "The IRP is the blueprint for the government's commitment to building better transport links, generating prosperity and opportunity across the North and Midlands bringing benefits up to 10 years sooner than previously planned, all while delivering on levelling up the country."  
Published in 2021, the IRP set out a list of projects that will deliver better infrastructure for the North, quicker.
HS2 Minister, Andrew Stephenson, said: "We have time and time again proven our commitment to improving transport connections throughout the North and levelling up communities in the process. Today marks the next chapter in achieving this; fulfilling the promises in our £96 billion Integrated Rail Plan to shorten journey times, provide reliable and sustainable services, while supporting local services and delivering a modern, fully connected transport network fit for the future even sooner." 
The Bill will also allow for a new high-speed stations and junctions to be built at Manchester Piccadilly and Manchester Airport futureproofing services along the Western Leg and facilitating NPR to be built at a later date – which could include lines from Manchester to Liverpool and Leeds. 
In addition to this, a new junction near Crewe will be developed not only improving future services on the route but giving Crewe the potential to be a Hub station in mid-Cheshire able to accommodate more trains. 
At the same time, HS2 Ltd also announced that it will aim to deliver a 10 per cent net gain in biodiversity for replaceable habitats on the Crewe to Manchester route. This means going beyond existing mitigation and compensation schemes, delivering more biodiversity than existed before construction, and ensuring a bigger and better environmental legacy. 
This comes less than two weeks after the HS2 Minister announced that HS2 trains will run on zero carbon energy from day one aligning the country's biggest infrastructure project with the government's ambitions for a greener transport and construction future.
Industry responses
Mark Thurston, CEO at HS2 Ltd, said: "HS2 has an integral role to play in levelling up and rebalancing Britain's economy, and this extension of the network fuels that role by bringing the country's economic centres in the North and Midlands closer together. Construction of the first phase of HS2 is already supporting over 20,000 jobs and spearheading investment and growth in major population centres along the route. This Bill is a vote of confidence in HS2's ability to help towns and cities in the North realise their economic potential."
Darren Caplan, CEO at the Railway Industry Association (RIA), said: "It is encouraging to see the bill for HS2's Western Leg deposited in Parliament today. Rail businesses up and down the country stand ready to support this transformational project, supporting jobs and investment whilst delivering a new sustainable railway for the nation.
"Of course, this development should be accompanied by a commitment to deliver the HS2 Eastern Leg too – only by delivering the full scheme will all the benefits of HS2 be realised. So we continue to urge the government to develop the Birmingham to Leeds stretch of HS2 at the same time as pushing on with the Western Leg to Manchester."
Maria Machancoses, CEO of Midlands Connect, said: "This is another watershed moment in the future of our high-speed railway. This extension of HS2 from London and Birmingham to Manchester will give the West Midlands and North West the fast, reliable rail connectivity these regions so desperately need. What's important now is that we seize upon this momentum to accelerate the job creation, investment and regeneration that makes this investment so transformative.
"While it's great news that the Western Leg of HS2 is moving forward with pace, the Eastern Leg of HS2 from the Midlands to Yorkshire and the North East is still vitally important. We're working with government to feed into its study into how to best connect these areas and in the meantime are keen that a Bill is introduced to speed the delivery of the network between Birmingham and the East Midlands, as outlined in government's Integrated Rail Plan."
A spokesperson from the High Speed Rail Group (HSRG) commented: "High-speed rail links, which will change the nation's economic geography, are one of the very few tangible ways to spur levelling up outside of the South East – and the deposit of the Bill moves this agenda forward. The Bill also includes a connection to the West Coast Main Line to serve stations en route to Scotland – and in line with the government's Union Connectivity Review, and our own 'Modal shift matters' report – priority should be given to speeding up these services to provide three-hour London–Glasgow/Edinburgh journey times (rather than today's 4hr 20mins), increasing rail's share of the London-Scotland travel market from 29 to 75 per cent. We must now ensure that we build on the momentum of today's milestone and deliver economic benefits and improved transport links to the North and Midlands as quickly as possible."