HSRG publish new report on how to shift air travellers to rail
HSRG's report sets out a four-point plan on attracting more passengers to rail from short haul flights in the UK.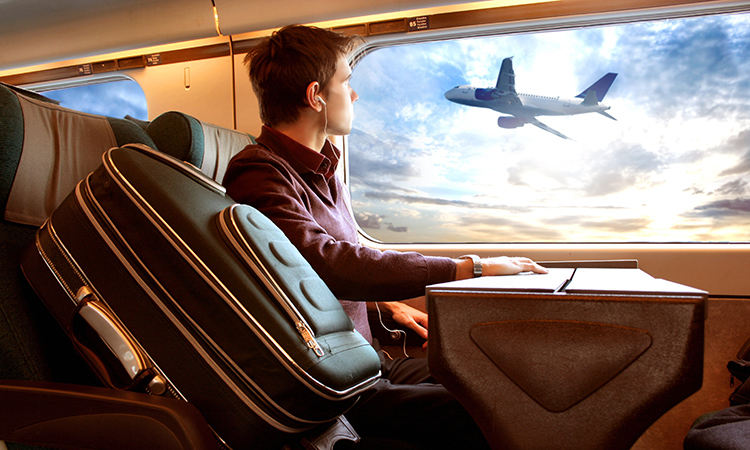 The High Speed Rail Group (HSRG) have published a report entitled 'How to win air travellers to rail', which sets out the significant scope needed to attract more passengers to rail from short haul flights. The report explains how expanding and integrating the national high speed rail network, combined with access to an ever-increasing number of international high-speed routes, will be key to facilitating this shift.
With over 16,700 air passengers travelling domestically across mainland Great Britain each day, improving the country's rail offering and ensuring the transfer of passengers from air to rail will have an essential role ahead if there is any chance of achieving net zero. The report's recommendations have been distilled into a four-point plan.
Step one is more limited-stop, long distance rail services. London-Scotland accounts for 57 per cent of domestic air travellers, so to compete with air, rail needs to offer point-to-point services with competitive prices. This could mean, for example, expanding the London-Edinburgh train service proposition operated by Lumo, adding London-Glasgow, Dundee and Aberdeen. But rail can only go so far operating on today's unimproved network, which runs at its capacity limit. 
Step two is utilising HS2's capacity to turbocharge modal shift. To make a deeper impact, rail needs to offer quicker journeys and the capacity has to be available to run additional limited-stop services. This is just what HS2 provides. Rail's share of the London-Scotland travel market could leap to 75 per cent if, alongside HS2, services are speeded up north of Crewe. 
Step three is moving more international travellers to rail. While Eurostar services have succeeded in their chosen markets, HS1 across Kent and through the channel tunnel has capacity for more. London rail services can be extended to more cities within the 1000km distance band for single-day travel, including Berlin, Vienna, Hamburg, Frankfurt, Zurich, Geneva, Bordeaux, Nice, Barcelona.
Step four is properly connecting Britain's two high speed rail networks. HS2 can also extend European travel benefits across Britain, providing zero carbon connectivity across the nation. Once it is open, a new Javelin-style service could run over the West Coast Main Line and connect with high-speed international services on HS1. So, passengers from the North and Midlands could avoid the off-putting gap between Euston and St Pancras stations. Or there is the option to create a proper passenger transfer facility between Euston-St Pancras (HS2 – HS1), one that provides a seamless 'between two terminals' connection suitable for all travellers.
"By considering pre-HS2 and post-HS2 timescales and the geographies that are within-Britain and between Britain and the continent of Europe, it becomes increasingly clear the essential role high speed rail will play in facilitating this shift," Jim Steer, Report author and HSRG Board Director, said. "Imagine being able to start a journey in Manchester or Birmingham, and through the proper integration of high-speed rail services, being able to make a journey to Amsterdam. Today, this is an airline market of 2.1 million passengers per annum. Imagine the convenience of rail and the significant carbon savings to be made."