FS Group announce 10-year plan to accelerate development
The FS Group have presented a 10-year business plan which offers a long-term vision and investment of over €190 billion, to ensure that infrastructure works are completed on schedule.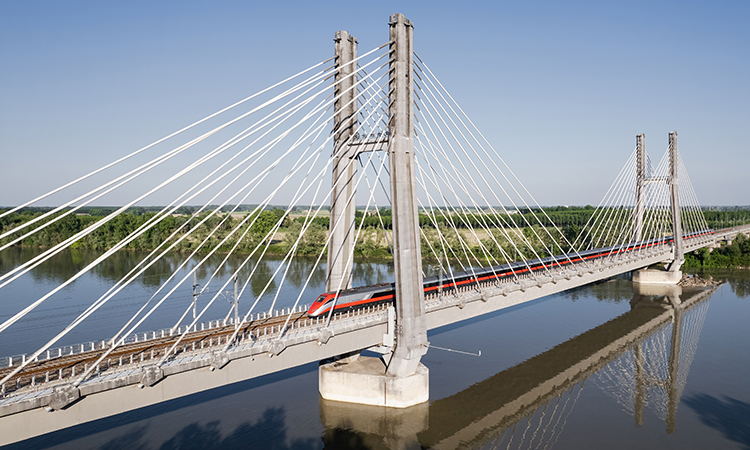 The 2022-2031 Business Plan of the Ferrovie dello Stato Italiane Group, which also envisages a profound redefinition of governance and a new organisational structure, was presented in Rome by the Chairwoman of FS Italiane, Nicoletta Giadrossi, and the CEO, Luigi Ferraris. It is a long-term strategic and industrial vision supported by an investment plan of more than €190 billion over the next 10 years.
The 10-year plan aims to ensure that infrastructure works are completed on schedule; prioritise multimodal collective transport over private transport; double rail freight compared to 2019; make rail and road infrastructure more sustainable, accessible, effectively integrated and resilient, expanding the network to reduce the gap between the country's north and south; increase the Group's level of energy autonomy through renewable sources and contribute to the ecological transition in this area as well.
In order to fully exploit the potential of all Group companies and make a decisive contribution to the sustainable development of the country, which is already experiencing extraordinary events such as the pandemic and international conflicts, the need emerged to redefine the governance and revise the organisational structure into four business hubs, each with clear strategic objectives: Infrastructure, Passengers, Logistics, and Urban.
The new organisation aims to strengthen the synergies of all the companies operating in the Group and to increase their efficiency, also in terms of planning and design. The international landscape and the geopolitical tensions behind rising inflation, the effects of the pandemic and those of climate change on infrastructure, all combined with an awareness of the role that transport, logistics and infrastructure can play in the sustainable development of the country, have also contributed to shaping the new corporate reorganisation.
The enabling factors of the 2022-2031 Business Plan, which are key to its implementation, are innovation, digitisation, connectivity, and development of the Group's people. Particular attention is paid to the ecological transition, with activities to improve efficiency and reduce consumption combined with new initiatives to leverage assets by installing plants to produce electricity from renewable sources, to ensure that at least 40 per cent of the Group's needs are covered.
In the international arena, the FS Group wants to ensure sole control over the business, aiming to generate further value in the countries where it is already present: France, Spain, Germany, Greece, the Netherlands, and the UK. Outside Europe, Ferrovie dello Stato also plans to export integrated know-how through partnerships. FS Group revenues in 2031 are expected to grow to around €22.5 billion and EBITDA to €3.9 billion, with an average annual growth rate (CAGR) over the plan period of 6.9 per cent and 8.2 per cent, respectively.
"The goal of the 2022-2031 Business Plan is to accelerate investments and provide more certainty that works will be completed on schedule, thanks to a long-term vision," Luigi Ferraris, CEO of the Ferrovie dello Stato Italiane Group, said. "We are working to make our infrastructure more modern, interconnected, and resilient, and our mobility services tailored to the different needs of our customers. We intend to promote a multimodal, collective transport that is more sustainable even in urban areas, double the share of freight transport by rail, and contribute to the ecological transition not only by making the use of rail, the most environmentally friendly means of transport par excellence, more attractive, but also by self-producing at least 40 per cent of our substantial energy needs from renewable sources. "Un Tempo Nuovo" a new, promising era is beginning for us all, and I am certain that our people, today as yesterday, will know how to turn this plan into reality, proving themselves equal to the challenges that await us."