Global rail industry looks forward to InnoTrans 2022
With an absence in the diaries of the rail industry since 2018, appetite for the thirteenth edition of the world's leading trade fair for transport technology is thriving, with show organisers revealing that 95 per cent of the trade show's exhibition area is already occupied.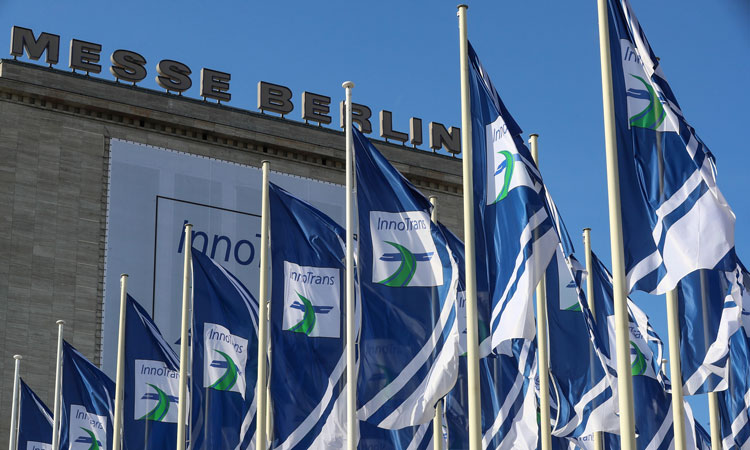 Credit: InnoTrans
InnoTrans 2022 will run from 20 to 23 September and will occupy the entire exhibition grounds at Germany's Messe Berlin, including the new trade fair hall hub27.
Ninety-five per cent of the exhibition area is currently occupied, while the Outdoor Display with 3,500m of rail track is fully booked.
"In view of the difficult overall conditions and latest developments, we did not expect bookings to be this high," Kerstin Schulz, InnoTrans Director, said. "Everyone taking part is looking forward all the more to meeting in person. InnoTrans is the world's largest platform for the mobility sector, with a market coverage that is second to none."
Over 100 exhibits on the Outdoor Display
This year on the Outdoor Display, exhibitors are showcasing over 100 vehicles, including some world innovations. Siemens Mobility and Deutsche Bahn (DB) are set to present the H2goesRail project and the Mireo Plus H, a new generation of fuel-cell-powered trains. Stadler will be taking part with seven vehicles this year, and Tatravagónka, a goods wagon manufacturer from Slovakia, is planning to make a big appearance at the show with six vehicles supplementing its hall stand. Trade visitors can also look forward to additional presentations from Alstom, Siemens, Vossloh, Plasser & Theurer as well as numerous other exhibitors.
'The Future of Mobility in times of climate change': opening event
On Tuesday 20 September 2022, the official opening event of InnoTrans will take place at the Palais Berlin. Invitations have been extended to more than 1,000 senior national and international figures representing industry, science and politics. Germany's Federal Minister for Digital and Transport, Dr. Volker Wissing, will welcome the international visitors to this high-profile event. European Commissioner for Transport, Adina Vălean, has also been invited.
Taking part in the panel discussion, the transport company representatives will be Dr. Richard Lutz, CEO of Deutsche Bahn AG and Michal Krapinec, CEO of the Czech rail company, České dráhy.
Representing the industry will be Michael Peter, CEO of Siemens Mobility GmbH, Henri Poupart-Lafarge, President of Alstom, and Peter Spuhler, CEO of Stadler Rail Transport S.A.
InnoTrans Plus: prepare your visit and make use of networking
The new virtual platform InnoTrans Plus is being widely used. With approximately 2,500 registered exhibitors, 2,400 products and 1,500 user profiles, it can be used by all participants to prepare and follow up their visit to the fair. Users can set up their own profile, network, find out about the fair, make appointments in advance and take part in webinars. For example. InnoTrans Convention content can be live-streamed during InnoTrans, as well as the entire supporting programme.
Global Railway Review at InnoTrans 2022
The Global Railway Review team will once again be present at this year's InnoTrans – you will find us at our very own stand in Hall 6.2 (Stand 460).
We will provide dedicated coverage of InnoTrans 2022, starting from June 2022 and ending in November 2022. All InnoTrans coverage will be situated in our 'InnoTrans 2022 Hub' – which will contain news stories, articles, whitepapers, webinars and videos based around the show.
Our coverage will be promoted via a series of monthly, weekly and daily emails. We will also have extensive pre- and post-event coverage in our print magazine; issues of which go to press in August and October. In addition to being distributed to more than 16,000+ industry experts, extra copies of our print magazine will be available to event delegates at our very own stand in Hall 6.2 (Stand 460).
If you would like to arrange a meeting with any of the Global Railway Review team during InnoTrans 2022, please find out more here.
Related topics
Related organisations