DB keeps one step ahead of impending F-gas regulation
Germany's largest railway operator, Deutsche Bahn (DB), is speeding ahead of the regulatory curve with ABB SF6-free switchgear technology.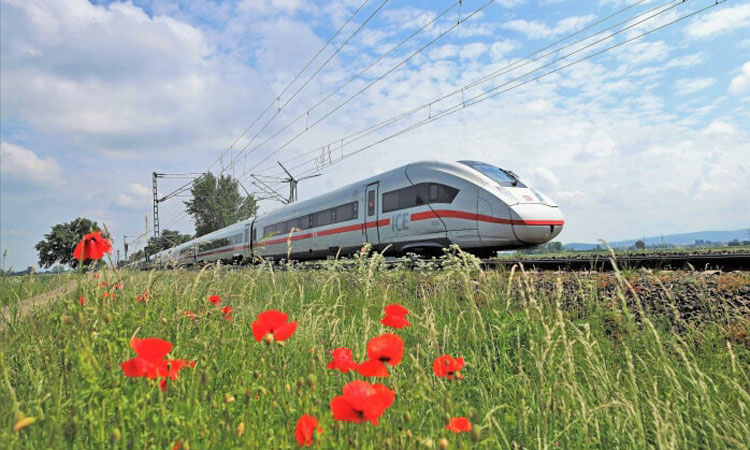 Credit: ABB/DB
Deutsche Bahn (DB) – which carries around 4.8 billion passengers a year – has ambitious plans to decarbonise its network by 2040.
The company's general contractor, Rail Power Systems GmbH (RPS), has awarded ABB the contract to supply its first three phase gas insulated switchgear (GIS) solution free of sulfur hexafluoride (SF6) as part of the project to supply four charging substations dedicated to battery powered trains for Schleswig-Holstein, the northernmost state of Germany.
The order is based on a requirement by DB to eliminate the greenhouse gas SF6 – the world's most potent greenhouse gas – in its switchgear. ABB's unique technology replaces SF6 with AirPlus, a sustainable gas mixture with ~100% less global warming potential.
Although SF6 has a high global warming potential 25,200 times that of CO2 and lasts around 3,200 years in the atmosphere, its excellent insulation qualities have meant it is still commonly used in electrical switchgear. As part of a €13 billion investment in its 'Green Transformation', implementation of ABB's SF6 free gas insulated switchgear PrimeGear ZX0 with AirPlus will support DB's ambitious plans to decarbonise its network by 2040. It is a major milestone on the rail operator's broader sustainability journey which aims to create a greenhouse gas-free rail network for future generations.
This comes as the European Commission recently announced plans to ban SF6 from new Medium Voltage electrical equipment from 2026 for applications up to 24 kV and 2030 for applications up to 52 kV.
The first installation of its kind in Europe, ABB's PrimeGear ZX0 switchgear was chosen by RPS as part of a pilot project at charging substations on local railway lines in Heide, Tönning and Husum, Northern Germany. When used with ABB's sustainable AirPlus gas, PrimeGear ZX0 has a global warming potential (GWP) of less than one, almost 100% lower than SF6.
Thomas Wehr, Product Manager AC Railway Energy Systems at RPS, said: "ABB's SF6-free technology offers an interesting alternative to conventional assets, especially in terms of eliminating harmful greenhouse gases. The switchgear can be integrated into our substation design without any problems."
The integration of this digital-ready switchgear supports next-generation intelligence upgrades to further optimise efficiency and improve reliability. This presents a huge step forward in DB's roadmap towards a future-ready rail network.
Unlike traditional SF6 alternatives, in the unlikely event of a leak, ABB's run-flat technology enables safe operational continuity until repair or servicing work can be carried out. This reduces the risk of costly downtime and delays to rail services. The switchgear's compact, robust design also generates 20% less heat than traditional options and advances arc safety. The optional integration of sensors and remote monitoring and diagnostics features allows real-time visibility of network operations for early fault detection, highest reliability and planned maintenance. Together, these innovative features make for a reduced footprint, smarter operation and asset optimisation, thus may reduce the overall cost of ownership by up to 30%, when compared to conventional GIS installations.
Harikishan Narayanan, Global Product Group Manager for Gas Insulated Switchgear at ABB, adds: "With the first regulatory ban due to come into effect in only three years, rail operators must start to seriously consider their own migration to SF6-free technology. The good news is that ABB already offers a proven and highly effective, eco-alternative. Our AirPlusTM run-flat technology offers similar performance properties to SF6 to enable continuous operations and advanced safety, while reducing global warming impact by up to 100%. PrimeGear ZX0, when combined with monitoring and diagnostic features, also delivers smarter operation and reduced cost of ownership. As our joint project with RPS for DB shows, the result is a reliable performance that is not only better for the environment, but also better for business."
Over 9,000 ABB ecoGISTM units are now in operation around the world covering a range of applications up to 40.5 kV.
ABB is also collaborating with DB on a range of projects including upgrading the rail operator's first flagship InterCity Express (ICE 1) high-speed train series.
To find out more about how ABB can help customers to meet future F-Gas regulations, download the White Paper here.