GTR solar panels generated 236,387kWh of energy in 2022
Govia Thameslink Railway's network of solar panels across Denmark Hill and Streatham Hill generated 236,387kWh of energy in 2022.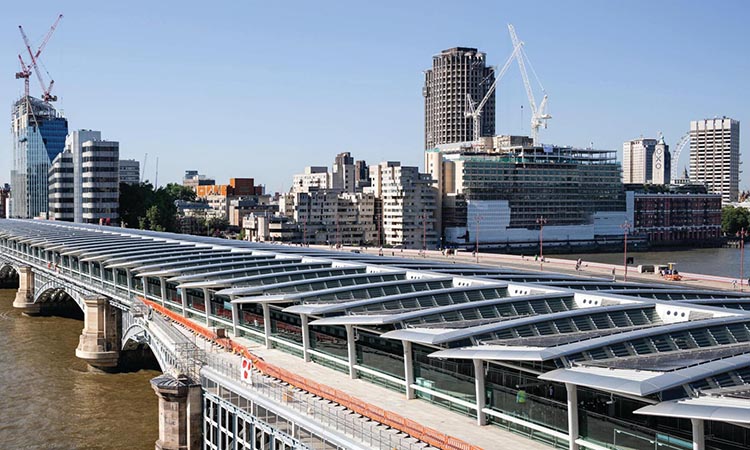 Solar panels on Blackfriars station roof - Credit: GTR
As part of Govia Thameslink Railway's (GTR) commitment to a more sustainable future, the rail operator has a network of solar panels across Denmark Hill Station, Streatham Hill Depot, and Blackfriars Station – which at the time of installation, was the world's largest solar-powered bridge.
In 2022 alone, across Denmark Hill Station and Streatham Hill Depot, the photovoltaic (PV) arrays have generated 236,387kWh of energy. This is the equivalent of boiling the kettle to make a fantastic 7.5 million cups of tea. The energy generated through the solar panels also saves 46 tonnes (45,713kg) of CO2 per year.
In 2021, 526 solar panels were installed in collaboration with Network Rail on Streatham Hill Depot's roof, as part of an innovative co-operative energy project with community climate action group, Energy Garden, transforming it into a local source of renewable energy. At Denmark Hill Station, as part of an initiative to deliver the first "carbon positive" upgrade on the rail network, a new type of photovoltaic film was fitted to the new roof with the ability to produce more energy than the new building needs and put energy back into the electricity grid.
In addition, it is estimated that Blackfriars Station alone produced 900,000 kWh energy last year thanks to the 6,000m2 of PV panels that were installed on the station's roof when it was rebuilt by Network Rail as part of the Thameslink Programme in 2012. The PVs cut CO2 emissions by 513 tonnes per year – equating to around 89,000 average car journeys.
"We all know that traveling by rail is a sustainable option," Jason Brooker, Head of Environment at GTR, said. "However, at GTR we want to ensure that our commitment to decarbonisation and sustainability is clear for our passengers to see. We already take measures such as ensuring all the electricity we use across our stations and depots comes from green energy tariffs using renewable energy assets, as well as looking at our efficiency – from the LED lights to the way we heat our offices. Creating our own energy, including through the incredible successful solar panel network, is the next logical step. We are incredibly pleased with the results to date – and hope this will be the beginning of more savings to come."
 "Generating our own renewable energy through solar panels is a key part of our sustainability plan for Network Rail's Southern Region," Sarah Borien, Head of Environment and Sustainability for Network Rail Southern Region, said. "We're delighted that GTR share our ambition and that we can work together to make our railway even cleaner and greener than it already is."