Stadler will produce and deliver Norway's new long-distance trains
Stadler have been awarded a contract to produce and deliver 17 new long-distance trains for Norske tog AS in 2024.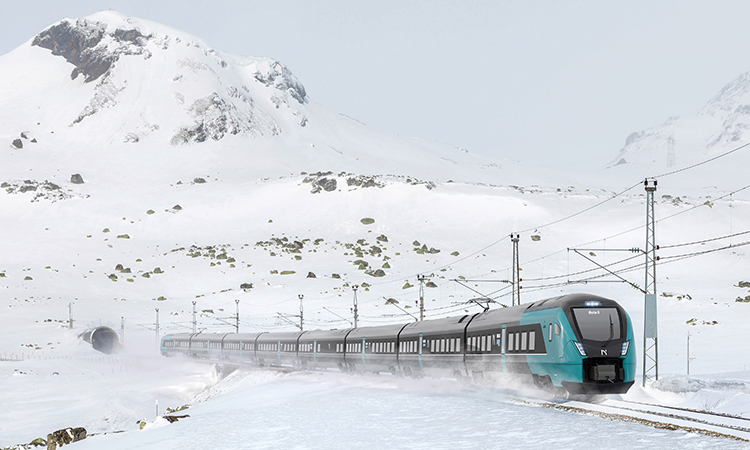 Credit: Stadler
Norske Tog AS has announced that Stadler has been awarded a contract to produce 17 long-distance trains. The contract includes options, allowing up to 100 new trains to be acquired by Stadler. The first new train sets are expected to be delivered for test-driving in Norway from 2025. The new train sets will be put into traffic on the Bergen Line from 2026, replacing old trains reaching their technical life expectancy.
"This is a big day," Øystein Risan, CEO of Norske tog AS Norway, said. "Norway has some of the most spectacular train rides in the world, and with the new long-distance trains coming in 2027, everything is in place to lift the experience, the comfort, and the quality for the passengers to a whole new level."
Comfort and experience
Stadler won the long-distance contract based on a total assessment of quality and cost criteria. The company is one of Europe's leading train suppliers, with headquarter in Switzerland. Recently, Stadler delivered Flirt train number 150 to Norske tog.
The new train class, FLIRTNEX will offer both reclining seats, flexible sleeping compartments, bistro, family areas, and lots of space for luggage. These are some of the facilities that travellers can look forward to, and which will contribute to making it the most attractive way of travelling in Norway.
The new long-distance trains will have a top speed of 200km/h. Each train set will consist of eight carriages with a total capacity of up to 542 seated passengers. Norske tog AS acquired the train for both electrified and non-electrified train lines.
The new trains will be more flexible when it comes to space, comfort, and different type of usage. The customer will enjoy accommodation options for sleeping, with both reclining seats, two bed sleeping compartments and four bed sleeping compartments. During daytime, the sleeping compartments can be used as private seating groups for both families and business travellers. The reclining seats can be used both during the day and night.
Through a collaborative effort, Norske tog and Stadler will decide of final adaptions and adjustments before the trains go into production. Train operators and stakeholders will also be included in the design process.