Irish Rail award Alstom contract for new train-charging infrastructure
Irish Rail have awarded a €28 million contract to Alstom for the installation of new charging infrastructure for their BEMU trains.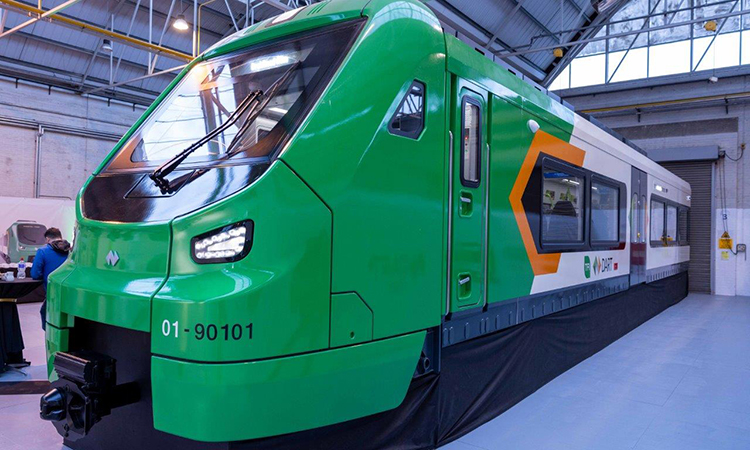 Credit: Irish Rail
Irish Rail (Iarnród Éireann) has awarded a €28 million contract for train-charging infrastructure at Drogheda to Alstom. The fast-charging infrastructure on two platforms and one siding at Drogheda will be installed by end of 2024 to enable new battery-electric DART+ trains, entering service in 2025, to operate to and from Drogheda in advance of planned electrification of the line, and to be recharged during service turnaround at Drogheda.
Funded by the National Transport Authority as part of the DART+ Programme, the project will see electrification of three lines at Drogheda, as well as supporting infrastructure including a new sub-station at Marsh Road.  The charging infrastructure has secured planning permission from Louth County Council, enabling preparatory works to commence in late 2023.
Of the initial order of 95 DART+ carriages entering service in 2025, 65 are battery-electric powered, with 30 electric. The battery-electric units will have 840 kWh of energy per five-carriage train, with trains to operate in up to 10-carriage formation. 
In advance of planned electrification under DART+ Coastal North, the battery-electric DARTs will operate on Dublin to Drogheda service, being powered by the existing 1500V DC overhead lines on the DART from city centre to Malahide, and then under battery power to Drogheda.
They will be capable of operation of journeys up to 80 kilometres on battery power alone, and benefit from charging at Drogheda during turnaround between journeys. This will happen automatically, with the pantograph (arm on top of DART which connects to overhead lines) extending upon arrival to the charging platform to overhead lines, and then lowering again automatically once the train is ready to depart. The charging infrastructure will be capable of charging a throughput of up to three 10-carriage length trains per hour. Additionally, overnight charging will occur and regenerative braking will replenish batteries on the move. Furthermore, there will be a 3.6 MWh Energy Storage System installed at Drogheda. This will provide additional flexibility allowing multiple trains charge simultaneously, and extra resilience to the power supply from the grid.
A further 90 battery-electric carriages have also been ordered as part of the DART+ Programme, delivery of these additional trains will commence delivery from Spring 2026 and enter service from Summer 2026. with similar charging infrastructure envisaged elsewhere in the Greater Dublin Area, and also being examined for the Cork Commuter network and for Wicklow.
"This investment will allow us to accelerate the benefits of DART+ to customers on the Drogheda commuter route, with a brand new fleet and extra capacity to be provided in just two years time," Jim Meade, Chief Executive for Irish Rail, said. "Furthermore, we are currently undertaking the second round of public consultation for full electrification and capacity improvements for the Drogheda line under DART+ Coastal North.  DART+ Coastal North will double the number of commuters who can travel on this route, and dramatically increase service frequency."
"I very much welcome this announcement on the DART+ project and this development is a clear indication of the real progress that is being made across the Programme," Anne Graham, CEO for National Transport Authority, said. "Thanks to DART+, passenger capacity and service frequency will be vastly improved for people across the rail network in the Greater Dublin Area over the coming years. DART+ will allow more people to make sustainable travel choices and will contribute to reducing our emissions by providing a reliable alternative to the private car. NTA looks forward to continuing to work with Irish Rail in making DART+ a reality."