Translink updates m-ticketing app
Translink, Northern Ireland's transport company operating Metro, NI Railways and Ulsterbus services is working with Corethree, the leader in m-ticketing technology, in a partnership that will deliver Corethree's first mobile ticketing deployment on rail services and creates many improvements and new features within the Translink m-ticketing app…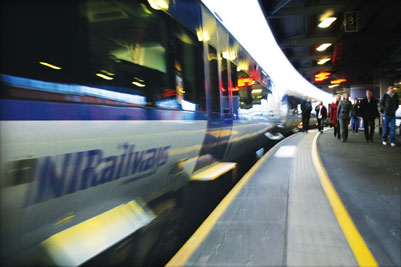 For the first time users will benefit from full, bespoke dynamic pricing, meaning they can take advantage of the great value ticket deals and promotions on offer
Translink, Northern Ireland's transport company operating Metro, NI Railways and Ulsterbus services is working with Corethree, the leader in m-ticketing technology, in a partnership that will deliver Corethree's first mobile ticketing deployment on rail services and creates many improvements and new features within the Translink m-ticketing app. 
For the first time users will benefit from full, bespoke dynamic pricing, meaning they can take advantage of the great value ticket deals and promotions on offer with a simple touch of a button. There are also built-in links to Translink's mobile journey planner, timetables and Twitter feed.
Additionally, there is a new purchase delegation or 'gift' facility available within the app. This means that adults will be able to purchase tickets for those aged 16 and under for use within the app on the child's phone. 
Ashley Murdoch, CEO Corethree says: "We are delighted to have had the opportunity to work with Translink. We are always searching for ways in which our clients can gain the most commercial benefit from technology, so including the two new features of dynamic pricing and delegated purchase are key improvements. It's also an exciting opportunity for us to work with a rail network for the first time."
William McGookin, Ticketing Systems Manager from Translink, said: "Working with Corethree has enabled us to provide a superior experience for our customers who make use of our rail ticketing app. We aim to ensure each and every journey is as smooth as possible and we have been pleased with how our partners Corethree have worked closely with our team to deliver this. We hope that the new developments within the mLink app broaden the use of mobile tickets on Translink services considerably."
The new Translink 'mLink' app is available from this week.
Related topics
Related organisations