Stadler Rail to supply KISS EMUs for Swedish regional contract
Swedish leasing and management company, AB Transitio, has awarded Stadler Rail a SEK 3.5 billion contract to supply 33 new KISS double-deck trains for Mälardalen regional services. The order placed on behalf of MÄLAB, a joint venture between the county councils of Stockholm, Örebro, Sörmlands, Uppsala, Västmanland and Östergötland, will supply 33 new Stadler Rail […]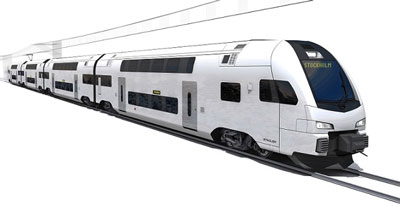 Swedish leasing and management company, AB Transitio, has awarded Stadler Rail a SEK 3.5 billion contract to supply 33 new KISS double-deck trains for Mälardalen regional services.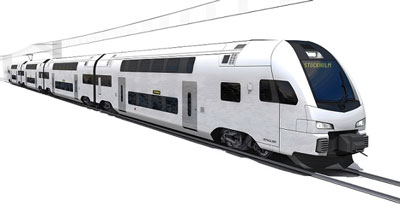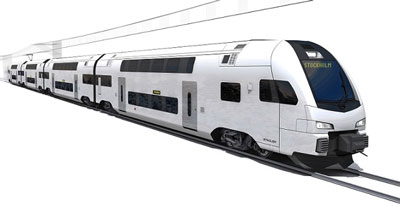 The order placed on behalf of MÄLAB, a joint venture between the county councils of Stockholm, Örebro, Sörmlands, Uppsala, Västmanland and Östergötland, will supply 33 new Stadler Rail double deck KISS EMUs for service on the lines of Orebro via Stockholm to Uppsala, Hallsberg via Katrineholm to Stockholm, Norrkoping via Nyköping to Stockholm, and Sala via Västerås, Eskilstuna and Katrineholm to Linkoping.
At a length of 105 metres and a top speed of 200 km/h, the 33 Stadler Rail KISS EMUs will provide 340 fixed seats per train with additional folding seats to make room for large luggage and bicycles. Passengers will also benefit from free wi-fi and electrical outlets.
The new trains are due for delivery from the beginning of 2018.
Related topics
Related organisations
Related regions