New Zealand City Rail Link Council – Govt partnership formalised
Auckland Mayor Phil Goff, Deputy Mayor Cashmore and Ministers Steven Joyce and Simon Bridges, have formalised the partnership between the New Zealand Government and Auckland Council to deliver the 3.45km City Rail Link – New Zealand's largest infrastructure project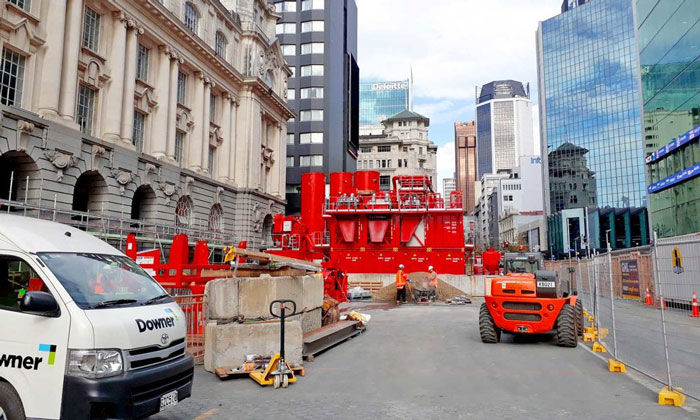 When complete the $3.4 billion City Rail Link will create two new underground stations (Aotea and Karangahape) and double both the number of trains on the Auckland network and the capacity of people on trains.
Mayor Phil Goff said, "This is an important project for Auckland. It will double the capacity of our rail network and ease congestion enabling 30,000 people an hour to move during peak travel times."
This isn't just a transport project; it is an economic development project that will build an artery to feed thousands of employees into New Zealand's highest value employment precinct.
Over the next 30 years, approximately 60% of New Zealand's population growth is expected to occur in Auckland with city centre and city fringe resident numbers doubling to 140,000, with employee numbers there doubling to more than 200,000.
"The City Rail Link will help Auckland deal with the challenge of unprecedented population growth and keep our city moving, but it is only one part of the transport jigsaw. We still need government to work with Auckland Council to address the infrastructure funding gap and accelerate projects agreed in ATAP," added Mayor Phil Goff.
In addition, Mayor Goff commented that the City Rail Link is also good news for Aucklanders looking for employment and training: "The boom in construction in the city has created a critical skills shortage in a number of areas and the City Rail Link will provide opportunities for people to find jobs, get trained and develop career pathways."
Up to 1,600 people will be needed to build Auckland's City Rail Link during the project's peak period of operation with at least 600 general construction workers during peak construction, as well as workers with more specialised skills. There will be opportunities for new entrants to the workforce and for more experienced staff.
Related topics
Related regions