New locomotives for Illinois and Wisconsin
New locomotives are now serving Amtrak customers in Illinois and Wisconsin, with the U.S.-built, Midwest-powered, Amtrak-maintained units to operate on state-sponsored services in the region.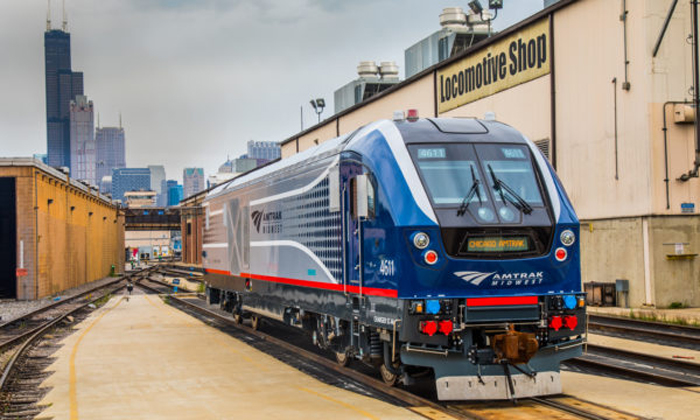 These Siemens Charger locomotives, which will be smoother and have enhanced speed capability and safety features, along with reduced exhaust emissions, carry the new Amtrak MidwestSM logo, which promotes the five-state network of connecting trains (see image below). After deliveries are completed, the 33 locomotives will be deployed from Chicago.
"Our individual Amtrak Midwest routes are made even stronger by being part of a network of connecting trains, stations, and reservation systems, which are a product of our state partners working together under the Amtrak umbrella," said Michael Franke, Amtrak Senior Director – State Contracts. "These locomotives will power the Amtrak Midwest brand, bringing even better service to our customers."
Manufactured by Siemens at its 1,000-person rail manufacturing hub in Sacramento, California the new fleet (which is powered in part by solar) offers numerous advantages, such as lower maintenance costs, reduced fuel consumption and quieter operation.
The Charger locomotive is powered by a high-performance 4,400 horsepower-rated Cummins QSK95 diesel engine and will operate at speeds up to 125 miles per hour. It is the first higher-speed passenger locomotive to meet the highest federal environmental standards, meaning a 90% reduction in emissions and a reduction in fuel consumption of up to 16% compared to the previous locomotives. 
They are also equipped with electronically-controlled regenerative braking systems that use energy from the traction motors during braking to feed the auxiliary and head-end power systems to minimise fuel consumption.
"We're building these locomotives in California, for the U.S., bringing the latest technologies to life for riders," added Armin Kick, Siemens Mobility Vice President for Locomotives. "These are among the nation's cleanest locomotives and we're proud to have not only worked closely with Amtrak and the state DOTs to bring these to the Midwest, but also our robust chain of suppliers from across the country."
Purchased through $216.5 million in federal funds, the locomotives are just one part of a larger effort to improve passenger rail service in Illinois and the Midwest.
Related topics
Related organisations
Related regions