Hong Kong Chief Executive Mrs Carrie Lam visits MTR Crossrail in London
The Chief Executive of the Hong Kong administration has met with MTR Crossrail officials to hear how the new service is transforming rail services for passengers in London.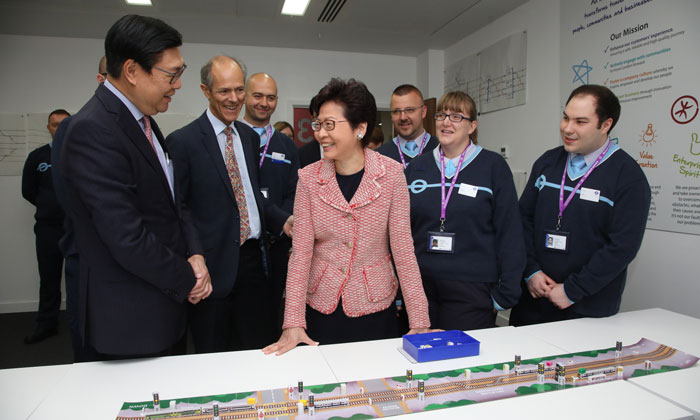 Making her first official visit to London in her role, Mrs Carrie Lam visited MTR Crossrail, the UK subsidiary of MTR Corporation, one of Hong Kong's largest companies, before attending the Hong Kong Trade Development Council Dinner.
She was joined at the event by Philip Hammond, the Chancellor of the Exchequer, who praised the "influence Hong Kong culture has had on British life" and pledged to strengthen trade ties between Hong Kong and the UK.
Crossrail is one of London's biggest infrastructure projects and MTR will have a major impact on life in the capital over the coming years as it rolls out future Elizabeth line services.
Accompanied by Professor Frederick Ma, Chairman of MTR, and Mr Edward Yau, Secretary for Commerce and Economic Development for the Hong Kong Special Administrative Region, Mrs Lam met with MTR Crossrail management representatives to discuss plans for the delivery of services on the new network, and also spoke with trainee drivers about MTR's industry-leading driver training programme.
More than one in nine drivers at MTR Crossrail is female – more than double the UK national average – and many have come from outside the rail industry with former graphic designers, police officers and make-up artists among the 400 drivers who will operate trains on the future Elizabeth line.
MTR Crossrail currently operates TfL Rail services on a 32.5-km route between Liverpool Street Station and Shenfield, and will roll out further services between Paddington Station and Heathrow Airport in May 2018 and through central London in December 2018, when the route will be renamed as the Elizabeth line.
MTR also operates the South Western Railway service through a joint venture franchise with FirstGroup which commenced on 20 August 2017, and has extensive services in Sweden, Hong Kong, Australia and mainland China.