Gateway development of Portal Bridge replacement project initiated
Initiating a Gateway development programme to improve rail transportation between Newark and New York City, Governor Chris Christie has broken ground on the replacement of Portal Bridge.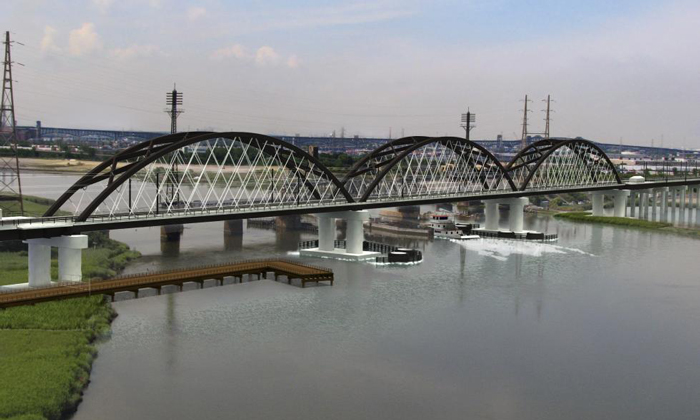 Credit: NEC Amtrak
Built it 1907 and owned by Amtrak, Portal Bridge is a two-track swing span structure over the Hackensack River in Kearny and Secaucus that is known for malfunctioning and causing delays on the Northeast Corridor. It is also one of the heaviest trafficked railroad bridges in the Western Hemisphere – NJ TRANSIT carries approximately 150,000 passengers per day on almost 400 trains and Amtrak transports about 16,000 passengers per day on more than 100 trains.
Engineering plans to replace the Portal Bridge with a north bridge and a south bridge were completed in 2013, to be funded by NJ TRANSIT, Amtrak, and the Federal Railroad Administration.
The project involves building two new fixed-span bridges that are to be built 53 feet above mean high water, which is over double the height of the current bridge, allowing for higher speeds and an increase in train capacity.
Now, early construction contracts with a value of about $20 million have been awarded to proceed with the Portal North Bridge, with contracts included work to construct a finger pier, install new fibre optic cable poles, realign a transmission pole, construct a steel bridge structure over the Jersey City Municipal Utility Authority water main, and construct a retaining wall.
The total project cost is estimated at $1.5 billion and construction of the Portal South Bridge will come at a later date.
This project is vital to our economy and the safety of millions of local commuters and people from around the world who use mass transportation"
"The replacement of the aging Portal Bridge is the first step toward ensuring a sound and efficient rail transportation system that will serve millions of riders now and well into the future," said Governor Christie. "This project is vital to our economy and the safety of millions of local commuters and people from around the world who use mass transportation along the Northeast Corridor. By working cooperatively with New York and federal lawmakers and officials, we hope to identify funding for this and the Hudson River tunnel projects that is fair and equitable for New Jersey taxpayers."
Last month, Governor Christie, New York Governor Andrew Cuomo, and New Jersey and New York Congressional leaders met with President Donald Trump to discuss the nearly $30 billion Gateway project in an effort to secure half of the funding for the program.
Gateway development also includes new tracks under the Hudson River as well as repairs to existing tracks damaged during Superstorm Sandy in 2012 through a cooperative effort involving the federal government, New Jersey, New York, the Port Authority and public/private partnerships.