London Bridge on track to welcome cross-London Thameslink trains
Network Rail's recent completion of new track and signalling between London Bridge and Blackfriars brings the hub London station a step closer to welcoming the Thameslink services.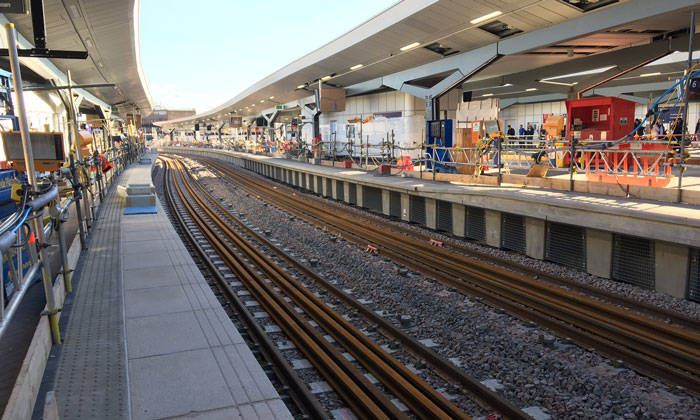 New platforms at London Bridge, Image courtesy of Network Rail
After more than three years of interruption to services – between January 2015 and May 2018 – Thameslink services will once again resume operation via London Bridge next year.
During this time Network Rail have completely redeveloped London Bridge station as part of the Thameslink Programme, including rebuilding the platforms and re-laying track through the station.
Finishing touches
With the completion of this track – to the west of London Bridge – the lines are now in their finished position, awaiting final signalling commissioning at Christmas and the New Year. Once drivers are trained and familiar with using the new section of track and its signalling, Thameslink services will once again serve the new station, in the next major industry timetable change of May 2018.
The tracks will be brought into use after ten days of major service changes over Christmas and New Year. During this time major re-signalling will take place around London Bridge and the final section of the brand new concourse and final five new platforms will open to passengers. From 23 December until 1 January there will be significant closures affecting Southeastern, Thameslink, Southern and Gatwick Express services. Passengers are advised to plan ahead and check before they travel by visiting their website.
Mark Somers, Project Director for Railway Systems, Network Rail, said: "With the completion of the track on the western approaches to London Bridge, the final track layout is now in place for the reintroduction of Thameslink services to Blackfriars and awaiting final signalling commissioning which will take place over the Christmas period.
"The completion of this section of track is a huge milestone for the Thameslink Programme, which from 2018 will result in more frequent, more reliable services to more destinations and a fully rebuilt, entirely accessible London Bridge station fit for the 21st century."
Transforming journeys for travellers
Commenting on how this development will benefit passengers, George McInulty, Service Delivery Director for Govia Thameslink Railway which operates Thameslink, Southern and Gatwick Express, said: "Cross-London Bedford-Brighton Thameslink passengers have not had any trains to London Bridge station since January 2015 when their services were diverted on an alternative route to make space for London Bridge to be rebuilt.
"From May, we'll be back at the station cutting journey times for thousands of passengers travelling to this part of London.
"At the same time we will expand the Thameslink network massively, connecting Peterborough and Cambridge into the north-south, cross-London route, transforming the journeys for thousands of people. This is a major part of our programme to modernise the railway through the government-sponsored Thameslink Programme and address the huge growth in passenger numbers across the South East."
New year, new station at London Bridge
As the railway fully reopens in the New Year, passengers at London Bridge will be greeted by the remaining section of the brand new concourse and newly completed platforms 1-5. Southeastern services will operate on a new timetable and trains to and from Cannon Street will once again stop at London Bridge, meaning that tickets will no longer be accepted on TfL alternative routes. Once complete, London Bridge will be a modern, spacious and fully accessible station, fit for the 21st century.