Evolution of rail franchising forms part of UK government's new 'strategic vision for rail'
The UK's Transport Secretary Chris Grayling today (29 November 2017) has set out a new vision for Britain's railways, including plans to end the operational divide between track and train and an evolution of the franchising system.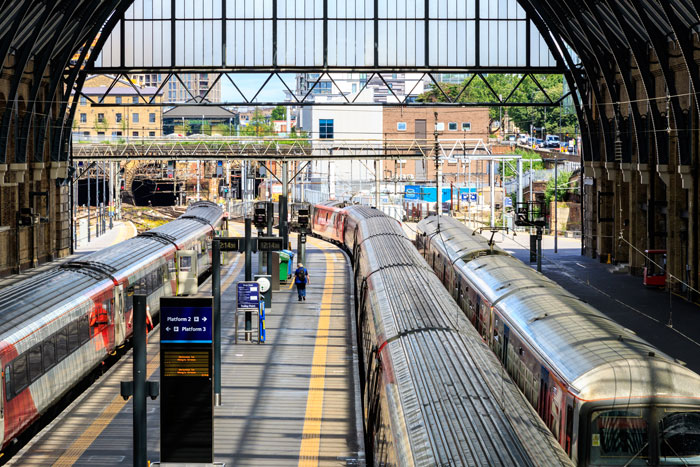 The proposals contained in the government's 'Connecting people: a strategic vision for rail' document also include commitments to expand the railway network to boost housing and economic growth and deliver major passenger benefits, including rolling out improved compensation schemes for passengers.
The proposals focusing on creating joined-up teams running track and train will make the railway more reliable for passengers and ensure that it works as one to deliver for its customers.
In the document's Foreword, Chris Grayling writes: "Our plans go further than ever before to tackle these problems, get private and public sectors working more closely together to increase performance, and rebuild the railway around the customer."
He continues: "This is a strategy for an expanding, modern railway that is dedicated to improving services for the customer."
The reforms build on the Secretary of State's speech to Policy Exchange in December 2016 and the recommendations of the McNulty and Shaw reports.
Building on Network Rail's recent devolution of infrastructure management to route-based businesses, the plans include complementary changes to the franchising system to ensure that the railway is prepared to manage the challenges of the future, while maintaining the railway infrastructure in public ownership.
Changes set out to the franchising system include:
The first of the new generation of long-term regional partnerships on the East Coast Mainline, which will be introduced from 2020 – the East Coast Partnership between the public sector and a private partner will be operated by a single management, under a single brand and overseen by a single leader
Rolling out joint teams running day-to-day operations across the South Eastern networkwith plans to introduce a new Alliance Director, responsible for a joint team operating the trains and tracks
Introducing a joint team to run the East Midlands franchise following next year's franchise competition
Introducing smaller train companies, ensuring that every line, station and passenger is central to each train operator's strategy – this includes splitting up the Thameslink, Southern and Great Northern franchise in 2021, and consulting on a new West of England franchise.
The 'strategic vision for rail' also pledges to explore opportunities to restore capacity lost under the Beeching and British Rail cuts of the 1960s and 1970s by identifying new schemes that unlock new housing or economic growth and offer good value for money.
The government is already planning to reopen the railway line from Oxford to Cambridge and the new development programme will identify new connections and lines that were closed to passengers by British Rail, as part of finding and funding future rail schemes which offer good value.
At the heart of the new strategy is a commitment to improve passenger experience across the network and take advantage of new technology to improve services. This includes major changes that will extend passenger rights – including compensation for passengers when trains are more than 15 minutes late. There is also support for the introduction of a Rail Ombudsman to ensure all passengers are treated fairly.
The vision also vows to introduce digital rail – new technologies that have the potential to reduce crowding and improve train punctuality for passengers – across more of the country. This includes funding to develop schemes on the TransPennine Route, on the South East Route and East London Line, and on the Moorgate Branch. It also reinforces the important role for freight on the rail network to support the British economy and environment.
Reactions:
Paul Plummer, Chief Executive of the Rail Delivery Group, which represents the rail industry said: "The rail industry came together in October to set out our vision for a strong partnership railway, combining the best of the private and public sectors to deliver our long-term plan to change, improve and secure prosperity for Britain. We are pleased the government has set out in its strategy a sensible evolution of the partnership railway."
Paul continues: "For rail to secure prosperity for Britain in the years ahead, it must change and improve. This is why train and freight companies, Network Rail and the industry's supply chain have publicly committed to strengthen the economy, improve services for customers, boost the communities we serve and create more jobs.
"It's right customers and communities are at the heart of the partnership railway. Developing different types of alliances between those running trains and those responsible for the tracks and signalling will allow us to run more services and operate them more punctually. Introducing greater competition by creating smaller franchises will ensure customers and the communities we serve are even more the focus of what we do."
Anthony Smith, Chief Executive of the independent watchdog Transport Focus, said: "Railway services only improve with long-term, sustained investment. So pulling together a raft of initiatives in one strategy is a good step in communicating to passengers what the long-term plan is. Passengers want to know someone is in overall charge of their service, so the forming of closer alliances between track and train operators and potentially splitting large franchises could help that. The focus on improving the passenger experience, improved compensation and driving better value for money from the welcome passenger and taxpayer investment also sounds the right note. Expanding the network, through re-openings or new lines will help more people choose rail."
Anthony continued: "Passengers will judge the success of these plans on the extent to which they meet their priorities for improvement: more reliable services, more chance of getting a seat or standing in comfort and a boost to value for money."
Darren Caplan, Chief Executive of the Railway Industry Association, responded: "Fifty years ago, the railways were in a state of decline, with falling passenger numbers and low investment. Today, our railways could not be more different, with passenger numbers doubling over the last 20 years and freight usage increasing, meaning a more intensely used railway network. Now, the issue is one of capacity, which is why we welcome today's announcement that rail services lost in the Beeching cuts will be reopened. This will help bring old lines back into use, providing more services for passengers, improving customer experience and bringing economic growth, jobs and investment back to towns and cities connected to these disused lines."
Darren continued: "A key part of this plan will be investment in new rail infrastructure, such as reopening the Oxford to Cambridge line, known as East-West Rail, HS2, Northern Powerhouse Rail and Crossrail 2, which will have huge economic benefits for the whole of the UK by unlocking investment, creating jobs and connecting communities and businesses together. We look forward to working with the government to see these plans progressed and to deliver their Rail Strategy together with the rail supply chain."
The 44-page 'Connecting people: a strategic vision for rail' can be read in full here.
Related regions
Related people