All tracks surrounding London Bridge station are in place and ready for the New Year
The most complex track realignment in the UK's railway has reached another crucial milestone ahead of the New Year with the completion of all work around London Bridge…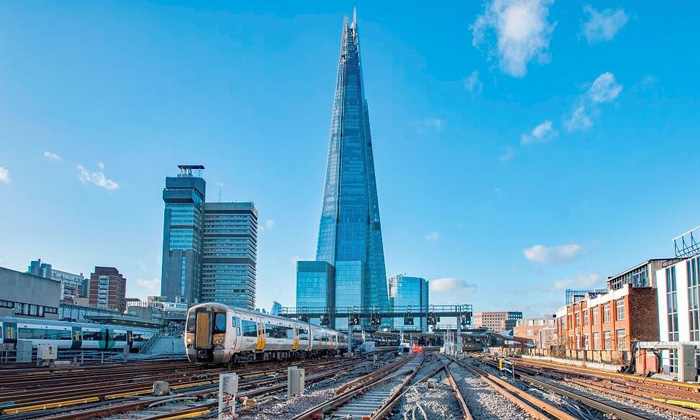 Credit: Network Rail
Ready to be brought into use on 2 January 2018 the infrastructure is now in place around the striking new London Bridge station. Ten days of major re-signalling will occur beforehand causing major changes to services and line closures affecting London Bridge and other London stations.
Since work began in 2009, Network Rail has strengthened 35 bridges to support the tracks and renewed and remodelled over 40km of railway that links London Bridge and Blackfriars to Lewisham. Network Rail fitted the final set of points – which allow trains to move from one track to another – in Bermondsey. This was the last of 154 sets of points to be installed and it now connects the tracks through platform 4 at London Bridge, which will be used by Thameslink services from May 2018, to the flyover at Bermondsey.
Mark Somers, Railway Systems Project Director for the Thameslink Programme, said: "I am thrilled that we have successfully completed what has been the most complex track realignment the UK's railway has ever seen. By untangling the tracks surrounding London Bridge, we will provide more reliable, more frequent journeys for passengers than ever before. The Thameslink Programme is a vital part of Network Rail's Railway Upgrade Plan and I am very proud of the work we have done."
Between 23 December and 1 January there will be no trains to or from Charing Cross, Cannon Street, Waterloo East, Farringdon and other major London stations plus no Southeastern services at London Bridge as the extensive re-signalling occurs. After the Christmas and New Year period the countdown to the completion of the transformation of London Bridge station begins. Work left to be completed throughout 2018 will occur during evenings and weekends to avoid any more delays during working days. Once complete, London Bridge will be a modern, spacious and fully accessible station, fit for the 21st century and able to support the new timetables. This will bring better journeys, more reliable services for passengers and, from May 2018, Thameslink services return to London Bridge for the first time in over three years, serving a range of new destinations.
Wendy Preston, Commercial and Supply Chain Manager for Vossloh Cogifer UK, which supplied 149 of the 154 sets of points used on the Thameslink Programme, said: "We have worked on the London Bridge scheme for the last five years. It has been a challenging project but we are very proud to have been a part of such an amazing achievement."