Northern and Arriva TrainCare display refurbishment of 150s
13 previously owned Class 150 trains will be introduced to the Northern network and be made ready for customers by the experts at Arriva TrainCare …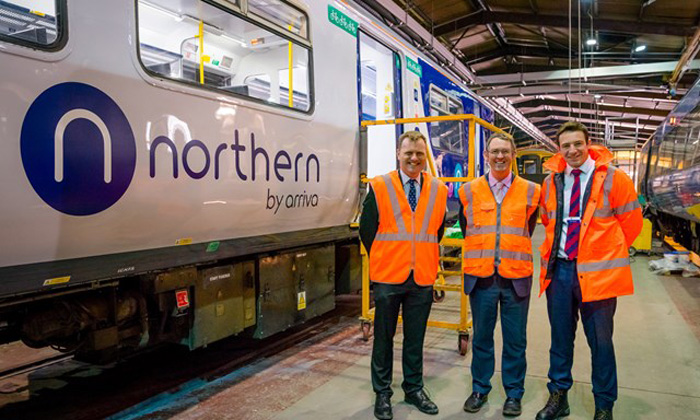 Northern and Arriva TrainCare welcomed Rail Minister Paul Maynard for a tour to see the refurbishment of the region's newly arrived Class 150 trains.
From Great Western Railway (GWR), the trains will form the latest part of the modernisation of rail services across the north of England, supported by the Great North Rail Project. By 2020, all of Northern's trains will be new or refurbished and the network upgraded; supporting faster, more frequent and new direct services.
Rail Minister Paul Maynard said: "We are making the biggest investment in the railways since Victorian times and the Great North Rail Project forms a key part of the £13 billion we are investing in transport in the North. The Class 150s will provide faster, more comfortable and more reliable rail journeys for passengers across the North."
Ben Ackroyd, Engineering Director at Northern, said: "We are fully committed to investing in the rail network and our modernisation programme, which includes these refurbished carriages as well as 98 brand new trains, is now delivering tangible benefits for customers across the north of England.
"Together with Arriva Train Care we are accelerating the refurbishment of the units we have received from GWR and expect to have the first carriages ready for our customers by Christmas"
The 150s will feature a full interior and exterior refurbishment, as well as the installation of new seating. They will operate alongside Northern's other refurbished stock and new trains, which are due to start arriving on the Network from December 2018. The modernisation programme, due to complete in 2020, is also bringing customers better stations with improved facilities and ticket buying options.
This investment is part of the partnership railway's long term plan to change, improve and secure prosperity for Britain. By delivering these and other improvements, almost £85 billion of additional economic benefits will be secured for the country.
Ben Ackroyd added: "We are entering an exciting phase of our modernisation programme and customers are starting to see the transformation of their network. There is still a way to go, but we are fast approaching a rail network fit for the 21st Century."