San Francisco has received the first of 755 Bombardier rail cars
Bombardier Transportation will supply 775 new rail cars for the San Francisco Bay Area Rapid Transit District (BART) and the first one has just entered passenger service…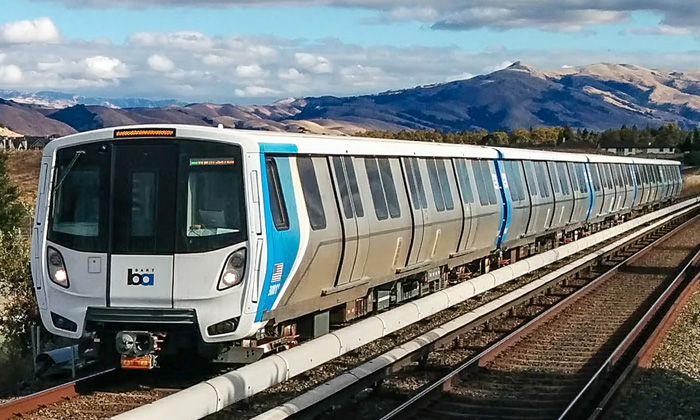 The first new Bombardier rail car of the 775 ordered has entered passenger service at the San Francisco Bay Area Rapid Transit District (BART) after successfully completing the testing on the BART system.
After receiving certification from the California Public Utilities Commission it is confirmed that the Bombardier rail cars will form BART's 'fleet of the future', equipped with improved seats, passenger information displays, additional doors and bike racks.
The eco-friendly cars will replace BART's entire existing fleet and better serve its record ridership, and support expected growth. The cars incorporate environmentally-friendly technologies as well a revamped interior designed by Bay Area citizen feedback which was collected through an extensive public outreach program.
Twenty cars have been delivered from Bombardier's US manufacturing site in Plattsburgh, New York. The remaining cars are scheduled to be delivered by Fall 2021.
"Our customers are going to love these cars," said BART General Manager, Grace Crunican. "Some of the great new features that we are most excited for are the three doors on either side for easier boarding, next stop information displays, comfortable seats, air conditioning and most importantly the spaciousness. These cars are more energy efficient and also quieter than the old fleet."
The reconfigured interior layout designed to maximise seating and openness gives more priority seating for seniors and people with reduced mobility. Other new features designed to enhance the passenger experience include comfortable, easy-to-clean seats with lumbar support, an automated public address system, energy-saving lighting, onboard security cameras and bicycle racks.
Benoit Brossoit, President, Americas Region, Bombardier Transportation, said: "We are pleased to reach this important milestone in the 'Fleet of the Future' program and we are proud to be contributing to the rejuvenation of the fleet running on one of the busiest rail systems in the United States. We look forward to providing its customers with rail cars that set new standards for safety, reliability and comfort."
The cars are powered by highly reliable BOMBARDIER MITRAC propulsion equipment with energy-efficient inverters and regenerative braking. The cars' on-board systems will be integrated by the MITRAC train control and management system with internet protocol technology. Throughout America, Bombardier's new rail cars will also be seen on New York City Transit, the Société de transport de Montréal and the Toronto Transit Commission in the years to come.